Kawasaki Team Green. That name alone is basically the epitome of Amateur Motocross Racing these days. Most kids dream about getting a Team Green ride and look up to fast little rippers like Jett Reynolds and Ryder DiFrancesco. My son Aden is no different. Every night he comes into my room and tells me about the latest scoop on all the young and up and coming amateur mini stars. This got me thinking about doing another 85cc mini bike test with him since he was on the "Road To Loretta's". He has spent all of his 85cc riding time on a Yamaha YZ85 and has given me some good feedback on what it handles like. After some thought I knew it was time to let him try another bike to test and see if he would prefer another color for his up and coming Loretta Lynn's Qualifier. Enter the 2017 Kawasaki KX85. The 2017 Kawasaki KX85 weighs in at 165 pounds, incorporates a 6 speed gearbox, 36mm inverted 20-way compression damping fully adjustable fork, a Uni-Trak fully adjustable shock, front and rear disc brakes, a 28mm Keihin carb and the sharp looks of its older brothers the KX250F and KX450F bikes that Adam Cianciarulo and Eli Tomac race. I let Aden ride the green machine for a few weeks to really let him get a feel for it and then proceeded to poke and prod information out of him after each outing. For reference Aden is 4'10, 75 pounds and a motocross novice.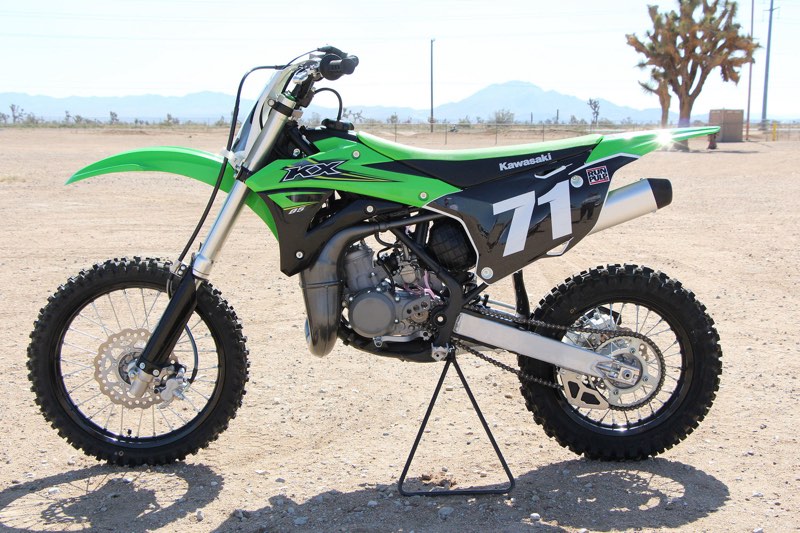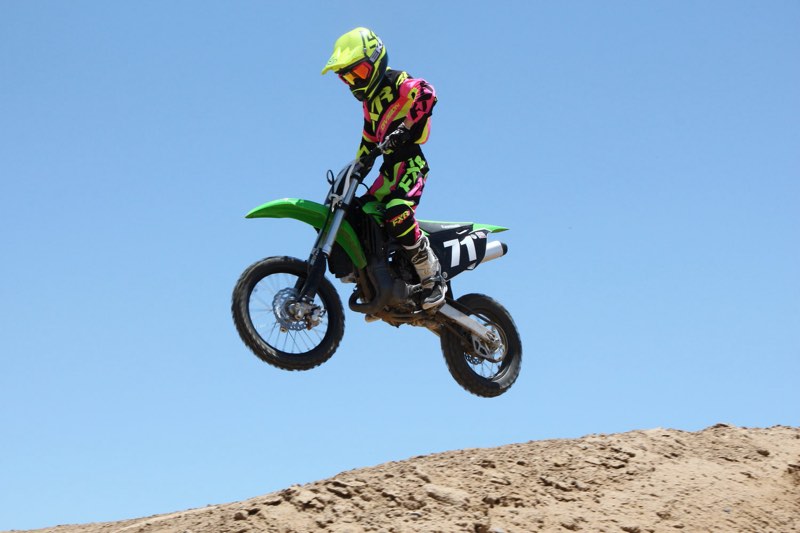 Engine:
The little Kawasaki's 84cc liquid cooled engine isn't a light switch and comes on fairly smooth down low, which gave Aden increased confidence getting on the throttle earlier coming out corners. I noticed his corner speed was better coming from the Yamaha and he recited to me "that the bike is easier for me to grab a handful, once I am out of the corner". So in other words the little Kawasaki is not as violent or doesn't hit as hard as the Yamaha and gave him a better feeling so he could roll his corners better. Mid range pull is also smooth as there is no sudden jerk or surge through the rpm range. Unlike the Yamaha where it can get to be a handful for Aden when his scrawny, little, spaghetti string arms couldn't hold on anymore, the KX85 was easier to manage for his novice type skill set. Now we could talk about top end, but I don't know how much of it he has used over the course of a few weeks. However, when I put a faster, heavier tester on the KX85 to give it a go he commented that "the Kawasaki felt better on top end" than his Suzuki RM85. The heavier faster tester thought it was a little too mellow on low end for him, but he loved the way the mid-top end pulled him around the track. The jetting on the Kawasaki was crisp and only needed the needle clip position to be raised one (leaned out). After we raised the clip the bike barked and never had a runny, oily silencer.  We mixed the Kawasaki at 40:1 with Maxima Formula K2 and tested at tracks anywhere from sea level to 4000 feet with no problems.
Suspension:
The action of the fork and shock moves a lot when Aden is riding, but he hasn't bottomed out once yet (hence no black marks under the rear fender and the o-ring I put on the fork is a half inch or so from the bottom). His nervous novice skills are not the most accurate when it comes to landings, so this comes in handy when he cases a jump or gets a little cross rutted. On small chop and braking bumps the action of the suspension is slightly more comfortable (than the Yamaha) and is less harsh to the rider. The overall length of the KX85 is slightly longer than the YZ85 and Aden could feel less pitching coming into braking bumps on the Kawasaki. Aden doesn't like to stand up yet coming out of corners (up a jump face) so he will seat bounce a lot of tabletops, and doubles. I know, bad dad for not teaching him technique yet!  We had to stiffen the rear end up and slow the rebound down a couple clicks, so it wouldn't squat as much under load, this helped the Kawasaki's balance and ride attitude in the air. Once we did that I could see how much better his form was in the air, as the rear end wasn't so springy.
Handling:
The Kawasaki doesn't turn quite as sharp as his Yamaha, but the stability he received with the Kawasaki helped him charge into corners harder, which in turn made him faster on the stopwatch. Straight line stability is a standout attribute with the KX85. It's planted to the ground on de-cel and both testers commented on how well the rear wheel traction was when giving it the berries. Aden does comment that the KX85 does feel a little heavier on tighter, ruttier tracks like Milestone MX Park, but his lap times are still a little better on the green machine everywhere we go. He does feel more vibration through his handlebar on the Kawasaki than the Yamaha, but only on low rpm.
Ergonomics:
The Kawasaki sits a little tall for Aden's 4'10 frame, but he can touch his toes when he comes in for a stop. However, on starts he does use blocks to get more leverage to get his weight forward on the bike more. The stock bar bend is not that great and has a lot of sweep, so we will be purchasing new aftermarket bars with a flatter bar bend. I do like that he can grow into the Kawasaki KX85 as he gets older and has more rider triangle room for his knees when he is seated.
With some time on the 2017 Kawasaki KX85 now, Aden really likes the bike and now thinks he is getting a Team Green ride. He didn't make the cut at last week's Loretta Lynn's Regional at Hangtown, but has new motivation to get better so he can get "on the team" as he calls it. The KX85 is a proven mini bike and we will continue to put the 2017 version through more than its fair share of hours at the track, over the course of the next several months. Stay tuned for continual updates on the reliability of the Kawasaki and let's see what kind of modifications Aden cons me into. After all I am supposed to be the "mini dad" now and go all crazy, right?
| 2017 Kawasaki KX85 Specs: | |
| --- | --- |
| | |
| Height: | 43.3 inches |
| | |
| Length: | 72.0 inches |
| | |
| Seat Height: | 32.7 inches |
| | |
| Ground Clearance: | 11.4 inches |
| | |
| Weight: | 165 pounds |
| | |
| Price: | $ 4,349 |
Have any questions about this test? Please feel free to email me at kris@keeferinctesting.com