By: Matt Sirevaag
Modern day dirt bikes are getting more complex with electronics, buttons, switches, and other high tech gadgets. This seems to leave less room on the bars for handguards, GPS mounts or any accessory that the consumer may want to install on the bars. I am not like Kris however, because "I love hand guards",  so I was a little sad when there wasn't much room on our 2019 FC350 handlebars to mount any. Since I was bummed, Kris suggested that I test out Ride Engineering's Billet Engine Kill/Starter Button. Ride Engineering designed the button in hopes to clean up some of the clutter as well as gain a little room for anything that you may want to mount.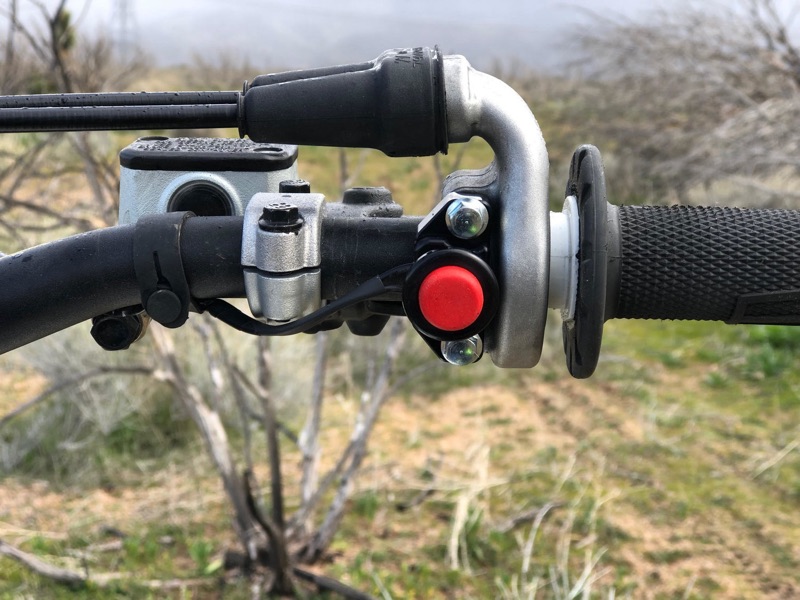 As the heading states you can use the Ride Engineering button for a kill switch or a starter button. The new button/switch mounts on most current bikes via the clutch or brake lever mount and to me seems like a smart idea as you kill two birds with one stone. You already have real estate on your handlebars for a brake or clutch so why not mount your kill/starter button to one of those and free up some room right? However just not that installation on any Husqvarna and KTM will only allow the Ride Engineering button to be mounted to throttle tube housing. Installation is fairly easy as I unbolted the throttle tube housing on our 2019 Husqvarna FC350, used the supplied bolts (that are longer than stock), and mounted up the new switch as my starter button. There are a couple of ways to wire this switch after cutting the old one out, but I suggest soldering the wires and using shrink tubing. This will make sure you have a good corrosion and water resistant connection.
The Ride Engineering starter/kill button does exactly what it was designed to. It leaves you more room on the handlebars as well as give your cockpit a cleaner appearance. I have had zero issues (while riding) using the Ride Engineering button and it hasn't missed a beat, even after riding in freak Southern California rain storms (as well as with bike washes). The only squabble I had is that the button position is at the mercy of your throttle tube housing and or lever angle. I would like to have my starter button facing upwards in case I stall the bike and need to push the button in a hurry. This is nothing more than a personal preference, but something I wanted to mention. The Ride Engineering starter/kill button comes in polished aluminum or anodized black and retails for $54.95. You can find all Ride Engineering products over at ride-engineering.com.