We have seen some quality time over the last few months with the 2021 KTM 250/350SX-F and have come up what we think are the best as well as the most relatively inexpensive mods to each one of these machines. Both machines respond well to these mods and while we were at it, we put together our top 5 maintenance items that we have felt our test bikes needed. Here are the details, in no particular order.
1. KTM 250SX Air Filter Cage: This is the cheapest and easiest way to get more throttle response out of your KTM 250SX-F/350SX-F. You will notice better throttle response through the low to mid RPM range by simply going to a 250 SX two stroke cage with no backfire screen. Here is the part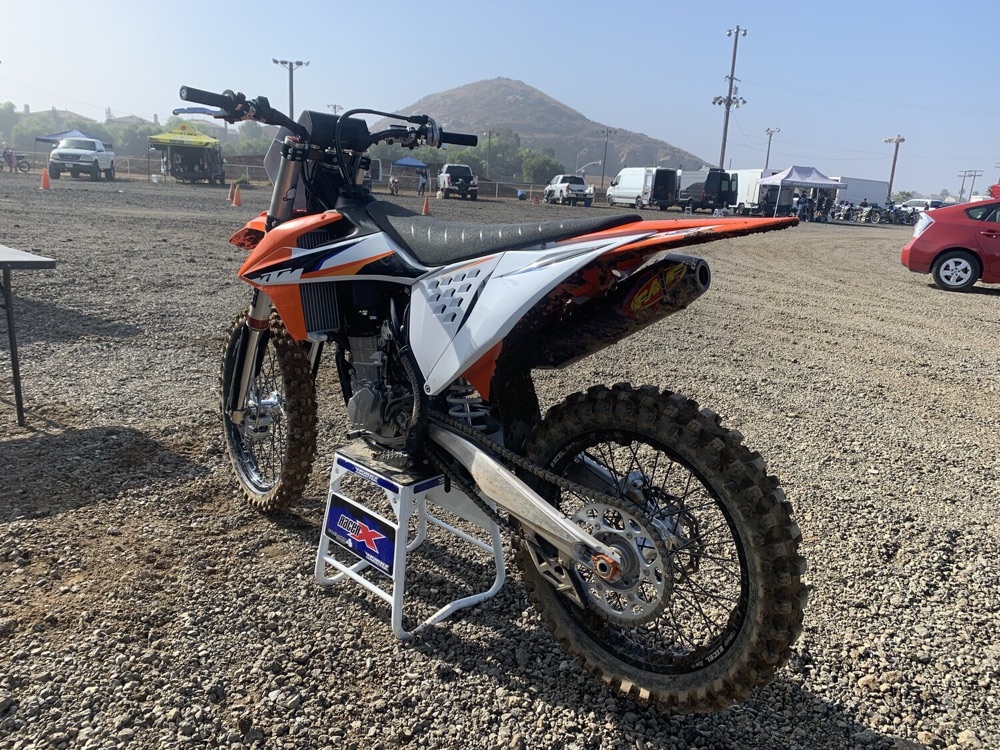 2. FMF 4.1 Full Muffler System: To me, FMF makes the best muffler system for the KTM 250/350/450 SX-F. There are some other companies that have other bikes dialed in more, but on the KTM, FMF has got it down. You will get more low to mid RPM response as well as more mid range pulling power. Top end is increased plus the over-rev is as good as stock. It is one of the few times that I was impressed because it was actually better than stock in almost all areas. The downside is that you must keep up on muffler packing (every 10-12 engine hours) because the FMF will blow out and that could damage your expensive titanium can. Did I mention that you will lose almost two pounds with the titanium 4.1 system? If you slap on spring forks on your KTM, you will be gaining almost three pounds. You can get most of that weight gain back down with a 4.1 Titanium FMF Muffler system.
3. Pro Taper Handlebars: The stock Neken handlebar is too stiff and doesn't offer too much comfort. Throw them in the trash. Get yourself a set of Pro Taper bars and make your arms and hands happy again. The Pro Taper SX Race bar worked well for riders from 5'8 to 6'1. The SX Race bend comes in a crossbar or crossbar-less style and is 800mm width, 87mm height, 54.5 rise, and 54mm sweep. If you're looking for a better "stand up feel" from your KTM look for handlebar close to this measurement. If you do like the stock bar try the Pro Taper Husqvarna Stock bend with 5mm bar mount risers (Ride Engineering sells these).
4. Throttle Tube: There are a couple you can choose from here… If you're looking for an aluminum throttle tube that is expensive, but helps the feel of your throttle, I recommend the ZRT throttle. This throttle tube makes the pull have almost zero drag and is a tough SOB. There is some set up/prep time to this throttle (cutting the right side of the handlebars), but it can help the pull over the long haul. If you're more the plastic style tube type of rider, look at the Motion Pro Titan tube as it's tough for a plastic tube and doesn't have as much drag as the stock lock on style ODI grip/tube that comes on the stock KTM's. The stock plastic throttle has a lot of friction and gets tough to turn too quickly.
5. Ride Engineering One Piece Bar Mount: The Ride Engineering One Piece Oversize Bar Mount has a one-piece top that is designed to resist bending much better than the stock bar mount. Precision machined from aircraft quality aluminum, there is also a 6mm difference between the forward and back mounting positions. Ride Engineering also machines their own stainless steel posts that prevent over tightening, unlike some other competing brands that DO NOT use quality posts. This bar mount has saved my son and I a couple times when we are out doing motor. He seems to crash a lot in corners and the stock mount on the KTM 250 SX-F just twists and bends easily.
Extras: 
Rear Axle/Axle Blocks: Going to a Works Connection Elite axle block kit or Ride Engineering axle block kit will get rid of the fixed left axle block on the stock KTM's axle. This will help the rear end to move more freely under throttle and improve the shock's comfort on acceleration chop. Both are great, but you will have to decide if you want a complete axle/axle block kit like Ride Engineering's  or just the blocks themselves like WC's.
Rear Brake Pedal Spring: Purchase a Honda CRF450R rear brake pedal spring with the rubber around the spring. The KTM rear brake pedal spring vibrates and will break every 4-5 engine hours. Orrrrrrrrr. Get a Fasst Co rear brake return spring and be done with it! Fasst Co's rear brake return spring offers tunable pedal resistance and a more controllable feel by placing the spring in compression instead of tension, minimizing the "on-off" feel of most rear brakes.
Top 5 Maintenance Items:
1. Fuel Filters: If you're a KTM owner, do yourself a favor and put a couple of these in your toolbox just in case. Fuel filters can get clogged on all KTM's and this can cause damage to your fuel pump or possibly not allow your bike to start properly.
2. Throttle Cables: If there is one thing that DOES NOT last on KTM's it is the throttle cables. Every 15-20 hours I will have to replace the throttle cables to ensure that my throttle doesn't feel hard or sticky when twisting. Originally I thought my throttle tube was dirty or maybe the right side of the handlebar had dirt on it, but I found out through a couple KTM mechanics, that the throttle cables simply wear out. You can't lube them or clean them out as it will only make the throttle feel better for a short amount of time.
3. Check All Spokes: KTM spokes always come loose near the rim lock so make sure you pay attention to all the spokes after every ride. If you don't check them constantly you will lose or break a couple.
4. Check Engine Mounts/Swingarm Pivot Bolt: Always check the torx bolts that hold the top engine hangers on the bike. After break in, these will loosen up a bunch, so you might need some blue Loctite on the threads. After you do this, please continue to check these as they still back out from time to time. The torque spec on these bolts are important to the ride attitude of these KTM's. Also the KTM's come with frame guards and that means you will not know (until it's too late) when your swingarm pivot bolt backs out. Take off your frame guard and check pivot bolt regularly. While you're at it, get the Acerbis frame guards as they last longer and have better grip than the stock ones.
5A: FI Indicator Light: The little FI indicator light bulb will fall out of the rubber casing as soon as you get past 10 hours. The best thing to do is put a little silicone inside the rubber casing, so the light bulb as well as the wire doesn't flop around.
5B. *KTM 450 SX-F Only* Clutch Rubbers/Cushions: Over time (around 25-30 hours) The stock clutch rubbers could eventually crack and could cause your KTM's clutch to slip. You might think that this is caused form the clutch plates itself, but if you pull your clutch apart you may see your fibers/steels are still good but these rubbers are cracked. Even if the rubbers crack, they can't hurt anything as they are locked in place within the pressure plate. If you're looking for longer lasting clutch rubbers that have a tighter tolerance you can purchase the Rekluse clutch rubbers for your stock clutch system and these have proven to last longer than the stock ones.