Written By: Gary Sutherlin
When you hear the phrase "Top 5 Mods" for a KTM most of the time you think of things like, exhaust, engine, ECU or maybe some cone valve forks. However, in this Top 5 Mods article I went outside the box a little since I've spent a few years riding this KTM model and have tried numerous exhaust, engine, ECU, and suspension mods already. KTM has marketed the new 2021 KTM 450 XC-F as a 50/50 motorcycle. Basically, KTM believes for the customer, this bike can be ridden on the motocross track Saturday and then trail riding with your buddies on Sunday. And it can…. almost (check out the air fork section at the end for more on that topic). Now, the mods that I'm going to share with you aren't going to break the bank and set you back thousands of dollars, I mean geez, you just spent $12k on a new bike so the hell wants to do that?  With these mods, your ride will be massively more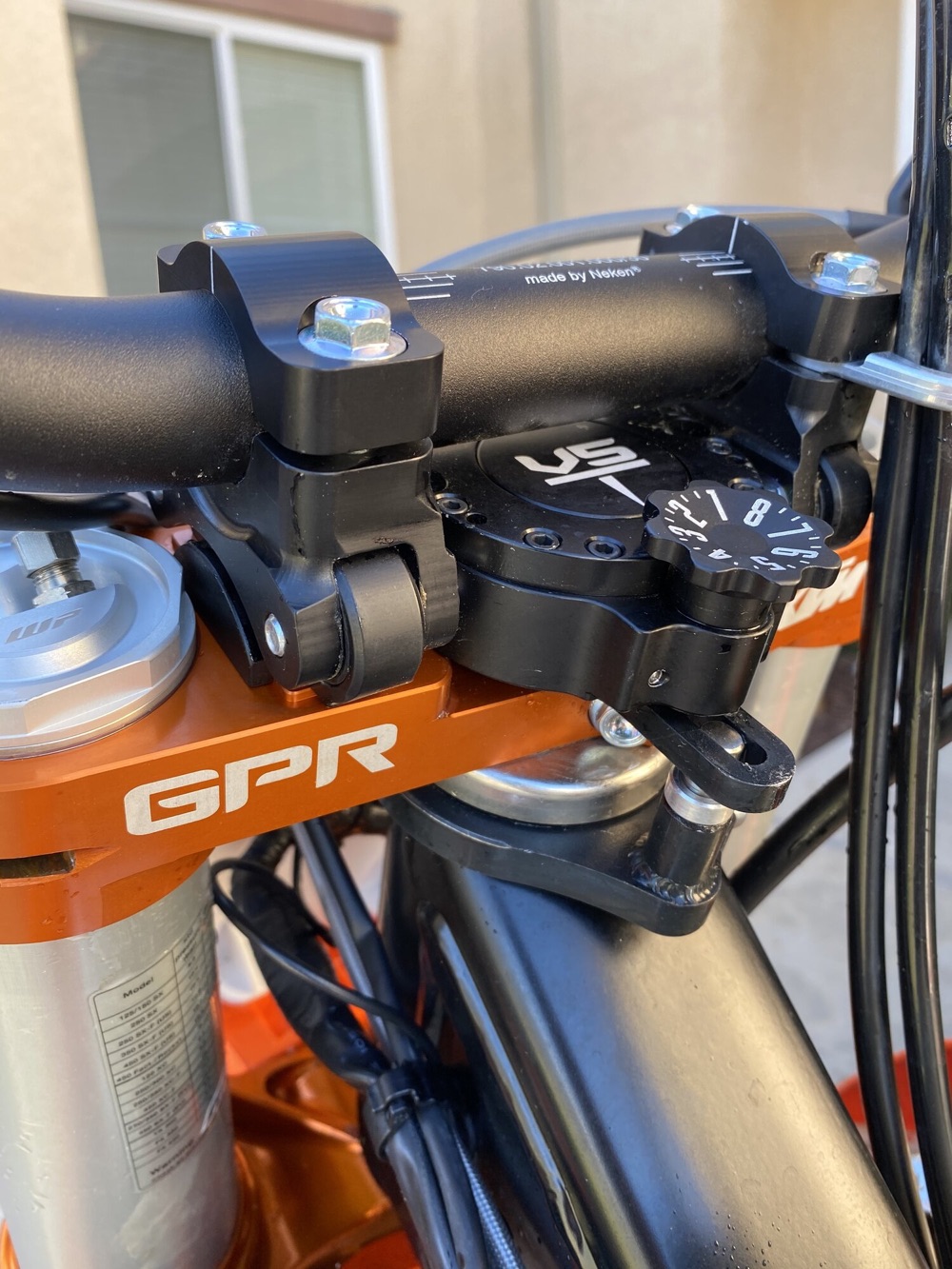 1. GPR Pro RBM Kit V5 Top Clamp and Stabilizer: It still amazes me today that more people don't utilize the great qualities of a good stabilizer. I worked with Randy at GPR about a year ago when he was designing the new V5 and asked about adding his elastomer set-up to help with bump absorption and feedback in the handlebars. That set-up is what went into the new Pro RBM Kit which provides the comfort and stability I've been looking for in the front end of the KTM. This kit was built for professional riders only and for the first time, is actually available to the public. This has always been one of the keys to my success and I'm happy the public can finally get them too.
2. Rekluse Inner Clutch Dampeners: Breaking a rubber is never a good situation. But unfortunately, KTM is known for it, hence Husky and Gas Gas. The clutch rubbers in the KTM 450, in my experience, last around 4-8 hours depending on the way you ride. Once they diminish, you'll need to replace the clutch pack as well, but instead of replacing the rubbers with the stock ones, I recommend using Rekluse. They have designed a clutch rubber that will go the distance.  I've put over 60 hours on one set in the past including a few 2-hour plus races. The stock clutch rubbers on the test bike made 8.7 hours before they started to crack, which led to some slipping. You may not feel a physical gain on the bike, but you will in your wallet.
3. Brake Tech Rear Caliper Piston: Replacing the piston on your new KTM 450 may be one of the best mods on the list but its not the piston you think. I'm super hard on rear brakes and have even melted the rear caliper itself. Brake Tech has redesigned this brake piston to hold 20cc more brake fluid in your rear system as well as drilled holes in the end to help distribute the heat better. Not only do I NOT experience brake fade on long trail rides or racing, but it stopped that annoying rear brake squeak and locking up of the rear wheel while entering corners. With less heat in the rear brake system, I now have increased pad life as well. Editors Note: Gary roaches brake pads in one race! Serious! If he says this works, I will be trying these for myself!
4. Zip-Ty Shark Fin: Zip-Ty Racings rear brake rotor shark fin has been a must have on my bikes for over a decade. Whether you are at the track or on the trail there is always that one rock that jumps up and bends your rotor. So before reaching into your toolbox for a crescent wrench to bend your rotor back or ordering one on Rocky Mountain ATV/MC save yourself the hassle and order one up. Zip-Ty also offers a variety of parts that coincide with the shark fin that make rear wheel changes easier and provide the protection needed for both off-road and motocross.
5. Unbreakable Brake Pedal Tip by The Ride Shop: This product has a lifetime guarantee. If you can break it, he'll replace it. That's the motto Jonny from The Ride Shop had when he set out to build this pedal tip. Most brake pedals fold horizontally (or backwards) and don't actually create more space. With this unbreakable design the pedal folds up vertically which allows you to hit objects at any angle and it will deflect. Putting pieces like this on any race or long-distance riding machine helps create a sense of calm as it's one less thing you have to worry about having an issue. In my career, this is about the only part on a motorcycle I've never broken.
What about the Air Fork?
The reason I say the KTM 450 XC-F falls short of a true 50/50 motorcycle is due to the air fork. While I believe for the average consumer the air fork has the features, they need to be successful, I don't think it's the case for a higher level rider. At my speed, the faster I go and the rougher the track gets, I cannot get the air fork to perform to match my performance. I spent a lot of time working with the air fork while I had this motorcycle to try to adapt to the different tracks and conditions. Unfortunately, I was never able to get it to be predictable enough for my speed/weight and that's my only knock on the KTM's suspension.