Kris Keefer's been a pain in my ass. The guy who may ride more than anyone else in the industry is always on me to go dirt bike riding and I was trying in the off-season before I wadded up on a ten foot double, supercross started and I got busy. Still, he won't let it go. He borrowed me an 2018 Suzuki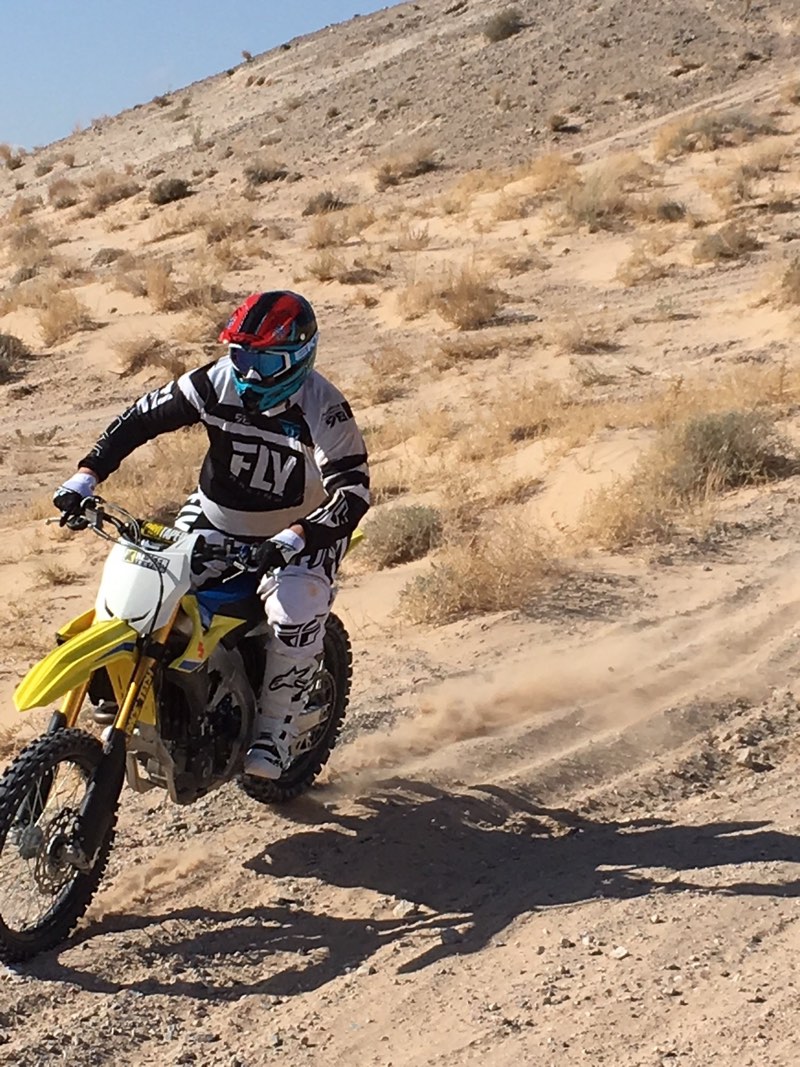 He's right though, I should ride more. For one, it's fun exercise and two, it's why we all started in this crazy industry in the first place. My bike was beat up after the crash pretty bad so step one was replacing those parts before I even thought about getting back on the bike.
I bent the stock Renthal Fatbars and got a pair of Pro Taper Fuzion bars to replace them. I like the look of a crossbar bar (as in, I like having a bar right there in front of me) but I feel that one can notice the flex of a crossbar-less bar in terms of forks working better so I left the Fuzion in the "unlock position. I bent the shit out of the upper bar clamp so Ride Engineering sent me one of their mounts with plastic mounts instead of the garbage (in my opinion) rubber ones that come stock. The eight 6mm bolts to adjust your bars is a tad much but it's lighter than four 8mm bolts so that's what RE went with. It's one fine looking machined piece.
Also, like most everyone should, I put a Works Connection Elite Perch on the bike and ditched the stock perch. Stock one wasn't bad but the pull, the lever feel and the looks (blue!) of the WC perch can't be beat.
Also, I wanted a bit more from the 'Zook so I went up one tooth on the rear with a PT sprocket (thanks Jody!). Oh and I wanted an exhaust on the bike, stock exhausts don't work bad in many cases but this one felt (key word: felt) like it held the power back and of course, it weighed the same as a small bassett hound. Pro Circuit sent me a stainless T-4 system for the machine.
I also had Randy Richardson install a new Michelin Starcross 5 Medium on the back, well I didn't have him do it. He volunteered to do it and it was awesome. Great tire with a more specific feel than what was on there before. He left me a front tire that I have yet to change (much to his dismay) and honestly, I need to do it. I think, I don't know, that the front on the Suzuki that comes stock is garbage. I can't keep the front end from sliding in a hard packed turn (forks are in a very neutral position so that's not it). The jury is out whether this is a front tire issue or a "shitty rider" issue. I'll change it and let you guys know at some point.
Ok, I went out two days this past week to get back on the horse I feel off of and try these things out.
First up, a general overview of the 2018 Suzuki RMZ450. First off, it's sex on wheels. IS there a better looking bike out there? I say no. From the coating on the forks and shock to the old-school blue tank (cover) to the wheels, it's one hell of a badass bike.
Before he gave me the Suzuki, Keefer let me try an '18 YZF450 and '18 CRF450 as well and I have to say, both bikes had a way better motor than the Suzuki. I'm not even going to get into the suspension because with my size, they're all soft. Motor-wise though, the Yamaha was by far better than the other two then it was Honda and then Suzuki. These rides are why I wanted an exhaust system and went up one tooth on the rear. I wanted some more hit.
Race Tech revalved my suspension front and rear and yeah, there are issues at the highest levels with the new BFRC Showa shock but for me, it's fine. The forks are awesome, they're basically like A kit from a few years ago. The guys at RT did great work and guess what, the bike works much better with the right spring rate in there!
All in all, I think the Suzuki is a bike that does everything well. Nothing, from the turning to the motor to the ergos are going to blow your mind but there's also nothing it does super bad or weird. Again, my suspension is setup for me so it's fine. I'm sure Suzuki didn't spend all this money on a basically all-new bike to hear jerkies like me say it's "fine" but sorry bro, that's what it is. It's also not holding me back whatsoever out there on the track.
Because I had been off the bike for so long, I rode Monday with the stock exhaust and the first "moto" (VERY LOOSE TERM) on Wednesday with it on. After that I put the PC system on and went back out on a semi-sandy track with mostly easy jumps, whoops and one section that's fast.
I went out there and was a bit let down right off the back. I expected some better throttle response and a bit more hit right away. The muffler is shorter than stock so one would think this would be the feel I'd get but maybe it was a bit better, but not much. Where the system definitely came alive from stock was rolling on in third. I noticed first lap, out of this left-hander, that rolling it on brought the front wheel up whereas that didn't happen with the stock.
I think this should tell you that the Japanese engineers do a good job with designing an exhaust and not that the PC is bad. With the amount of room one has to move piping around, there's not much to do for the aftermarket companies. Upon riding some more, I can 100% attest to the Pro Circuit system having more in the mid to top range. Yes, I wanted more hit off bottom. No I didn't get it. It's ok, I'll be fine.
By the way, the fit and finish of the PC system was amazing. It went on like butter, no weirdo pushing and pulling. It was awesome, they even give you a new bolt for the muffler and some grease to put on the mid-pipe.
SIDE NOTE: I didn't remove the standard screen that was installed on the muffler because Keefer told me not to worry about it and then he told it would make a difference. Too bad for me, I didn't have a 4mm allan key on me. Taking it out will help bottom end hit for sure but I'm just not sure how much.
So yeah, there's my write-up on the new 2018 Suzuki RMZ450 and all I've done it and why so far. Suzuki wants the bike back soon so I better keep at it. Honestly, it's better to just ride than keep getting these texts from Keefer asking me how riding is going.