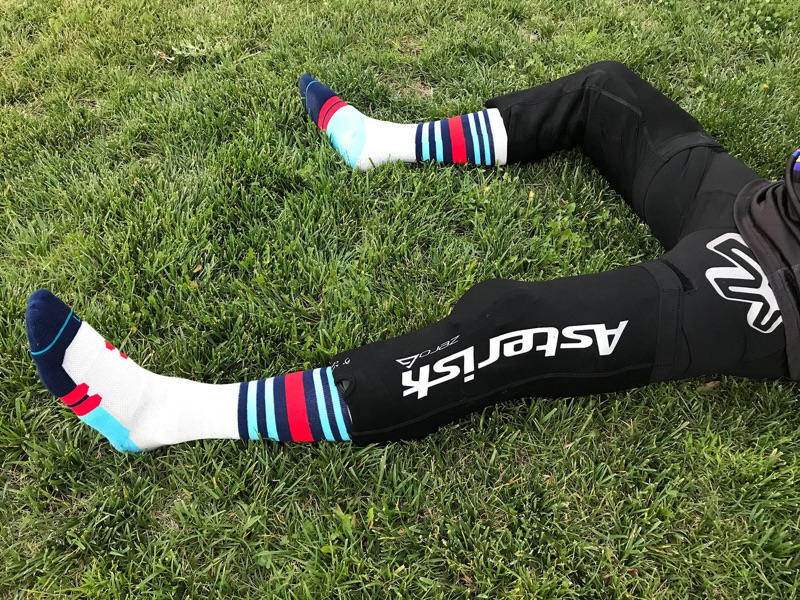 Sometimes when you ride as much as me, some things like getting geared up to ride gets monotonous. I am usually pulling different bits and pieces of protective gear out weekly, but then I will pull my head out of my ass and realize there are a few things that have been a staple in my gear bag. One of those things has been my Asterisk Zero G knee brace pant. There is nothing more annoying then having a pair of knee braces slide down during a moto. With the new wave of Velcro secured knee braces, slipping is almost unavoidable, unless you give it the death grip and then your legs lose movement as well as circulation. I am simply not about that life! I want my braces to stay in place all day without having to touch them, so the Asterisk Zero G Pant is one of the pieces of gear that I can't ride without. Here is a re-fresh on what the Zero G is all about in case you missed it when I posted this a couple years ago. -KK
Before the Asterisk Zero G came along I was always pulling my knee braces up during a long test day and I was tired of it. Not only did my knee brace slip, but more often than not they would dig into my knee and gouge the crap out of them. No matter what knee brace I had (and I have tried a lot), they slipped during the course of the day. The Asterisk Zero G pant is a base layer compression pant that encompasses the knee brace to help keep the brace in place against your leg. The extra long length of the pant can fold back up and over the brace, traps the brace and a Velcro enclosure (located at thigh area) holds it all together. So simple! Why didn't I think of this?! Not only does it keep your braces in place, but you also can tuck any excess laces you have inside the pant (if you are old school and use lace up knee braces). If you're up to date and have Velcro straps on your braces, those will not get caught on the liner of your pant and make life much easier. The Zero G pant is designed to make it simpler for all of us to slide the pant over the knee brace, as well as allowing the brace to move with your legs without restraint on the bike. For durability the Zero G pant features a Cordura Built-in Gear Guard (to protect the riding pant from the knee brace hinges) and it also has Anti-Rotation Tether Slots for riders that tether their knee brace to the boot. If you are not running Asterisk knee braces, it doesn't matter, because the Zero G pant will work with any knee brace that you are currently using.
Is it hot where you live right now? Of course it is, it's Summer! The last thing I want is to get swamp ass on a long hot testing day wearing extra layers, but the pant actually doesn't make my lower extremities any hotter. When I put these suckers on for the first time I thought I would be too hot to wear the Asterisk Zero G in the summer time, but it didn't make my body any warmer when I rode. In fact when I started to perspire, I noticed my legs felt slightly cooler. If I wear just regular old long socks/knee socks my legs are full of sweat when I remove them, but not with the Zero G's. Riding on the track felt normal with the pant on and doesn't constrict any of my long leg movements. My knee braces do not slip AT ALL during the day and the braces I am wearing do not dig into my knee because they don't slide down. Hallelujah! Most knee braces come with some type of Velcro closure system and you can find yourself taking the pants off and having to readjust them in the middle of the day, but if you have these Zero G pants, that doesn't happen. Boom! I do wear short Moto socks however with the Zero G pant, so I'm not tripling up on the layers below your knee. On the older style Zero G's, I had some of the Cordura pieces and their stitching (inside the pant) tear away. However, on the new updated Zero G pants, the Cordura/Velcro parts have stayed in place and haven't torn away. Asterisk beefed up those parts and created a more durable pant. I have a coupleyears on the updated versions and they have been great so far.
If you're tired of your knee brace sliding down, getting hung up on your riding pants and having to adjust them several times a day, do yourself a favor and pay the $89.00 for the Asterisk Zero G pant. It's one of my top 5 things that I must have when I ride and I am pretty picky. You can order your Zero G pant directly at asterisk.com. Or call Morgan at Asterisk at (951) 268-6790 and tell her Keefer sent you.