Back in December of last year, Keefer hit me up out of the blue with the offer of a lifetime. After being away from the sport for a handful of years, I was given the opportunity to borrow a 2021 RM-Z 450, with the only stipulation being that I'd have to regularly ride and write about it (Read all about that here: https://www.keeferinctesting.com/how-a-man-rekindled-his-fire-for-dirt-bikes-through-a-suzuki-rm-z450/). Call me crazy, but that's an easy trade off, an absolute no-brainer. The bike in question was lightly ridden for a bit by other riders a lot more talented than I am, but when I received it, it was still in pretty pristine condition. There was a little bit of wear here and there, but I did inherit a somewhat detrimental problem, a blown rear shock. 
After the first ride on the bike, I rolled back it into my driveway and noticed a nice little puddle of fluid around the spring retainer that began to leak onto the ground. I immediately hit Keefer up to let him know what was going on and after some e-mails and calls, a solution was in place. After just a relatively short period of time off the bike to prevent any further damage to Suzuki's property, the problematic leaky shock was remedied via a complete front and rear revalve courtesy of the fine folks over at Race Tech suspension (https://www.keeferinctesting.com/rm-z450-race-tech-re-valve/).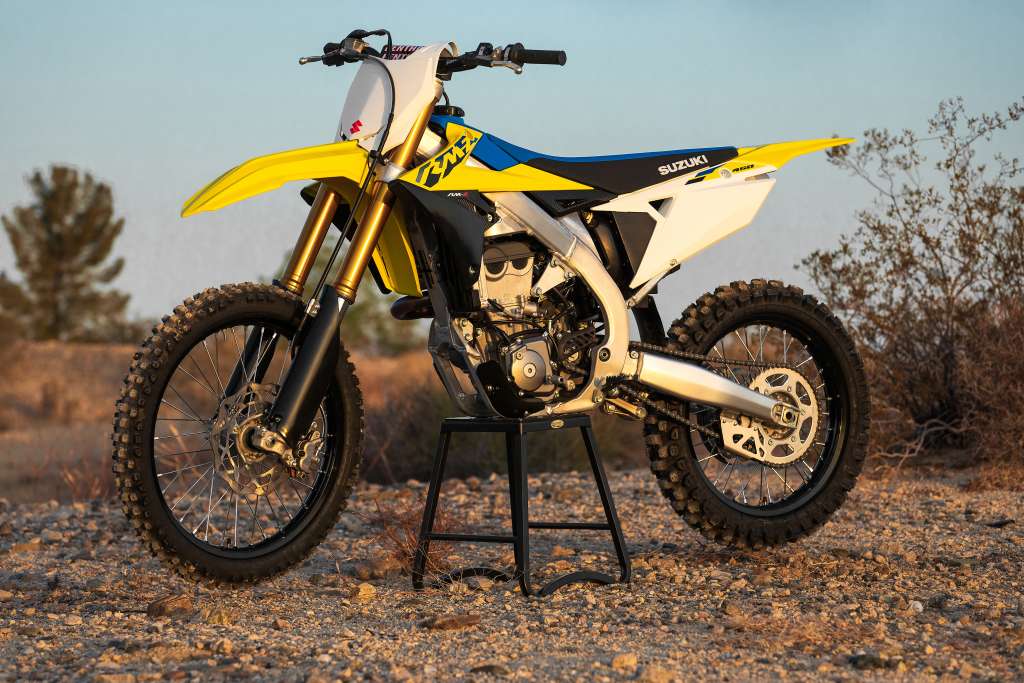 After getting the suspension back from Race Tech, tossing it back on the bike and appreciating the yellow machine even more, my time on it was short lived; Suzuki came calling, asking for their 2021 back sooner than later. Although this was not great news for me, they did trade it out for a brand new 2022 so I couldn't be too sad. Knowing I was going to be on a fresh new bike was exciting, but also a bit of a bummer because I LOVED the Race Tech setup on the previous bike, and the 2021 and 2022 RM-Z 450 are basically identical. I originally planned to just remove the Race Tech setup and swap it over to the 2022, but that was eventually shot down… There may be more on that tidbit to come in future articles. For now, I was loaned a brand-new bike and for that, I am nothing but grateful and appreciative of Keefer and Suzuki for granting me the opportunity. 
I took possession of the 2022 in mid-April, but I was told to hold off on riding it since there was a plan in place to use it for a video project. After that video project got scrapped in place of something else in the works, I was given the green light to take the 2022 out for some fun and that is where this article comes in. Again, I was a little bummed that I was back on stock suspension and was expecting the bike to feel just about identical to the stock version of the 2021 that I rode. I also expected it to feel a bit less capable/comfortable through the rugged open desert that I live and mostly ride in than the revalved 2021, but boy was I wrong. 

On the first ride to break the bike in, I initially rode casually and cautiously, knowing I needed to take it easy since everything was brand new. What I didn't expect was that the bike would feel COMPLETELY different than the 2021 that I was previously riding. Within a few minutes of being on it, I noticed that the bike felt a TON more balanced and comfortable! Everything on it just felt right! It didn't feel like it was sitting awkwardly, didn't feel like it was going to pitch me off it, it didn't push wide, it didn't knife; everything just felt incredibly precise and tight. The cornering was noticeably improved, like I could point and shoot at any second and the bike would follow me. Something about it just felt a million times easier to control, and that same buttery smooth power of the motor really made the freshy feel like a dream! Overall, the biggest difference I noticed was the balanced suspension. For reference I am using the stock clicker setting and am at 105mm of sag (I weigh 160 pounds).
If you read the first article that I linked above, the main complaint that I had about the 2021 when I got it was that it immediately got scary headshake as soon as things got even the slightest bit choppy. Although this problem was greatly reduced after Race Tech did their thing, the problem persisted and made the bike unpredictable in certain situations. What blew my mind about the fresh 2022 is that the headshake was about 10x better than the 2021, even with the incredible revalved suspension that was put on there! Again, I truly think this could have been either a shock shaft issue, a mount issue, or maybe even some setting issue that I didn't jive with. It could have been that the settings that I inherited when I got the bike strayed far away from stock but worked perfectly for all the talented riders that rode the bike before I did. Either way, this improvement in handling was a HUGE and welcomed relief for me. 
All these differences in feel made me start to wonder if maybe there are some slight variances in the feel of production model bikes. It was quite incredible how huge of a difference the fresh 2022 was in comparison to an already solid 2021 right off the bat. It has been years since I have ridden a brand-new bike so I did not expect the two bikes to feel as differently as they did, but this makes me even more curious about how much better this brand new 2022 would feel like with a few parts swapped out for my own preferences. I absolutely would love to get the same exact Race Tech setup that I had on the 2021, plus a few more little bits and pieces to see how much they improve my experience on this bike. In stock form, I truly love the RMZ… This bike is 100000x more enjoyable than I ever expected, and with a tiny bit of personalization, I feel like this thing could easily become a dream bike. Stay tuned, we will be back with some key add-ons…