Welcome to your one stop 2023 baseline suspension settings stop. These settings are intended to give you a "starting point" with your new 250F. This is not a one size fits all kind of setting, but I feel like I have ridden these bikes enough to figure out what can work for "most" of you. To acquire these settings, I have ridden three different types of tracks (sand, hard pack/clay based, loamy/intermediate terrain with hills). With these settings, we created the most possible blend of comfort and performance that the stock suspension allows a rider. Some bikes have evolved/changed for 2023 and some haven't. Regardless, we re-visited our older settings to see if we could improve. You're only as good as what you try.
If you have any more questions or might need further guidance please email me at kris@keeferinctesting.com. I am here to help!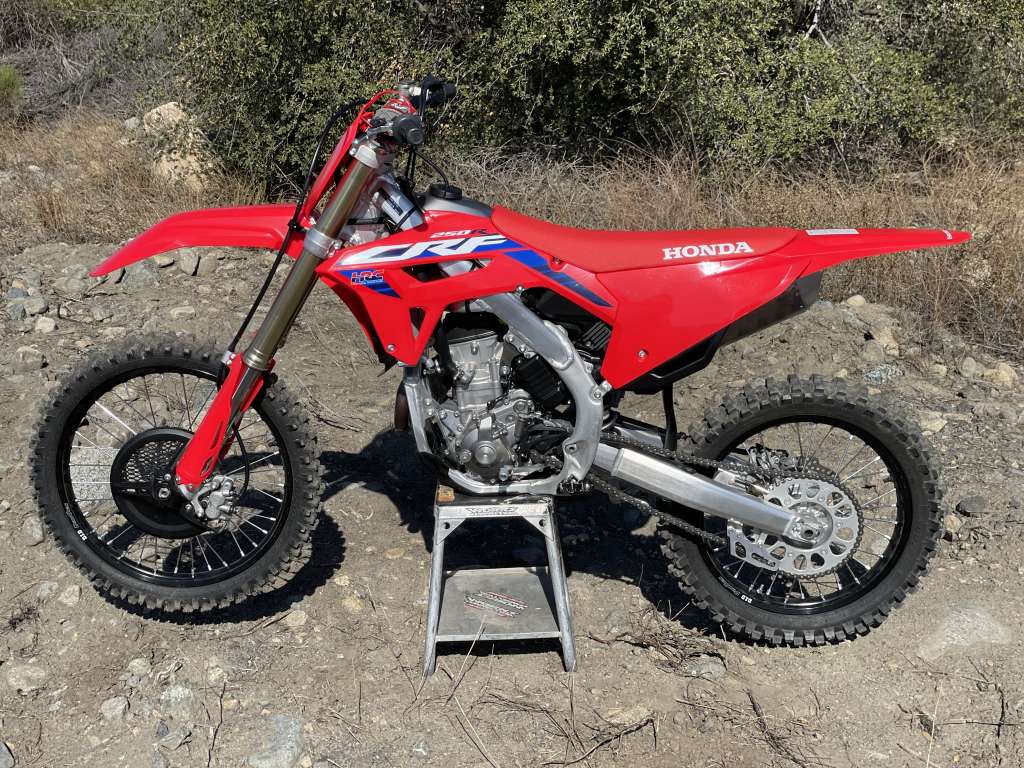 2023 Honda CRF250R:
In stock form the Showa suspension on the 2023 Honda CRF250R has more of a firm feel than in years past. The fork is a little firm feeling which is good for riders over 170 pounds, but lighter riders might want to take 5cc's of oil out of the fork. This will help the fork move a little more and give the rider a little better feel when on the edges of your front tire. The shock is a little softer feeling than the fork so out of the crate it is a little unbalanced but doesn't take as much to dial in as the 2021 machine! I figured out that this baseline suspension setting gave the 2023 Honda CRF250R the most "track toughness". If you happen to feel like the fork is harsher (through the mid stroke) with this setting, simply open up the rebound (faster) back to the stock setting. This will help free up the fork slightly under front end load (off-gas). The shock needs just a little more hold up under acceleration so simply going stiffer/slower on low speed compression/rebound gives the rider more comfort and added traction out of corners. I tried experimenting with high speed compression, but the Honda is finicky with high speed comp. Going stiffer on high speed compression (shock) put too much weight on the front end (fork) creating a harsher feeling front fork.
Fork: (140-170 pounds)
Spring Rate: 4.8N/mm
Height: 3mm
Compression: 11 clicks out
Rebound: 12 clicks out
Oil Level: -5cc Oil Out (Stock is 380cc)
Shock:
Spring Rate: 50N/mm
Sag: 105-106mm
High Speed Compression: 2-1/6
Low Speed Compression: 5 clicks out
Rebound: 9 clicks out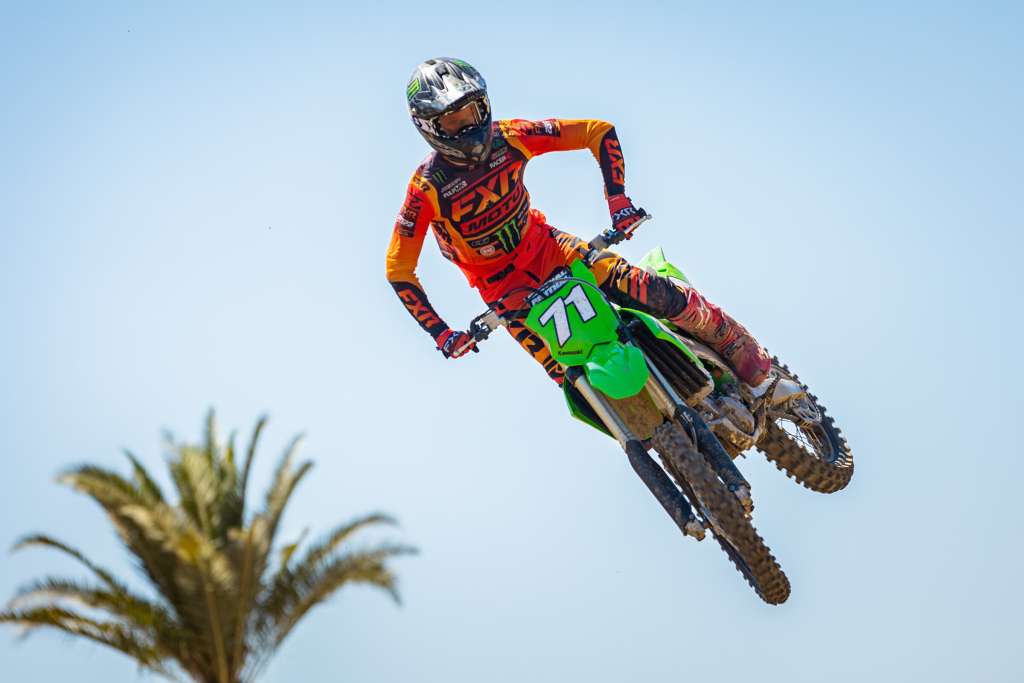 2023 Kawasaki KX250:
The 2023 KX250 to me has a better suspension feel than last year's version but is still firm in the front on braking bumps. The KYB suspension does have a wide range of comfort for different size riders so stock springs should suffice unless you're over 180 pounds. If you're over 180 pounds then going to a 5.0N/mm fork spring as well as a 56N/mm rear spring and softening up the compression a couple clicks on each end should increase the comfort for you heavier dudes.
Fork:
Spring Rate: 4.9 N/mm
Height: 4mm
Compression: 9 clicks out
Rebound: 10 clicks out
Shock:
Spring Rate: 54 N/mm
Sag: 102-103mm
High Speed Compression: 1.25 turns out
Low Speed Compression: 9 clicks out
Rebound: 11 clicks out

2023 Yamaha YZ250F:
The 2023 suspension is the same as the 2022 so the 2022 setting will roll over. The 2023 setting is firmer than in year's past (compared to the 2020 setting), holds up more in the stroke slightly, yet still has that KYB free feeling movement (unlike a Showa feel where it moves less with a dead feel) that is very active on the track. That active feel translates into a a front/rear end that follows the ground well under small chatter and bigger/softer braking bumps. I did have to go a little firmer on both ends for my style of riding, but it didn't take long at all to feel comfortable. Track Toughness of the 2023 Yamaha YZ250F is good but it does have some pitching off throttle. Going to a free feeing map is best for the chassis feel as well as the suspension.
Fork:
Spring Rate: 4.7 N/mm
Height: 4mm
Compression: 7 clicks out
Rebound: 11 clicks out
Shock:
Spring Rate: 56 N/mm
Sag: 104mm
High Speed Compression: 7/8-1 turn out
Low Speed Compression: 9 clicks out
Rebound: 9 clicks out

2023 KTM 250SX-F:
With the new frame that KTM introduced for 2023 the settings have changed a little. Always remember that a WP AER fork needs more time to break in than any other fork on the market. Your AER fork will need at least 6-7 engine hours to fully break in. If you feel like your fork is stiff/harsh before that, don't fret yet, as this is a common feel among these forks (not as bad as two-three years ago but still not as plush as a spring fork). These KTM/Husqvarna/Gas Gas settings are for riders anywhere from 150-180 pounds. Lighter riders under 150 pounds will need a slightly softer air setting (around 10.3 bar), but can use the same clicker adjustment readings.
Fork:
Spring Rate: 10.6 bar (Break in should use 10.5 bar)
Height: 5mm
Compression: 12 clicks out (with 10.6 bar) 15 clicks out (with 10.7 bar)
Rebound: 10 clicks out
Shock:
Spring Rate: 42 N/mm
Sag: 102mm
High Speed Compression: 1.75 out
Low Speed Compression: 10 clicks out
Rebound: 11 clicks out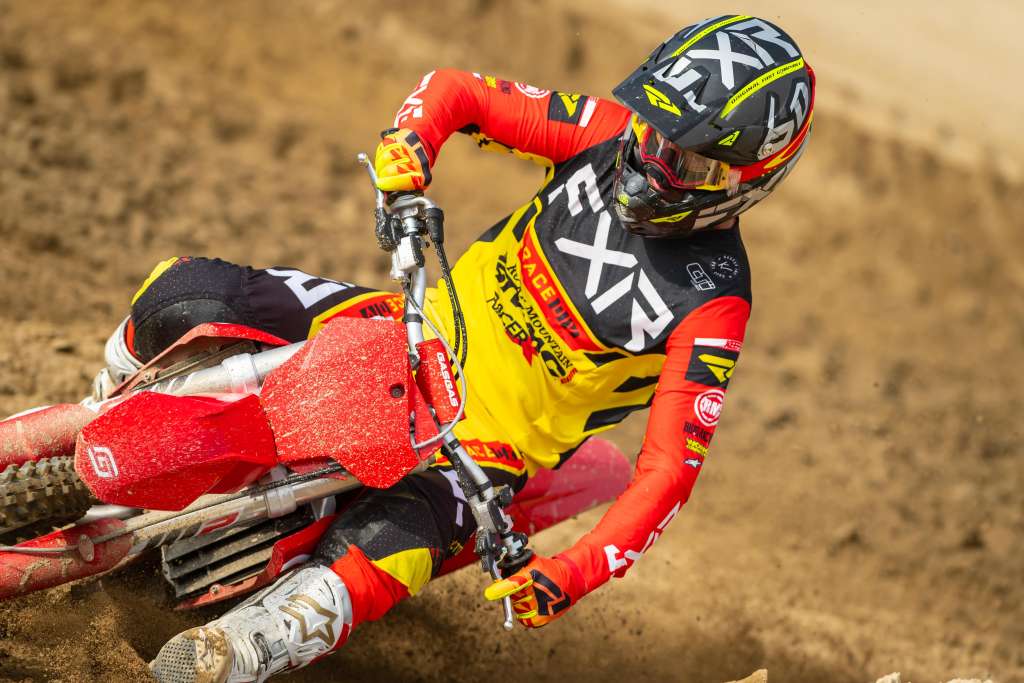 2023 Gas Gas MC250: (Break in should use 10.5 bar)
Fork:
Spring Rate: 10.6 bar
Height: 5mm
Compression: 12 clicks out (with 10.6 bar) 15 clicks out (with 10.7 bar)
Rebound: 10 clicks out
Shock:
Spring Rate: 42 N/mm
Sag: 102-103mm
High Speed Compression: 1.75-2 turns out
Low Speed Compression: 11 clicks out
Rebound: 11 clicks out

2023 Husqvarna FC250:
Due to the lower nature of the Husqvarna setting, we preferred to go a little stiffer with this set up (compared to the KTM and GG) to get more comfort on the Husqvarna suspension. The Husqvarna is slightly better on side to side movements (feels lighter) so going a little stiffer doesn't hurt this feel. If you like to front end steer more and would want some better front tire contact on lean angle try going to a high speed shock setting of 1.75 out
Fork:
Spring Rate: 10.7 bar
Height: 5mm
Compression: 14 clicks out
Rebound: 9 clicks out
Shock:
Spring Rate: 42 N/mm
Sag: 102mm
High Speed Compression: 1.5-1.75
Low Speed Compression: 10 clicks out
Rebound: 11 clicks out