Written By: Michael Allen
When Kris invited me to come ride Honda's latest off-road offerings I couldn't say "yes" fast enough. I hadn't ridden off-road in awhile and to be quite honest I need more trail riding/play riding in my life because for most of us that's where it all started. Sometimes getting back to why you started riding brings back fond memories and always puts a smile on your face. To top  it off, the intro was at a place called Chocolate Mountain Ranch near San Diego Ca, somewhere that has always seemed like a dirt bike riders dream and after a day of riding that dream had become a reality.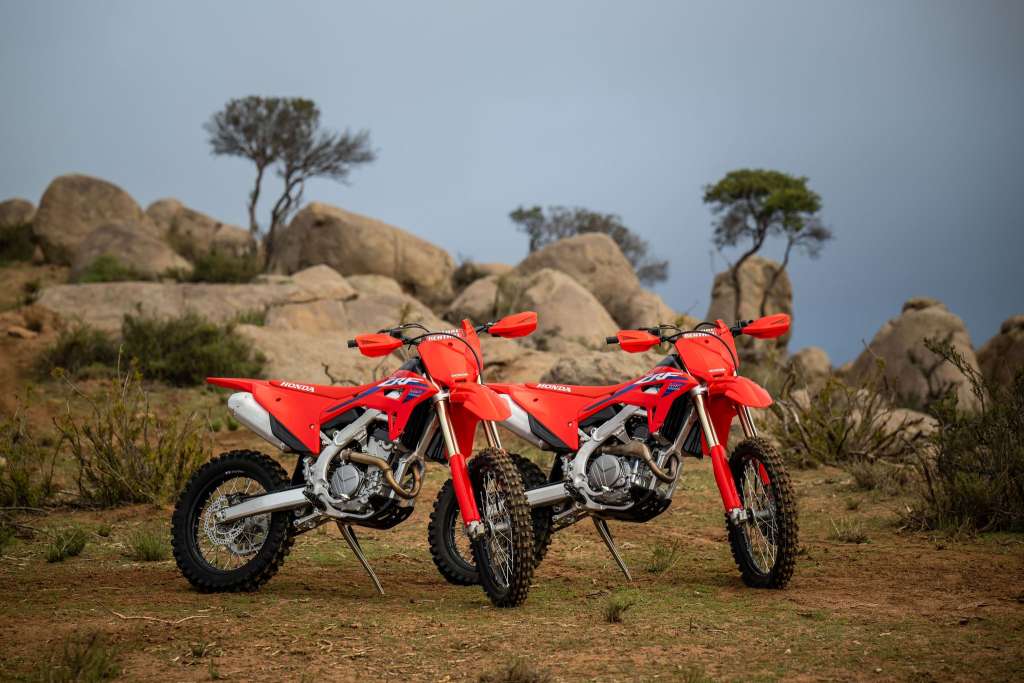 The older I've gotten the more motorcycling disciplines I've been exposed to. Overall this is a good thing as I'm interested in all things two wheels, that being said it really makes you realize that every discipline requires more specific parts and skill sets. It seems as though every specialty has a specialty that make it necessary for bikes to be made specifically for that discipline. While we would all love it, not all of us make the kind of money that would allow us to have a bike for moto, desert, trials, hard enduro, woods etc. etc. Over the past ten or so years I've noticed a few manufacturers offering bikes that aren't narrowed down to be the perfect bike for one discipline; instead they are more diverse and able to tackle different types of riding without giving up too much in any one specialty. At first these bikes seemed weighted towards moto with only a few slight changes that made them more rideable in off-road type situations. However, as the years pass, manufacturers/ testers have been able to make these machines much more pleasant to ride off-road while making the bike only slightly less moto centric.
Honda introduced the CRF450RX in 2017 and marketed it as its off-road competition model for GNCC and WORCS types of racing. Although I commend Honda for being open minded enough to enter this market, they didn't exactly jump in head first, instead they dipped their pinky toe in by seemingly putting a kickstand on their CRF450R. I had the opportunity to ride this bike at the 2017 Soboba Trail ride in very slick muddy conditions and let's just say it wasn't exactly at home in the semi off-road conditions, in fact I ended up going home with a separated shoulder. Following the 450RX, Honda released the 250RX in 2019 and although I didn't get the chance to ride the 250rx, I understand Honda did a slightly better job making it more off-road friendly.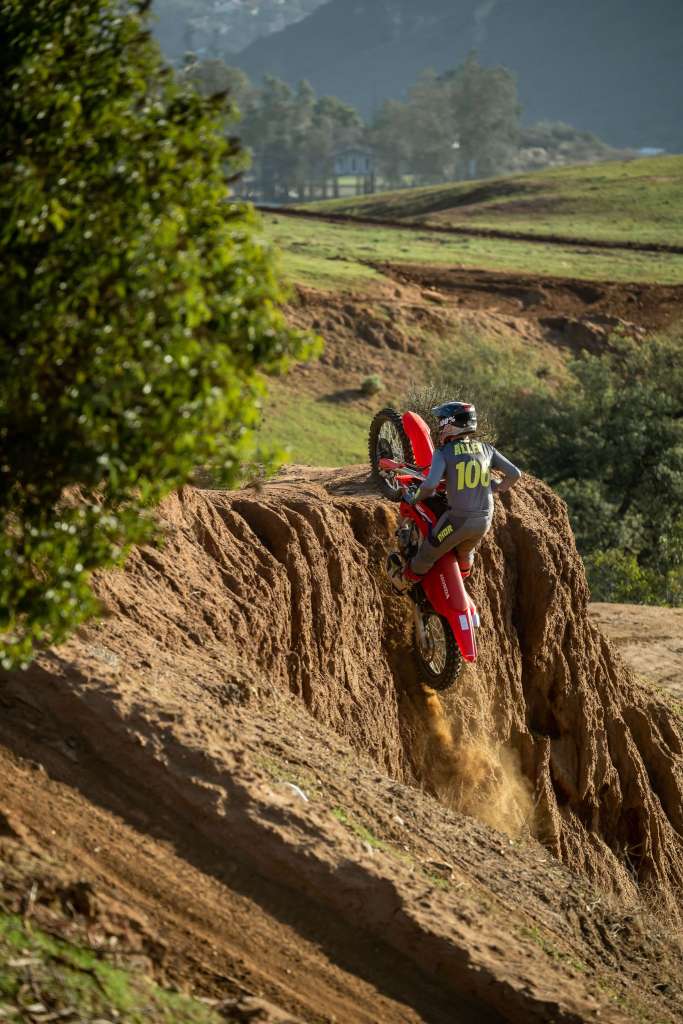 Fast forward to 2023 and both the 250RX and 450RX models received a complete re-design and are more refined and diverse. Being that I'm a guy that rides moto and off-road both, these RX models are very appealing and after a whole day of riding I'm still slightly torn on which one I'd sign on the dotted line for as my do-it-all bike. being undecided isn't a bad thing; in fact it just means that both bikes are so good that I can't decide which one I like more. In the power department the 250 is much more rider friendly than the last Honda 250F I rode (2018 CRF250R). Instead of being 125ish the 250RX has a broad power curve that is smooth when it's rolled on without feeling sluggish and boring. While no 250f likes being lugged too low in the RPM range, the 250RX doesn't mind being ridden a gear high without coughing and stalling as long as you keep a finger on the clutch just in case. What I was most surprised at was the fact that there didn't seem to be any trade off to having great bottom end power. Most of the time you can have one or the other; either good bottom and the top will suffer or visa versa but the 250RX still has exciting power when it's revved. There was a little grass track on the loop Honda set up and the little 250 didn't mind one bit if you wanted to hold a gear on instead of shifting. The 450RX was basically a more powerful version of the 250RX in that the bottom end power was very rider friendly, with a strong mid and when revved in the aggressive map it felt every bit as strong as the CRF450R. Surprisingly I did stall the 450 more times than the 250 but I think that was more rider error than it was a bike issue. What I think happened is that the bottom power on the 450 is so good, I kept trying to be too lazy and would ride 2 gears higher than I should, which would result in a flame out. I found the clutch engagement window on both machines were quite large, which makes it a little more forgiving when slipping the clutch since it's less on off feeling.
The suspension on both bikes were a nice blend of comfort yet firm enough to confidently spin some moto laps for a vet novice. In rutted turns where front tire placement needs to be precise, both Hondas really shine as it only takes a little input from the rider to put the bike where it needs to be. However, in tighter corners where you must put out your leg the girth of the oversized fuel tank can really be felt. It's not necessarily a negative attribute for me, it just takes some getting used to when first riding either bike. To my surprise, faster flat turns were also handled with confidence by both red off-roaders. With a little weigh added to the outside peg, neither bike felt nervous nor lazy. On tight trails where there are rocks or ruts you're definitely rewarded by standing. When standing while using your weight to push downward on the pegs and using a little throttle both these bikes are very light feeling as well as nimble with the ability to hop over obstacles or across ruts with very little effort.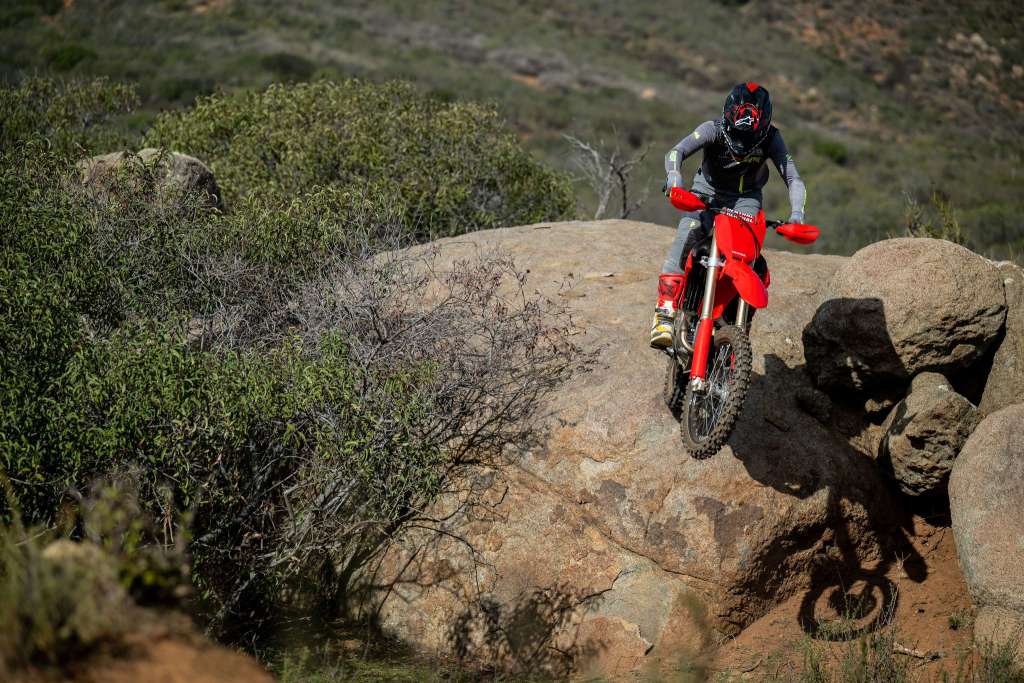 Going into this test I was expecting Honda to have yet again slapped some off-road decals on their moto bikes and called it a day. Happily I can say after a day of tight trails, fun jumps and just plain goofing around; Honda has finally really hit the mark on a competitive and fun off-road bike. While everyone likes more power, by the end of every session on the 450RX my arms were pumped up and my fingers were cramped from covering the clutch to make sure I didn't end up looping out. I admittedly enjoy riding 250F's and yet again if I had to sign on the dotted line, I'd be picking up a 2023 Honda CRF250RX. There is just something special and endlessly fun about riding a bike near its actual potential and actually feeling fully in control and not scared of the machine. It's a big deal that the Japanese manufacturers are making bikes more specialized for different types of racing. In this case though I think that although this bike is meant for closed course tight racing, for me it's meant for any type of off-road, moto, desert, and most of all FUN riding.
Keefer's Opinion: I tested both bikes as well and I concur with Janky Mike! I loved riding the CRF250RX and to me was much more fun than the CRF450RX. If I was riding more open spaces and not such tight single track, I think I would like the 450 more but the 250 is a blend of fun power and agile chassis that I like in my trail bikes. The 450RX got the updated chassis changes that the "R" model got and to me doesn't feel as rigid as the R model does. Maybe because of the added weight of the RX, but it feels more planted than the R model does, which is great news for off-road riders! Unlike Janky Mike, I thought the clutch pull on both 250/450RX was a little too firm for my liking (yes, the 250 is still cable pull and the 450 is hydraulic). The 450RX clutch is a little too on/off for my liking so I prefer the cable pull on tight trails as well as for modulating the power. Both of these machines offer the consumer a wide range of adjustment and track/trail toughness. -Kris Keefer