The 2024 Honda CRF250R is the exact same bike as the 2023 version. With the 2022 being new, Honda left things alone for 2023 and 2024, which isn't a horrible thing. The fork is firm for anyone below 170 pounds so getting that dialed does take some work. However, unlike the CRF450R the CRF250R is not as rigid feeling and to me is a better feeling chassis than the 450R. Here are some notes as well as some settings for your 2024 Honda CRF250R. If you have any questions about your red machine, email me at kris@keeferinctesting.com as we are happy to help!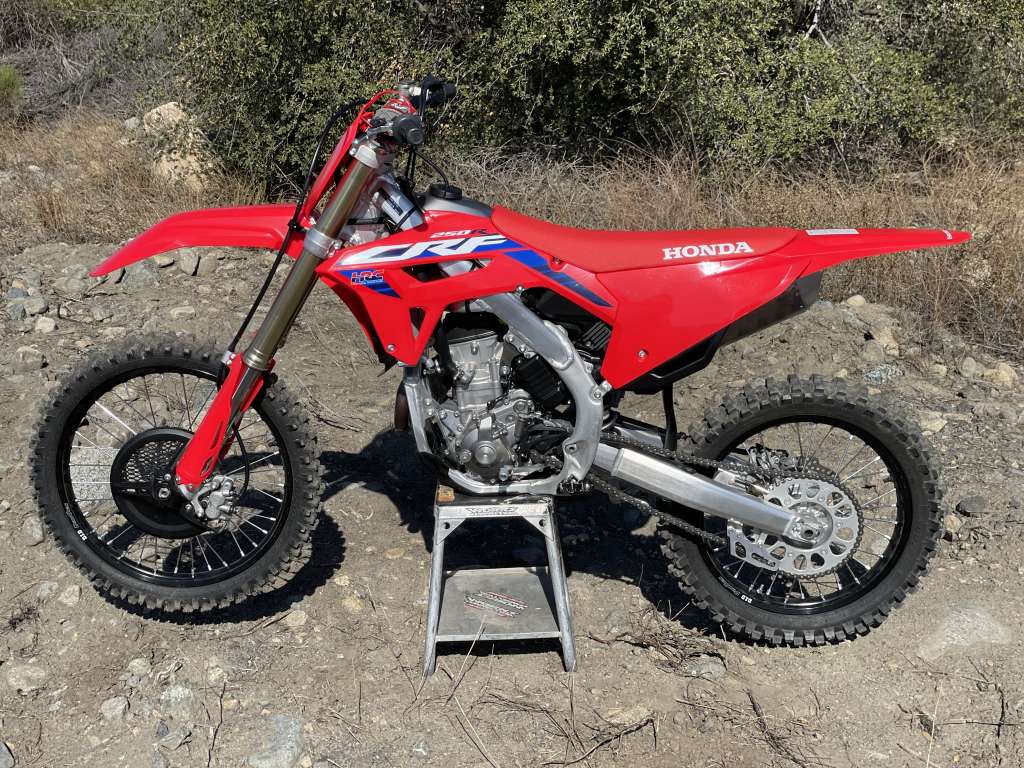 Suspension:
In stock form the Showa suspension on the 2024 Honda CRF250R has more of a firm feel than in years past. The fork is firmer feeling than the 22 which is good for riders over 170 pounds, but lighter riders might want to take 5cc's of oil out of the fork. This will help the fork move a little more and give the rider a little better feel with the front tire. The shock is a little softer feeling than the fork so out of the crate it is a little unbalanced but doesn't take as much to dial in as the 2022 bike! I figured out that this baseline suspension setting gives the 2024 Honda CRF250R the most "track toughness". If you happen to feel like the fork is harsher (through the mid stroke) with this setting, simply open up the rebound (faster) back to stock setting. This will help free up the fork slightly under front end load (off-gas). Going with less oil in the fork also will help the comfort on de-cel bumps. If you feel like you lose a little fork control after dropping 5cc's of oil, simply go in on compression 1-2 clicks. Doing this will get you small-medium bump compliance as well as more comfort through the handlebars.
The shock needs just a little more hold up under acceleration so simply going stiffer/slower on low speed compression/rebound gives the rider more comfort and added traction out of corners. I tried experimenting with high speed compression, but the Honda is finicky with high speed. Going stiffer on high speed compression (shock) put too much weight on the front end off throttle (when dropping oil level) creating a harsher feeling front fork.
Fork: (140-170 pounds)
Spring Rate: .48N/mm
Height: 2mm
Compression: 12 clicks out (With -5cc's of oil out, go to 8-10 clicks out)
Rebound: 11 clicks out
Oil Level: -5cc Oil Out (380cc)
Shock:
Spring Rate: 5.0 N/mm
Sag: 105mm
High Speed Compression: 2 out
Low Speed Compression: 6 clicks out
Rebound: 9-10 clicks out
Engine:
The engine of the CRF250R is snappy off idle and has better low-mid range than the older Honda engine, but it still is not as good as a 2023 Yamaha YZ250F or a KX250. What I do like about the Honda engine is that it has more rear wheel connection than the bikes mentioned above. The mid to top end pull is great and to me is better than the Yamaha YZ250F, but it simply takes more work to get out of a corner than the Yamaha. The Honda engine still prefers to be revved and rewards riders that do so, but has more meat than the previous models. Honda did a good job with mapping on the CRF250R. If you want a more low end response and an engine character that feels freer that may require you to shift more because it revs through the power quicker, go with map three. Map one offers a little less low end but builds RPM's a little slower and has more pull in each gear, which makes this map my go to map almost everywhere I ride. Map two is a great map that gives the rider a mellower low end feel but actually climbs through the mid-top end well. Top end pulls farther in map two than in map one but it builds more calculated in map two. If you're coming off a 125, map two could be your starting point. I still feel like Honda can do a better job with transmission spacing. Second gear is long but third gear is still on the short side for me. Although better than the 2021 CRF250R, I still use fourth gear quickly once shifter into third. Sometimes I will bypass third gear in the air if I know I have a longer straight after said jump. The good news is that the CRF250R pulls fourth gear fairly well and doesn't need a lot of coaxing to do so. It is just odd that I bypass third gear at times on some tracks (such as Glen Helen). Since third gear is kind of short for me, I go with a 13/51 gearing setting so that I can use third gear in corners instead of second. This gives me a better feel once out of the corner and I can shift to fourth in air instead of shifting up twice over jumps out of corners.
Chassis:
Like I mentioned earlier the 2024 Honda CRF250R is friendlier than the CRF450R on rough tracks and doesn't feel nearly as rigid as the 450R. The Honda CRF250R is still one of the best cornering 250s out there and inspires confidence through tough ruts than others in its class. I do recommend going to my chassis torque specs for the 450R on this 24' CRF250R. This helps relax the chassis on straight line and gives the rider a little more compliance on edge of tire when leaning over bumps (or cutting across tracks to set up for corners). The stock fork height is 5mm but I drop to 2mm because it helps with cornering stability when the ruts get rough inside or baked late in the day.
Ergonomics:
Nothing feels better than a Honda when you sit on it. I bet you a lot of people purchase a Honda simply because they sat on them in a dealership! I don't do much to the cockpit for my 6'0 frame but I do go to a Pro Taper EVO bar for flex purposes. The stock Renthal Fatbar has a great bend, but to me is a little stiff so going to a Pro Taper gives me a little more flex. I usually stick with a SX RACE bend and use Renthal half waffle soft grips. The Honda seat foam does break down within 10-12 hours so keep an eye on your foam if you start to feel like your sitting low on acceleration or maybe are getting monkey butt when your normally haven't in the past. Going to a GUTS medium foam is a good solution as their medium foam is near the same density as stock but will last a little longer than the stock foam.
Even though the Honda CRF250R is unchanged for 2024 it is still a great viable option in the quarter liter four stroke class. I will be testing some new parts for this machine in the coming months in order to try to get some added torque to see if you can rival the blue bike's front side engine character. Stay tuned!