The 2024 Honda CRF450R is unchanged from 2023 so we have a good idea on what works and what doesn't. Since I am VERY familiar with the brand, (being that I tested their production motorcycles for quite some time) I have an idea on what works and what does NOT. Below are some suggested suspension specs along with some torque settings and some mods that will help make your CRF450R more comfy for you out on the track!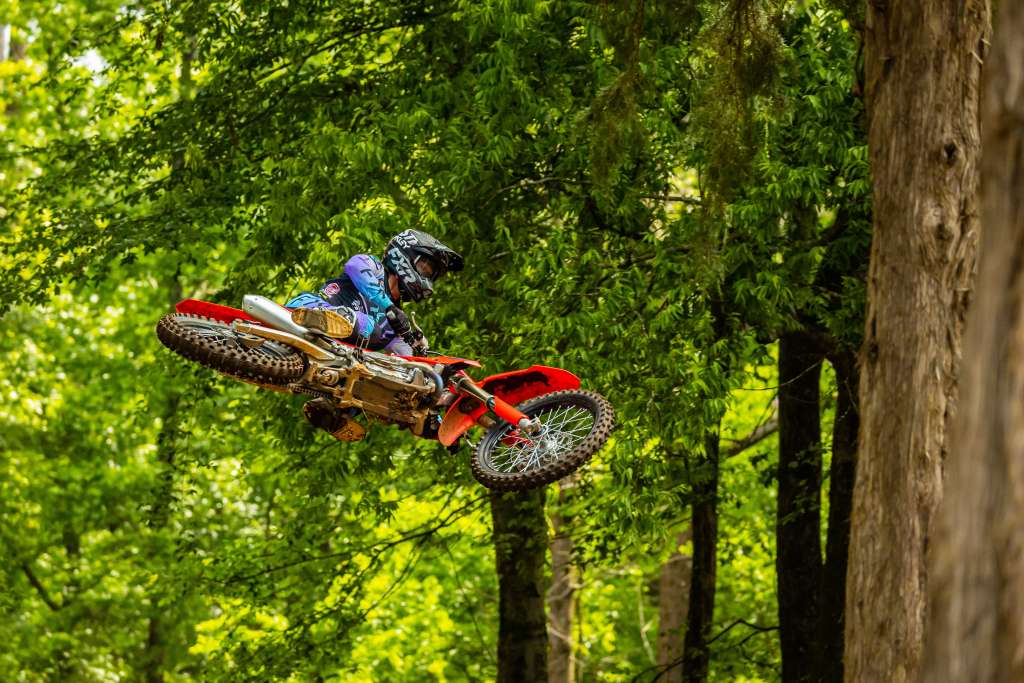 Optional Suspension Setting:
The stock suspension for 2024 has some added comfort and to us that is a step in the right direction. However it still might be too soft for if you're anywhere north of 210 pounds. Honda has a 5.0 N/m fork spring that is adequate for most, but even with the having more low speed compression damping for 2024, once broken in it might be a tad soft for riders heavier than 210. Out back the 56 N/m shock spring is a little soft, but the 2024 valving is much better on high speed compression so going to a stiffer spring was not warranted for my 175 pound frame. If you're over 220 pounds then I would recommend going to a 58 N/mm spring with the correlating clicker adjustments. This will help the Honda from riding too low in the stroke under acceleration when you're pushing 220 pounds. However, with the 56 N/mm spring and the 2024 valving the CRF450R has more rear wheel traction and added comfort on small chop so trying the clicker adjustments set to the 56 N/mm spring is worth a shot first. Remember, if you're just over 200 pounds and not into spending more money on a re-valve at this time, simply get some heavier springs and try this setting:
Fork: (170-200 pounds)
Spring Rate: 51 N/mm
Height: Flush
Comp: 8 out
Rebound: 11-12 out
Shock: (170-200 pounds)
Spring Rate: 56 N/mm
L/S Comp: 10 clicks out
H/S Comp: 2 1/4 clicks out
Rebound: 12 clicks out
Sag: 105mm
Shock (Alternate): (200-225 pounds)
Spring Rate: 58 N/mm
L/S Comp: 13 clicks out
H/S Comp: 2 3/4 clicks out
Rebound: 10 clicks out
Sag: 105mm
Torque Specs:
I still prefer going to these torque specs on the 2024 Honda CRF450R (similar to the 22/23 models). I spent a couple days experimenting with torque settings on the 2023 (24 has no change) and have came up with the spec chart below. What these updated torque specs do for you is slightly improve the bump compliance and front/rear wheel traction of the 2024 CRF450R. This isn't a cure all, but you will feel a little extra comfort in your red ride. If you don't see a torque spec on a portion of the bike that is not below, don't freak out, just go with the stock recommended torque spec. I experimented with a lot of different parts of the chassis with torque specs and the bolts/nuts below make the mosts difference on the red machine. It may not seem like much, but it's the little things on this bike that can make the Honda chassis FUN for the average guy. Out of all of the machines that I have experimented with on torque settings, this bike reacts the most to it, so pay attention to your nuts/bolts on your Honda! Follow the torque spec sheet below and make sure to blue Loc-Tite the bolts/nuts on each to ensure you have no issues down the road.
Rear Axle Nut (Qty. 1):
Stock: 128 Nm
Updated Spec: 120 Nm
Fork Top Clamp Pinch Bolts (Qty. 4):
Stock: 22 Nm
Updated Spec: 19 Nm
Fork Bottom Clamp Pinch Bolts (Qty. 4):
Stock: 20 Nm
Updated Spec: 16-17 Nm
Swingarm Pivot Nut (Qty. 1):
Stock: 88 Nm
Updated Spec: 81 Nm
Front Engine Hanger Plate Bolts (Qty. 4):
Stock: 26 Nm
Updated Spec: 24 Nm
Front Engine Hanger Plate Nut (Qty. 1):
Stock: 54 Nm
Updated Spec: 51 Nm
Cylinder Head Hanger Bolt (Qty.2):
Stock 54 Nm
Updated Spec: 51 Nm
Cylinder head Hanger Plate Bolts (Qty 4):
Stock: 32 Nm
Updated Spec: 29 Nm
Shock Absorber Upper Mounting Bolt (Qty. 1):
Stock: 44 Nm
Updated Spec: 42 Nm

Traction Control/Map Switch:
This is something I did not play with much the last couple years on the Honda CRF450R. Sometimes I get caught up with the chassis of this motorcycle so much that I forget to play with the other options Honda has to offer the rider. Below are a couple combinations of map/TC settings for you to try on certain types of tracks.
Track Type/Condition: Afternoon when track still has some traction available, but also has loose dirt on top with acceleration chop in ruts.
Map 1/TC1
With the map switch set to 1 and TC on 1 this gave me more control of the machine under throttle when track was going away slightly. Most of the time these conditions happened around lunch time (if track was open at 9AM) when lines were formed and ruts were established. With the TC on 1 through choppy ruts it allowed for more rear wheel traction and a less harsh feeling from the rear of the machine. I honestly wouldn't rule this setting out in the morning when lines weren't established and you need to find some traction on freshly tilled/watered dirt. If you're looking to keep the low end excitement but gain just a hair less of throttle response try the map 1/TC 1 combo.
Track Type/Condition: Late afternoon when track is beat up with blown out lines with all the good traction pushed off, or the dirt has dug down far enough to where it's hard pack.
Map 1/TC3
With the map switch still on map 1 and TC now on 3 this gives the rider a much more heavier low end chugging feel (almost like a long rod feeling) with less excitement on 2nd-3rd gear roll on. Some of you may ask why not just put it on map 2 with TC on 1-2, but to me that combo gas me less connection from my throttle hand to rear wheel. It almost made the bike feel much heavier than I like. With map 1/TC3 the Honda CRF450R gave me a good throttle to rear wheel feel without it feeling heavy in corners. I felt like I had more tire contact patch on lean, under loose/hard dirt and that gave me confidence to roll throttle on earlier exiting corners.
Mods That Work: Below is a quick explanation of a few mods that work on the Honda CRF450R. These mods have been tested and have proven to us that they are worth the money.
23.5/24mm Offset Clamps: Whether you go with the Ride Engineering 23.5mm or the X-Trig 24mm offset you will be getting a calmer Honda CRF450R. We ALL know that the Honda is twitchy on high speed tracks or when you're on the edge of your tire so getting a longer offset helps with the balance of this motorcycle. Running the fork height 3-4mm up in the new offset is also a great starting point instead of running it flush with the stock offset. This will NOT make your Honda turn worse, so don't stress on that aspect. In fact, I felt the Honda turned better because it was calmer leading into area 1 of corners. The rigidity between the Ride and X-Trig clamps are similar as they are slightly stiffer than stock on slap down but this is only minimal. Vibration is down (along with running a Pro Taper handlebar) and straight line stability is up so to me, I didn't mind the slight stiffer feel of each clamp. Some of you may not even notice the difference between the stock clamp and either of these two aftermarket pieces.
Pro Taper EVO Handlebars: I didn't get to stick a pair of Pro Taper's on until after my initial testing, but once I did I wondered why some of you DO NOT do it sooner. The anti vibration quality of the Pro Taper Evo is superb as well as the comfort of the bar on jump landings/braking bumps. You might be surprised on how many riders actually use Pro Taper bars that are disguised as other bars on some big name motocross teams.
Akrapovic Evolution Muffler System: The Akrapovic muffler system shifts the Honda's power around like no other muffler system I have tried to date. Once out on the track is when I realized that this Akrapovic muffler system could actually help this Honda chassis calm down. The Evolution system lets the Honda's engine roll on smoother at low RPM's and that smoother feel helps the rear wheel connection as well as provides less pitching (off throttle) than the stock system. AKA MORE COMFORT!!! The Honda CRF450R now builds a smoother roll delivery and a pulling power that is longer through the mid range than the stock system. This type of character can allow you to use second gear in corners more because the second gear hit is not as abrupt or quick and that doesn't upset your technique or the chassis. The Akrapovic also allows the rider to shift later out of the corner with its increased over-rev capabilities. Pulling power up top is increased slightly as your shifting points can be altered now because of the longer pull in each gear. The mid range recovery of the Akrapovic is not as good as the stock system, but honestly that is not a bad thing. The Honda has so much power to work with that a little less "hit" as well as "recovery" actually helps me with cornering and allows me to be more aggressive on the Honda. I want to be able to ride this red bike and not let it ride me after 15 minutes into a moto. The Akrapovic system relaxes the engine as well off throttle. There is less  engine braking with the Evolution system and that also helps your fork from feeling harsh on small de-cel bumps.