I am big on minimalist protection but as I get older I am leaning towards a little more protection, especially when I am racing. Alpinestars has been my boot of choice for quite sometime now, but they also have me loving some of their own line of protection items they offer. I have been running an A-1 roost guard since 2018 but recently Alpinestars went away from the standard A-1 to an A-1 Pro Chest Protector. The A-1 Pro Chest Protector features a Level 1 CE and UKCA Certified Polyhedron Hybrid Technology chest and Polyhedron Technology back protector that offers really good levels of ventilation, is super-lightweight and delivers excellent upper body protection against impacts as I have tried. 18% of the chest protector's structure consists of ventilation apertures and these are aligned through both layers of the hybrid structure to ensure maximum ventilation and airflow.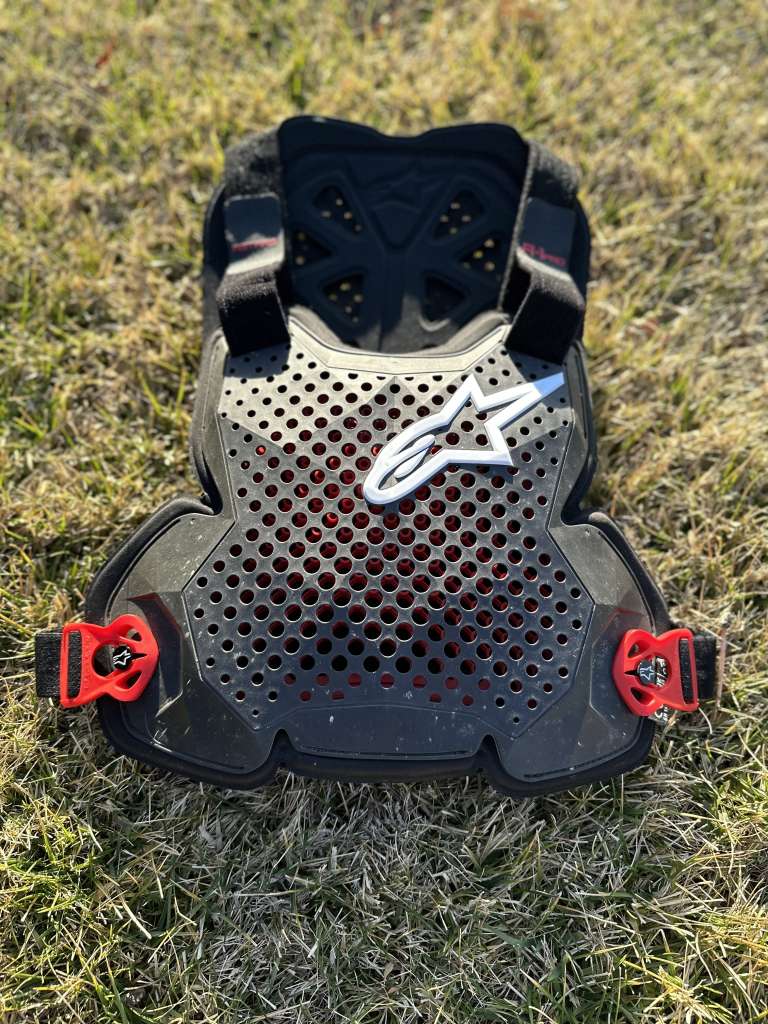 Some aspects of the updated A-1 Pro that I like are:
– Ultra-ventilated with ram air plenum directing heat build-up away from the chest
– Flexible chest protector molds to the chest shape for an adaptive fit
– Anatomically profiled back protector is contoured to follow the natural curves of the spine for superior comport
– Adjustable and removable shoulder padding for a customized fit
BNS compatible via elasticated BNS pull tabs

Lightest CE Level 1 Chest Protector weighs only 664 grams in size M/L
I have been testing the A-1 Pro Chest Protector with the complete shell intact for a while and found it to be very comfortable under my jersey. The A-1 Pro claims to be the lightest chest protection and even though I have not tried ALL of the protection out there, it's pretty damn light feeling. I am picky about having anything on my chest while I ride as I grew up with no chest protection, but this A-1 Pro feels minimalistic and I love that. Its mobility also won me over as it allowed me to move freely on the bike without feeling like my upper torso was welded together. Being loose on the bike is key and this Alpinestars piece allows me to do this with the peace of mind that I have some sort of guard on between me and the dirt.
I do notice that the A-1 Pro has longer back protection which took me sometime to get used to but being that I am 6'0, it didn't bother me on the bike. Once I got used to the complete shell, I removed the shoulder pads and back shell and rode with it like that for several weeks. This quickly became my favorite setup, as it almost felt like I didn't have anything on. Adjusting from full shell to front shell only is not as easy as the old A-1. The old A-1 had an integrated Y-strap system, but the A-1 Pro doesn't. Lucky for me, I kept my old A-1 parts and installed the old A-1 integrated system to give me "front only" protection for a few weeks to try. If you want a full chest protector, taking the back off kind of defeats that purpose, but some of you might only want a front guard so if you don't have some of the old pieces of the A-1, going to a front only guard is a mute point. 

I was skeptical on the sizing as I received a (M/L), but the A-1 Pro is extremely adjustable and fit snugly around my torso. I also appreciated that the soft Biofoam shoulder pads do not stick out or make your jersey protrude outward when riding if you decide to keep those on. I did get a little warmer when wearing the A-1 Pro, but it wasn't so bad that I needed to cut holes in my jersey or needed to rip my jersey off immediately after a long moto. The ventilation of this A-1 Pro exceeded my expectations. Even though I am not the best example of, "Dress for the crash, not the ride," I appreciate a good chest protector that offers flexibility and enough protection/roost deflection for my taste. At $149.95, the Alpinestars A-1 Pro is a great buy with its great protection/ventilation and is comfortable enough for me to wear year-round. But… There's always a but… I wish it had an integrated Y-Strap! It's offered in black or white colorways and is available directly from alpinestars.com.