Editors Note: I try to tell our listener/reader that if you want to be a part of this industry, you have to be good at a lot of different things. I was good at testing/evaluating motorcycles but I wasn't great at writing when I first started. I had help and I practiced a lot. I had a few key people help how to write in a way that is easy to read as well as how to break down my thoughts to my laptop. I first met Anthony at last year's KC66 Ride Day at Fox Raceway as he was preparing for his ride back from a traumatic spinal injury that has for now left him without feeling from the waist down. MotoDemption (a non profit organization) had prepared an adaptive bike for him at that time to ride at Fox Raceway and I had the pleasure to help Anthony get back on the horse (so to speak) on his first day back on the bike. That day left a mark on me and the experience that I shared with Anthony (and his family) was something that I'll always remember. Anthony kicked ass on that day and both of us have remained in contact with one another since then. Anthony is looking to break through in our industry and possibly make a career at something within our sport so I asked him to start writing some articles for me as practice. No one gets anywhere without help, so I wanted to put Anthony's work on my site for you all to read/see. Over the next few months you may see some articles from Anthony about professional racing, life, living with a spinal injury, riding dirt bikes, or whatever. I don't want to pigeon hold him into writing about just one thing. Keefer Inc. Testing has always been more than just about testing dirt bikes and I think Anthony is a perfect fit for what we're about. So without further ado, here is Anthony Picchione and his thoughts on the Pala national. Thank god he didn't talk shit on me for my horrible day! Thanks, AP. Appreciate that! If you want to reach out to Anthony please email me at kris@keeferinctesting.com and I will get you in contact.  -KK
Written By: Anthony Picchione
The opening round of the 2023 Pro Motocross Championship at Fox Raceway is done and dusted. This weekend's race brought lots of action for us couch-dwellers; some surprising results, some not so much. Either way, it was an eventful start to the series that left us with unanswered questions moving onto Hangtown this weekend. Although the Lawrence brothers took both overall wins, there was lots of action throughout the field in all four motos. I was very surprised to see RJ Hampshire start the year hot with a moto win. Let's be honest, RJ has been known to get a little "sendy" over the years. In the first moto however, Hampshire took the win in convincing fashion with minimal mistakes. He seemed to have a certain aura about his riding this weekend. With the exit of his 250 SX West rival, Jett Lawrence, RJ probably feels this just as much his championship, as it is anybody else's. The Rockstar Husky team as a whole also seems to have made major improvements to the chassis of the bike. It's no secret last year that Hampshire was very upset with his machine and fighting it more often than not. With these improvements, he seemed like he was able to charge harder into his turns, allowing the bike to move underneath him instead of trying to muscle the bike where he wanted it to go. After a terrible first lap in the second moto however, it's hard to tell if the first moto was a fluke or if that's the RJ that we should expect every week. If he's able to get two solid starts at Hangtown, I'll be keeping an eye on if he's able to keep the mistakes to a minimum and battle for the overall win.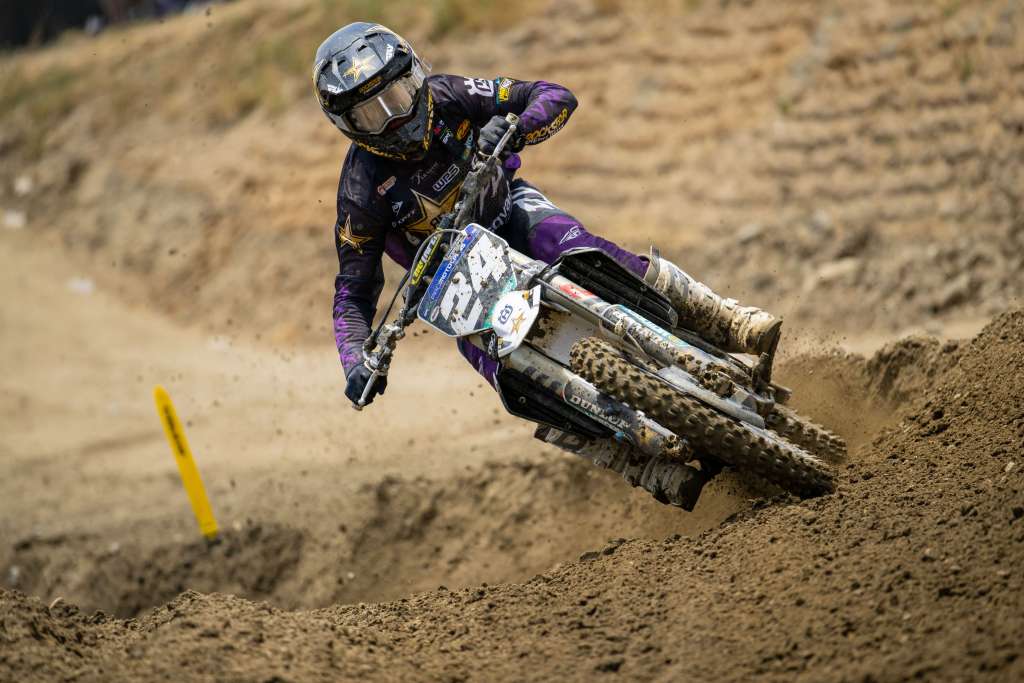 Outside of RJ's first moto win. A big surprise to me was Haiden Deegan. Not only did he have a great comeback ride in the first moto, he straight up caught and passed two time MX2 World Champion, Tom Vialle. Deegan did very well preloading bumps through the day to save energy. One instance of this that stuck out to me was his pass on Ryder D in the rollers with a few minutes to go in the first moto. He was able to use the bumps going into the turn to drop down into the ruts. The way he's able to do this reminds me of the Villopoto used to ride outdoors. Haiden should be proud of his day; as he continues to put the haters to rest and prove them wrong.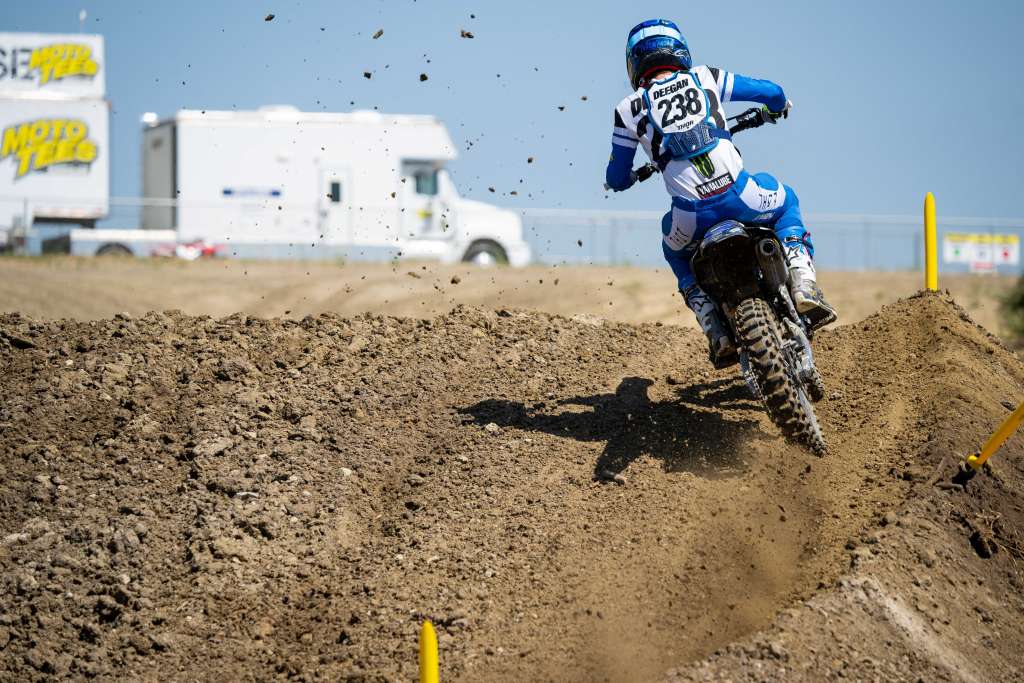 As far as the 450 class goes, Jett WOWed me. He rode incredibly smooth both motos. Even through immense pressure from his Honda teammate, Chase Sexton, Jett was still able to come away with 1-1 finishes. Lawrence was always smooth on his 250, but his smoothness seemed to multiply with this move to the 450 class. His ability to float over the bumps and link turn to turn together was truly impressive; definitely something you don't see often. Chase was right there in the second moto. He looked like he was working so hard to get around Jett. The #23 was taking any line he could to not follow and try to set up a pass. It's insane how two riders could have totally different styles of attacking the track and be so close in speed for 30 minutes plus two laps. Barring injury, this title fight is going to be spectacular. With the addition of the metal starting grates, it's likely we will see the two Honda boys up front more often than not. With improvement from both riders as well, I see no challenge from other riders in the field.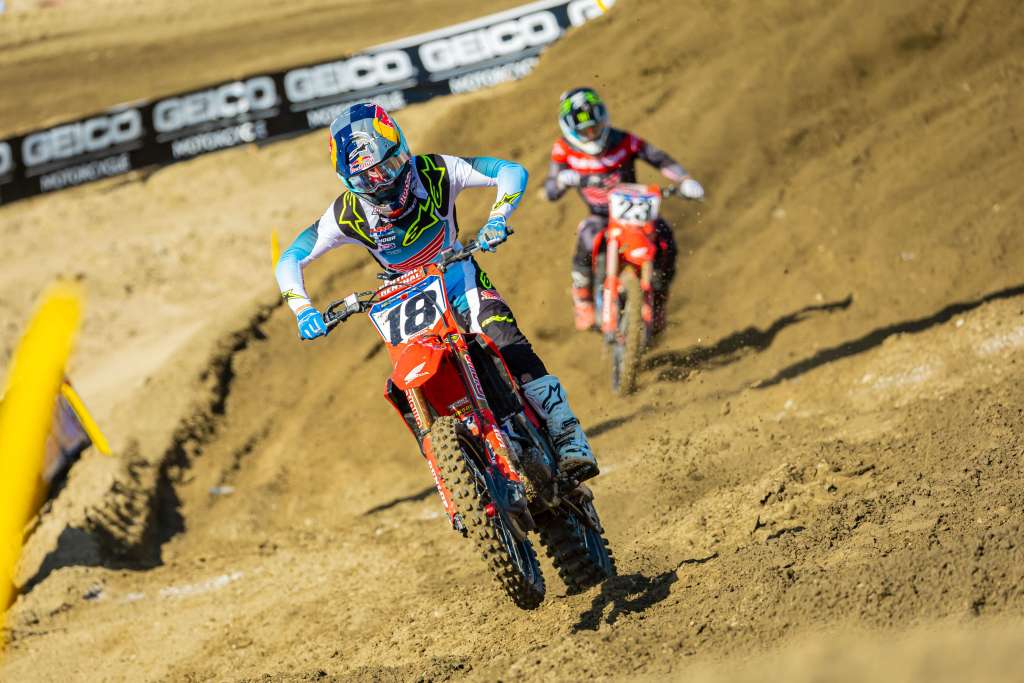 Last thing to touch on would be Dylan Ferrandis. He looked extremely uncomfortable. Now I'm in no position to speak while sitting on my couch watching, but he and his bike didn't look like they were getting along at all. I'm not sure if it's the lack of time on the back or the bike setup itself but you have to think that Dylan and his team are scratching their heads this week trying to come up with ways to close the gap to the top two. Those are just some of my many thoughts about the opening round of the 2023 Pro Motocross series. It was a great start to what should be an eventful year full of racing. I look forward to Hangtown, for which riders will be able to back up their results and who can improve on their not so good first round.