Before I had a kid I was mostly chest protector-less but since we had our son Aden, I promised to wear more protection around my torso in order to set an example for him. Since then, I have been through a hell of a lot of chest/back protection and usually stick with one or two types of under protectors. Since Alpinestars discontinued their A-1 (yes, they make an A-1 Pro, but the shape is different than the A-1), I decided to expand my horizons and see what else is out there. This is probably the first of many types of body armor tests that I will be doing. Here are the latest two that I have tried and what they are all about. This isn't a comparison, but more of a way to get two reviews at one place. One protector has more coverage and one has a different type of blunt force protection. I will say that I will pick either one of these on any given day. -KK
Alpinestars A-4 Max:
The A-4 Max protector offers protection for the chest, ribs and back via its flexible hard plates. With ventilated bio-foam padding for comfort and fit, it features removable shoulder padding for versatility and optimal comfort, and is fully compatible with Alpinestars Bionic Neck Supports.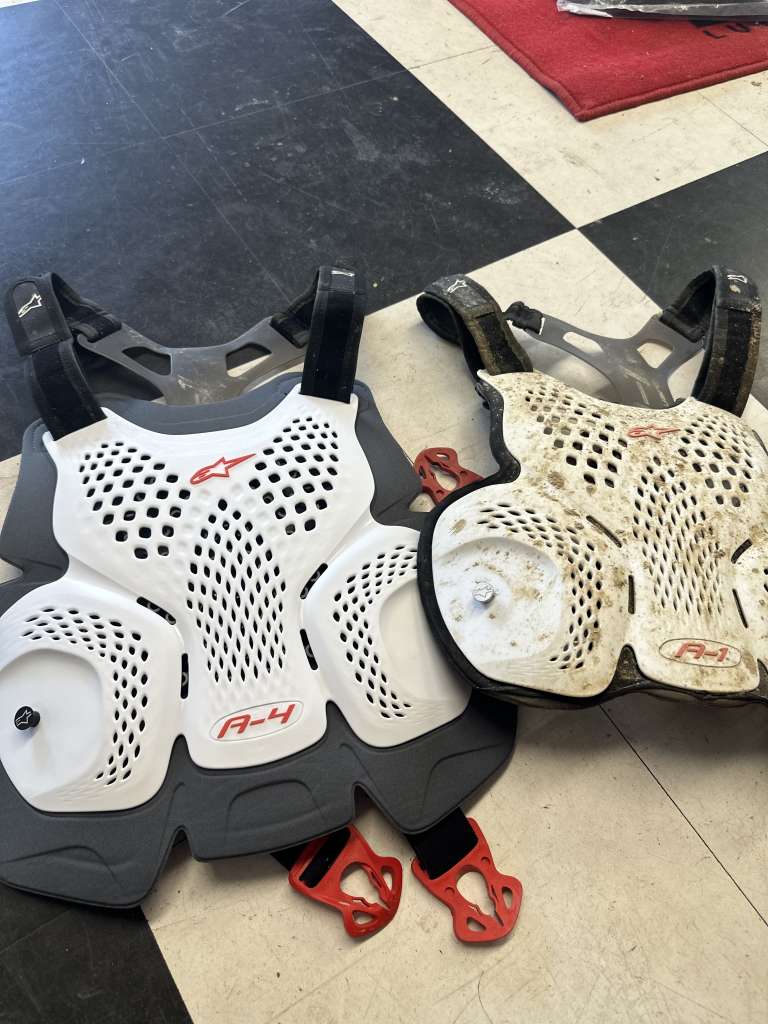 Bionic Neck Support compatibility. Silicon BNS pull tabs for easy and safe engagement of the BNS. Additional thermoformed EVA tail extension for extended coverage to the lower spine, which is a feeling that might take some time to get used to. Adjustable elastic straps incorporate thermoformed perforated rib protection panels for additional protection without compromising movement. The elastic closure system features newly designed, quick and easy-to-use buckles that fit a broad range of rider body sizes (I had a 220 pound rider try the A-4 and he didn't complain. No news is good news here). Thermoformed padded chassis for optimized levels of comfort and close-to-body fit. Removable shoulder pads for high levels of customization. Adjustable shoulder straps for a customizable fit. The A-4 Max has extended padding to offer more protection against tire roost without obstructing arm movement, which I take off immediately. They don't hurt mobility but to me, I am just out on the padding on top of my shoulders. Call me old school, but I don't need those thin pads up there! The A-4 Max features a new Cell Technology back protector. The all-new triple layer chest protector features a highly perforated impact absorption insert for high levels of ventilation and protection. The protector plastic shells are perforated for maximum breathability and cooling ventilation.

To completely transparent here I wanted to try the Alpinestars A-4 Max because it looked like the closest chest protection (front side webbing/shape) I could get to the original A-1. With a extended protection on the A-4 and the removable shoulder/back plate, I could take those off and run just a front guard using my older A-1 parts. Yes, I know it defeats the whole back protection purpose but if you're looking for just a front protection plate the A-4 has that capability. I did stick with the full A-4 front/back feature and it was a little big compared to my original A-1 but after a couple hours I got used to it. The thing that maybe overkill (for me) would be the side/rib protection but if you're looking for a full body protector that isn't that bulky the A-4 is pretty damn good. The thermoformed rib protection does take some time to get used to but hugs your body nicely without feeling too cumbersome. Ventilation is superb and even in the hot summer months here in So. Cal, this A-4 Max is cooler than most other chest protectors out there with less protection. I also like that this whole protector hugs/wraps around your body well and feels like a part of you. I wore a size M/L for my size 32/L body type and it fit great. Tip: If the extra foam padding (that is near the bottom of the A-4) bothers you when seated on the bike, simply trip the foam padding to the length of the plastic guard.  For $179.95 this is a good buy if you want a light protector with maximum comfort/ventilation.
Scott Softcon:
The SCOTT Softcon Air Body Armor offers flexible, protective and breathable body armor like never before. The state-of-the-art soft ventilated D3O® plate design offers fully certified levels of safety and maximum freedom of movement, whilst simultaneously providing increased airflow to the body with its mesh outer shell. The protection plates combined with strategically placed anti-moisture panels mean this body armor is trying to make you cool and dry when the action heats up. The Softcon is ventilated with a soft protective Airflex back/chest plates, anti-moisture inner panels with 3D mesh, elasticated velcro side straps and a hook/ loop patch closure.

I have some time in D30 protection and I've come to really like this material for riding. There are pros and cons to this material and one con is that it is very reactive to outside temperature and body heat. If it's cold outside make sure to get the D30 plates warm so it's not so stiff feeling when putting it on. Even though companies claim that D30 can be cool and ventilated it will never feel as cool as a plastic protector. Now the Pros are that the SCOTT Softcon makes me feel much safer than your standard plastic protection while riding. I also like how it feels wrapped around my body. It is a much secure feeling than plastic and doesn't feel as loose around your body. It also doesn't look as bulky when riding as some plastic protectors. I managed to hit the ground on the Softcon and the blunt force protection is much more plush feeling than the standard plastic protection. I really enjoy the feeling of the D30 and I am sure as this type of material gets developed more the better the ventilation will get. I do want to say that you will not be BOILING when wearing the Softcon but just know that it is a little warmer to wear than your average plastic protector. The Softcon will also be a little more dense/heavier feeling than your standard plastic protection. With more safety comes a little weight but to me it's not too much to negate me from wearing it. I will say that the velcro closures don't offer a super wide range of tension but it did manage to stay snug while riding for my size M/L sized torso (I am a size Large jersey/32 pant and I wore the M/L sized Softcon). The SCOTT Softcon will be in my rotation of under protection during the next few months of racing, that's for sure. The SCOTT Softcon will set you back $155.95 and is a little less expensive than some plastic protection.