Bridgestone has been out of professional motocross racing for quite sometime but they are still producing off-road tires and doing it at a respectable quality. I noticed that they came out with a new tread pattern to replace the X30, not called the X31. I was not very fond of the X30 front tire on heavier bikes, such as a 450cc machine, but I thought this updated X31 tire looked inviting to try. 
The new Bridgestone Battlecross X31 applies Bridgestone's Castle Block Technology on the shoulder blocks of the front tire, which through a convex section in its block has said can add traction thanks to an extra edge effect. Bridgestone also claims the the Castle Block Technology also increases contact pressure and gives a secure contact feel on slippery underground, improves grip and consistency on changing surfaces, and the additional edge is said to effect higher cornering grip/traction on different types of terrain.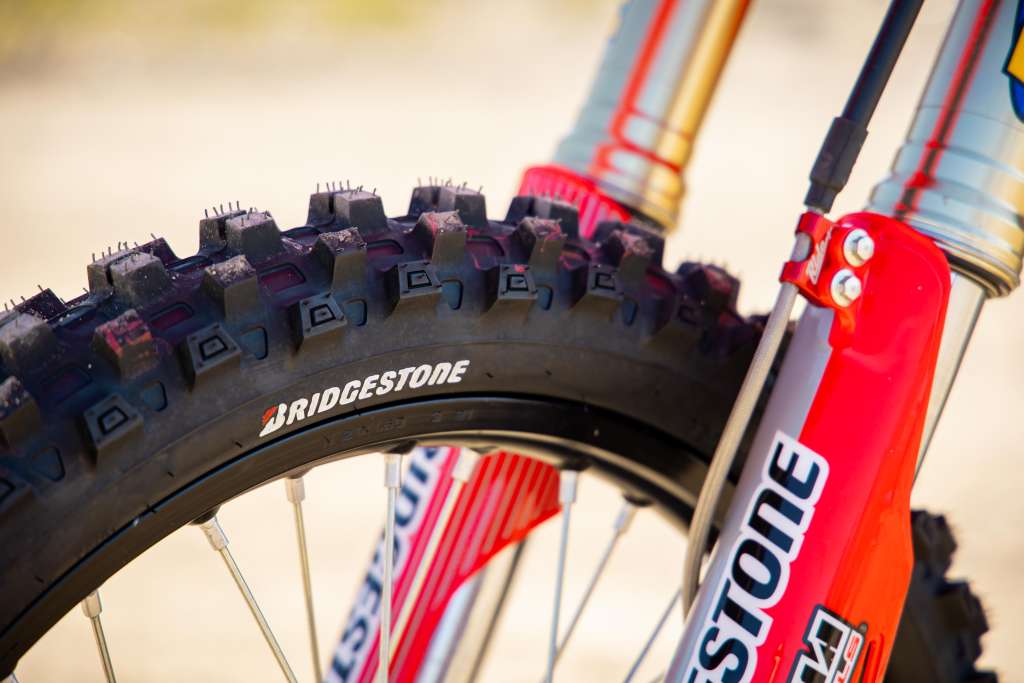 I am a front steering rider so I tried the X31 front tire and X20 rear combo for this evaluation as I could not get a X31 rear at the time of this test. The X31 tire has an increase in contact touch, where I feel it enhances the tire's bite feel when bottoming through surfaces, as well as grip/traction performance when leaned over. The X31 now has a carcass feel that seems more compliant than the old X30 yet can be leaned over better (stiffer feeling sidewall) through flat corners without washing as quickly. I now know where the X31 front tire will break loose which gives me a more predictable lean angle feel. The X31 also has better bump absorption than the X30 and feels close to a Dunlop MX3S in bump comfort and slap down feel. Originally I tested the X31 on a CRF250R and enjoyed it so much that I put it on my YZ450F work horse with the same results. I can say that Bridgestone's Castle Block Tech does feel like you do have more contact patch when leaning and that can be a big help for front end steering riders. 
Running 13.5-14 PSI has been my usual go to on this tire and this has proven to give me a blend of carcass comfort/squish with enough stiffness on extreme lean to be able to get a consistent feel through the moto. I will say that this X31 doesn't have the carcass comfort of a Pirelli MX32 Mid-Soft, but does have close to the comfort as a Dunlop MX3S. The Bridgestone is more consistent over the course of a 6 hour span than the Pirelli and wears better than a MX3S front tire. I still feel like the Dunlop MX3S is slightly better on soft to intermediate terrain, but when the dirt gets harder during the course of the day, the Bridgestone feels safer to lean than the MX3S! 
I am going to be doing more back to back comparisons with the X31 and other tires soon, but for now I am really impressed at this latest soft to intermediate offering from Bridgestone! After reviewing what tires RMATVMC has, it looks like you can get the X31 over on their site. be sure to click the banner on our site before you shop!