I am not a huge seat bump guy, but when Ryan Nitzen of Corner Coach gave me this removable seat bump, I thought it was a pretty good damn idea. The Corner Coach is the only adjustable and removable option that allows riders to choose the position of the seat bump. Need to sit farther up on the seat? Slide it forward. Need it back to practice starts? Slide it back. It's that easy.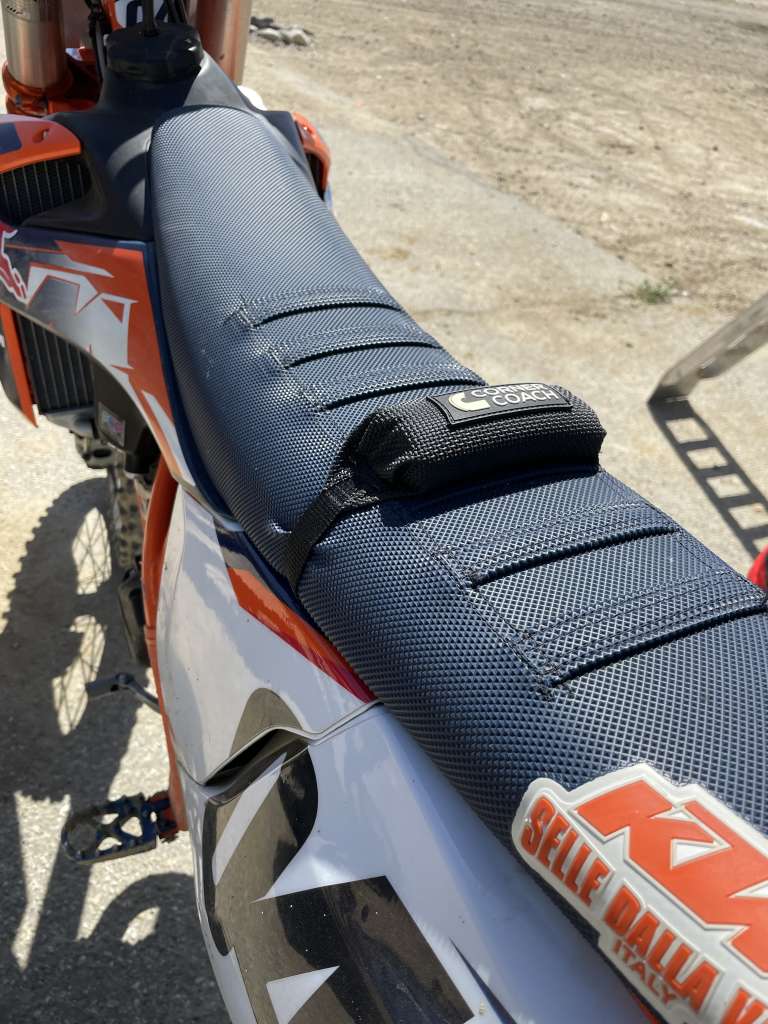 So I personally don't use a seat bump, but to me I think it could be very useful for someone that needs to learn to scoot forward on the bike through corners. I ended up giving my Corner Coach seat bump to a couple different riders (one vet rider and one novice rider) and both liked how it forced them to adjust their improper riding technique. The vet rider even said "I don't like it, but that's why I like it", meaning that if he sat down in the wrong area he would get a bump up his rear end. The Corner Coach spoke to him and said, "you're in the wrong area dude"! The beauty of this product is that it's simple, easy and inexpensive. This is like having your own riding coach telling you to sit on the bike correctly without having to pay for the riding coach. The Corner Coach does this without words. 
If you want a tool that can actually force you to sit on the bike correctly this is actually a pretty foolproof tool to keep around in the truck/van. I do know that sometimes you have to move around on the bike/seat of the motorcycle when riding and some seat bumps are too firm and can literally be a pain in the ass, bu this foam bump that Corner Coach made up isn't so firm where it would be painful. This is not a super tall bump but just a smack on the ass, to remind you that you need to adjust your position. We have put more than a few hours on the CC seat bump without any issues, but you need to make sure you cinch down enough on the adjustable strap to ensure it doesn't slide around. Oh and if you don't have a pleated seat, this also can help you from sliding back on the seat when accelerating. 

Look, some ideas aren't rocket science. This is one of those ideas that can work if you need help. For $40.00 it's a cheap way to improve your technique!