The 2022 Yamaha YZ450F stock suspension is one of the huge reasons why riders flock to this machine. The KYB suspension has comfort with a nice blend of performance that makes this bike have the most track toughness there is. That doesn't mean that this stock KYB stuff works for all types of riders however. Sometimes you need springs and maybe some slight tweaking to the valving in order to make it customized for your needs. Enter Enzo Racing. I have been helping/working with Ross and Yoshi over there for quite sometime and have came up with some great settings. Those settings sometimes get rolled over right to you, the customer and hopefully you all can feel the benefit of our time putting in the laps. For this test/article I wanted to try and utilize the least amount of ENZO parts and really hone in on just valving to see if we could come up with a better blend of comfort and performance over stock.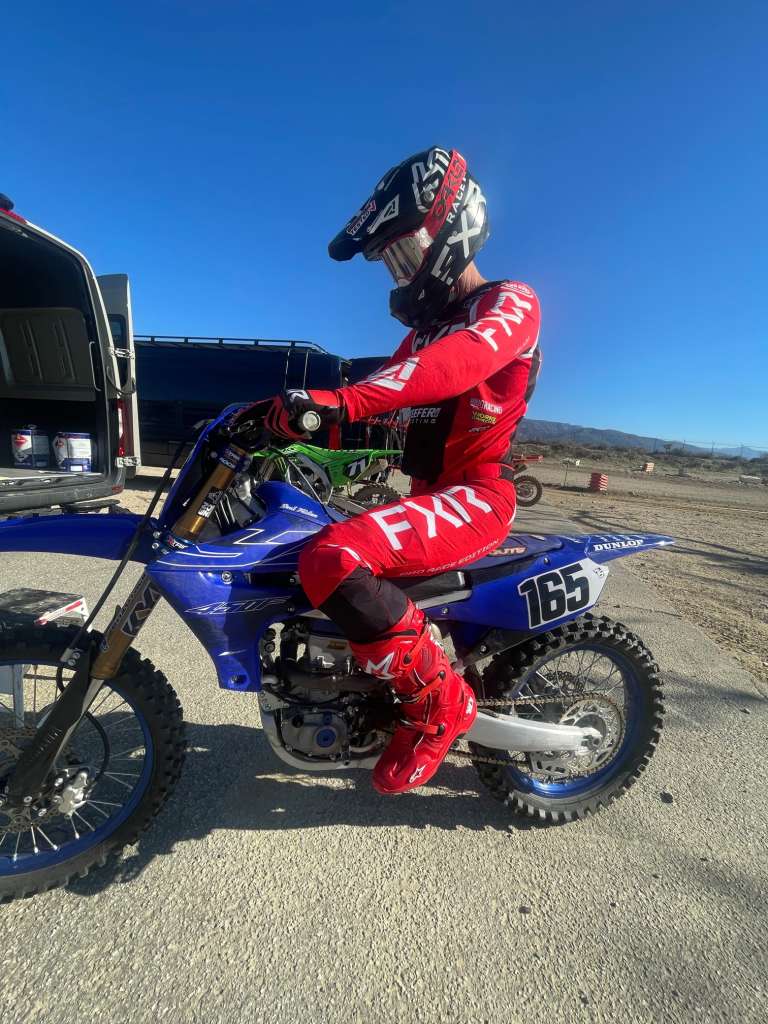 Fork: The updated stock valving spec for the YZ450F has a better direction for 2022 as it holds up a little more off throttle yet still retains that SSS comfort that we all grown to love. For my taste (and maybe you bigger riders as well) I wanted to add some more low speed compression to the valving in order for the fork to be ridden more aggressively as well as keep adequate lean angle traction when pushing the front hard in to corners. In order to keep costs down we decided to forgo the Enzo spring tubes and work off of the stock pieces. What we came up with was unexpected. Not only did I get more hold up on de-cel bumps, but I also managed to get more comfort when leaning under throttle. The stock fork had a tendency to push a little while leaning under throttle, but the new ENZO re-valve held up in the stroke better and had a plusher mid stroke feel than that of the stock fork. Area 1 of corners was also improved due to the lack of pitching (more hold up) the new ENZO fork had. I was worried that going stiffer with the low speed could hurt my mid stroke comfort, but in fact it did the opposite. It made the mid stroke more comfortable when loading the front end when having to go through large braking bumps. The contact patch to the front tire felt wider and I could utilize the track more when trying to be creative with lines. I did get some Kashima coating on the outer fork tubes just because I wanted something cool, but by no means is this a must.

Shock: If I had to nitpick the 2022 Yamaha YZ450F suspension I would say that the shock is a little too soft initially and then gets firm under acceleration out of corners. I originally thought that it was too firm initially and then softer through the middle, but after riding several tracks and then trying to firm up the low speed in the shock I quickly came to the conclusion I was ass backwards. Ross/Yoshi and the gang at ENZO installed a smaller bladder cap for less volume of nitrogen and then helps firm up the shock feeling initially under load and gave me more traction out of corners. Yoshi also went in and tweaked the valving after installing the smaller volume bladder cap to get me increased comfort when coming down large hills with big bumps (AKA Glen Helen). The overall feel of the rear is a little tall at times for me, but setting the sag to 105mm helps this somewhat. My next shock I am going to try will have all of the settings that this shock has except I will shorten the shock 1mm to see if that helps with the rear end feel off throttle.

Overall:
For minimal work, the ENZO suspension is much different than the stock suspension and it's all for the better. Going through a few sets of forks and shocks has brought us this settings and hopefully you guys out there can reap the benefits. Even if you way more than I do (at 175 pounds), Ross/Yoshi at ENZO can create a similar valving stack to get you the feel that I have with this latest setting! Riding the YZ450F just became more enjoyable for me in those afternoon/rough hours of the day. This can't be said for every suspension setting that I have tried lately. If you have a YZ450F and want to get the good setting, reach out to me at kris@keeferinctesting.com or simply call Enzo at 714 541 5218.
Parts List: 
Fork Re-Valve: 200.00
Shock Re-Valve: 200.00
Bladder Cap; 80.00
ENZO Comp Adjuster: 250
For/Shock Oil & Nitrogen: 55.00
Extra Bling: Outer Tube Kashima Coating: 700.00 Used Fork/500.00 New Fork