Not everyone has the money to go purchase race fuel for their dirt bike. High end race fuel is something that maybe only a few serious racers really want. I can relate and understand this. That shouldn't deter other motocross media testing outlets away from testing such fuels, but it seems like you can't find that much real world testing info about such things. This test may not be for everyone, but I feel like I wanted to really see how much of an improvement (on the track) race fuel can make in a machine when properly mapped (or not) for modern four-strokes. I have been though A LOT of race fuels and to me ETS has been one of the fuel companies that have been consistently willing to work with me to develop fuel that actually works. Not to mention a fuel that doesn't stink up my shop/house when I open it up. I found all of this with the US MX18 K2 fuel. With some high end fuel, simply dumping it into your bike and riding is not going to benefit you in any way, but in some instances your bike's mapping may be close enough to feel what race fuel can do on the track. For this test I wanted to try just pouring in the fuel with no mapping and work with the fuel when properly mapped. I mean it's expensive, so we have to be "ALL IN" when going this route right? More on that price later… ETS Racing fuels are based out of France and have been around for almost 15 years, but maybe you're not too familiar with the company, so here is a breakdown of the ETS US MX18 K2 racing fuel.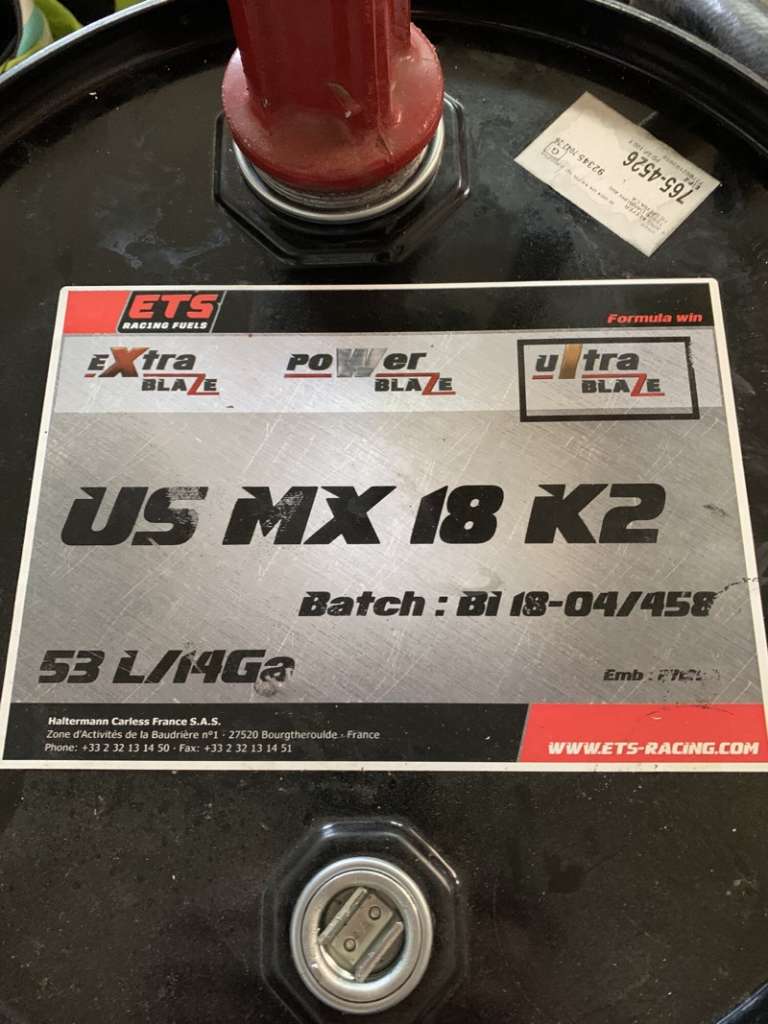 About The Machines I Tested The Fuel With: I chose the 2023 Kawasaki KX250 (stock ECU, mapped) as well as the KTM 350 SX-F  (Vortex ECU/mapped) and Yamaha YZ450F (stock ECU, no map) to test the ETS Racing Fuel because these are the bikes that have been in circulation the most the past two months! The Yamaha is completely stock, the Kawasaki has a full engine built by Twisted Development and the KTM 350 SX-F has a Vortex ECU along with a FMF muffler. Each machine received better low end RPM response, increased pulling power as well as more overall throttle response through the mid range (lugging). The mapped KX250 really came to life after pouring in the ETS MX18 and received another 1.5 HP than with no mapping. The KTM with the Vortex with the ETS provided better pulling power everywhere and didn't boil compared to VP's MR PRO 6. 
What Sparked My Interest To Test The ETS Racing Fuel: Number 1….Not a lot of people know about ETS Racing Fuel and who's using it. Factory Red Bull KTM and Rockstar Husqvarna race teams use and endorse the fuel. In fact, ETS doesn't "give" those teams fuel, because in reality both teams "purchase" the fuel. This sparked my interest because it's not everyday that teams are "spending" money on pieces to their factory bike puzzle. Most of the time factory teams test parts and said companies provide them with that product for free (or even pay them to run their product)! Number 2…We have a ton of ethanol based super unleaded pump fuels around California and this has caused a couple fuel pump failures for me in the past on other machines. Number 3…Once Chad at XPR Performance put on the Vortex ignition on the KTM 350 SX-F he told me there was a map preset for VP MR Pro 6 and ETS US MX 18 K2 racing fuel, so I went ahead and got some of each. Number 4…I tested with the VP MR Pro 6 for a while and noticed a nice gain in pulling power (compared to pump fuel), but it boiled on warmer days in California. I really liked the power gains I felt, but after 15-18 minutes of hard riding the KTM began to run noticeably slower, had a dirty low end feel and ran inconsistent. This really sparked my interest to see if another competing race fuel could give me the same power gains, but more consistency over the course of longer motos.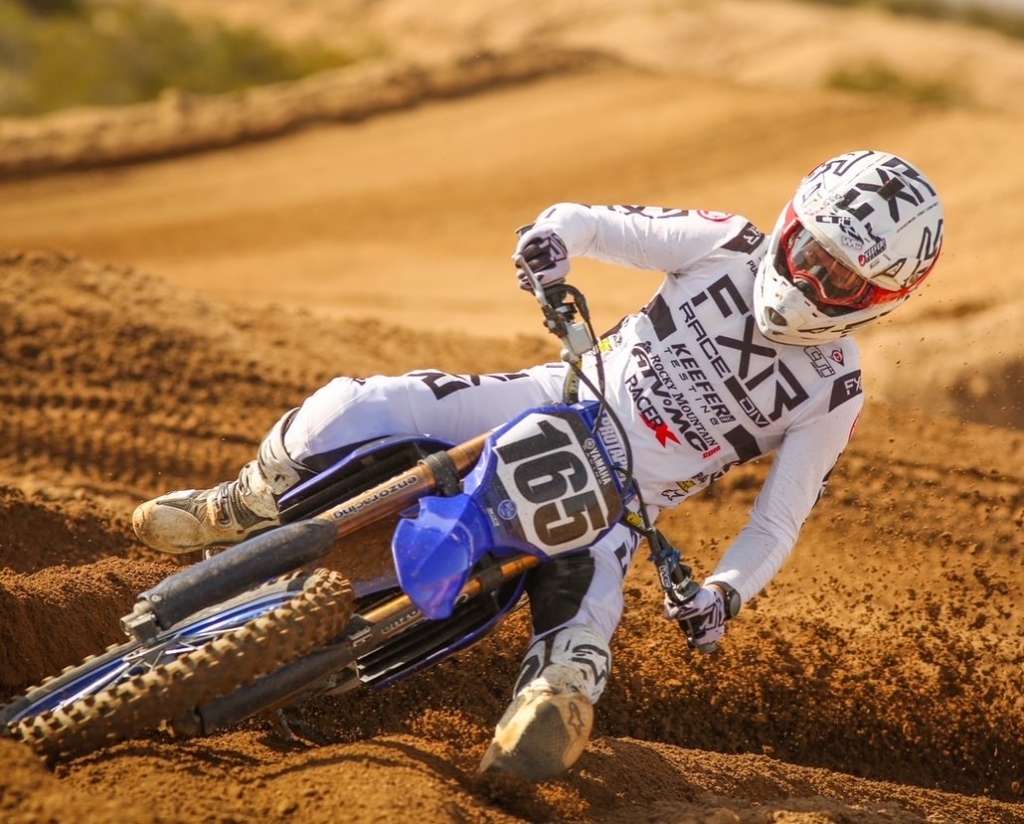 So How Did the ETS US MX 18 K2 Stack Up Against VP's MR Pro 6 On The Track?: First thing's first. This seems unimportant, but If you're a die hard moto guy you will really love the that the smell is not going to blow you out of your van on the way home like the older blend might have done. Once each fuel tank was emptied and the ETS was poured in, I headed out on the track to do a longer motos. I made sure to test all three fuels (VP, ETS, Pump) on the same day (over the course of a few days) in 90 degree temps for an apples to apples comparison. The first thing that I noticed with the ETS US MX 18 K2 racing fuel is that each bike had almost the same amount of throttle response (than that of the VP). Throttle response was crisp and instant with a slightly better bottom end pulling power out of corners. You can just feel a little more "meat" when rolling on the throttle than with the VP fuel. Mid range was also improved slightly, especially when I was rolling sweeping corners in third gear. Each bike just seemed to pull better and have increased mid range RPM response. The VP and ETS fuels feel very similar up on top end as I didn't notice any real difference there. To me the biggest selling point (besides the slight increased power feeling) was the consistency the fuel had over the course of a 30 minute moto. With the VP MR Pro 6 I had a clean running engine feel up until 18 minutes and then it started to boil (on very warm days), but with the ETS fuel, each bike ran crisp and clean throughout the entire moto. This was huge for me! There were no remnants of fuel puking out the vent house and I could do a full day of motos with zero boiling issues.
So How Did the ETS US MX 18 K2 Stack Up Against VP's MR Pro 6 HT On The Track? Yes, VP makes a "high temp" MR Pro 6, but I noticed that I lose a little more pulling power with the HT versus the standard Pro 6. With the ETS MX 18 K2, each bike doesn't boil, it simply outperforms the VP Racing Fuel "HT" in torque feel as well as excitement (throttle response).
Cost And Where To Purchase ETS: You may want to sit down for this. Ok, you ready? Are you sure? The cost of the ETS US MX 18 K2 racing fuel is $175.00 for 5 gallons and comes in 5 as well as 15 gallon drums. Again, like I mentioned before, this is an expensive investment that is not for everyone, but if you're serious about performance and getting that little extra, this is a great alternative race fuel that is CONSISTENT! The VP MR Pro 6 fuel is slightly more expensive compared to the ETS US MX 18 K2 fuel so if you're already purchasing high end fuel, this will not be a big shock to you. You DO NOT need an aftermarket ECU to run this fuel and I have ran this fuel with stock ECU mapping with clean results. It is recommended that you get your stock ECU re-mapped (if available to you) to reap all the benefits of this fuel. The ETS fuel usually makes your machine run a little richer than that of the VP MR Pro 6, so leaning out your bike a little is a good way to go. There are plenty of engine builders who are familiar with mapping ECU's to this fuel so please feel free to email me and I can give you some recommendations. If you are looking to get a drum of this fuel you can go to etsracingfuels.com and order through their website directly. They offer free shipping on orders over 40 gallons so it's nice to have fuel delivered to your door. I may be able to get you a discount code soon so email me if you're interested! Any questions about this test please feel free to email them to kris@keeferinctesting.com