My son Aden has a small tear of the labrum and does have some shoulder subluxation at times when he rides, so we decided to test out the EVS SB03 shoulder support/brace. We understand that there is no brace out there that can completely prevent shoulder dislocations but we thought why not try and get some added support with certain movements on the bike.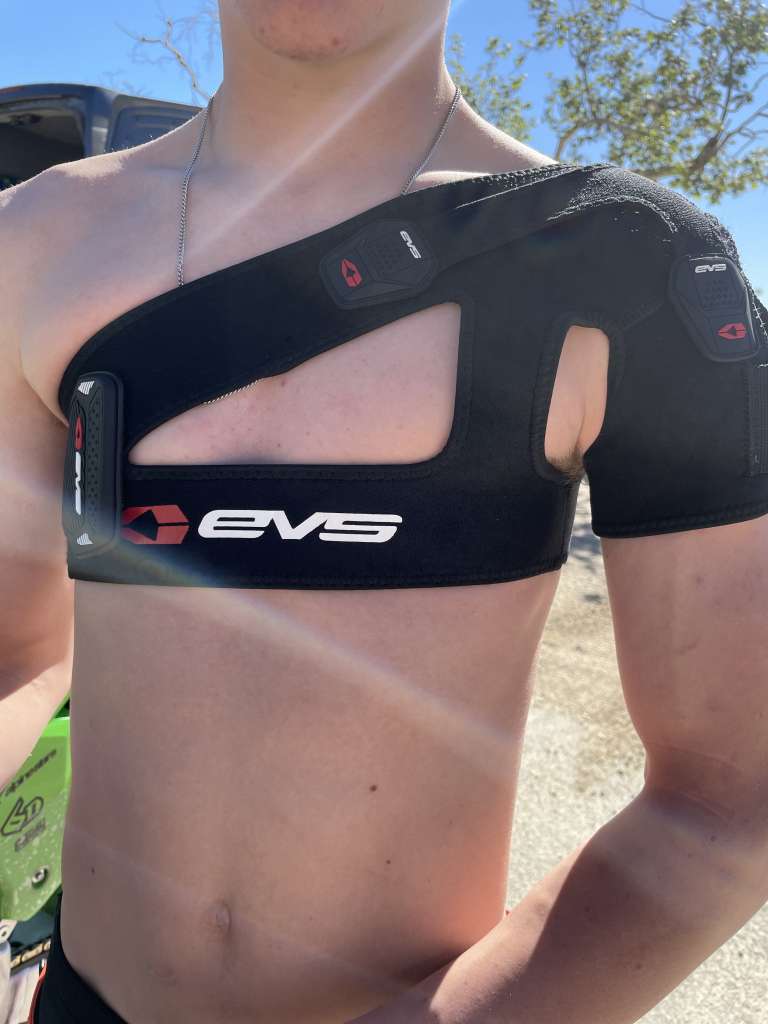 Here is what Aden and I felt with the SB03 support: When holding his injured arm or shoulder in place, the EVS Sports SB03 Shoulder Brace successfully reduced some pain that he would feel when the healing limb was disturbed from its position. The version of the EVS Sports Shoulder Support features an adjustable arm closure which can adapt to differently-sized arms in a specific range (Aden was a medium in size). That helps in providing a better fit as well as tie you a softer feel on your skin. Even though it's made of softer neoprene, there is still some chaffing going on due to the amount of moving around he does on the bike. The selection of neoprene as the material to provide support is ideal because from what I understand, it retains a degree of warmth that is required to promote quick healing while remaining breathable as well, so it doesn't feel stuffy. The neoprene is specially designed to have a mesh-like quality at the same time so that it can obstruct the build-up of sweat as well.
We were expecting some degree of uncomfort with the SB03, but to Aden's surprise, he got used to it within one ride and now doesn't even notice it while riding. When strapped around your torso you want the EVS SB03 to fit snugly but make sure it doesn't disturb your breathing habits on the bike. Aden mentioned that it gave him just a little extra confidence knowing that his shoulder felt tighter where the injury was when riding. The SB03 is not a brace that keeps your shoulder in but it can provide enough support of the joint area where a rider can feel confident pushing into braking bumps without thinking his or her shoulder might pop out. It also without us even knowing gave him a little better posture on the bike by rolling his shoulder back a little when he's seated. He noticed that he had a little more leverage on his left side when riding in the attack mode.

Aden has been riding with the SB03 support for over three weeks now and so far it has held up to the abuse. The downside is that it is NOT machine washable so it might be stinking up your gear bag after some use. The plus side is that it only costs around $64.00 so getting a couple for your gearbag is not that difficult. Aden is doing therapy on his shoulder and when he rides will be using the EVS SB03 to give him some sense of comfort. Until we figure out if we are going to have surgery or not, he will be wearing the SB03 support. We understand this brace is not going to prevent his shoulder from popping out, but giving the shoulder some "help" with this SB03 has kept us in the Loretta Lynn hunt.
Item Weight: 1 pound(s)
Item Dimensions: 10" x 7" x 4.5"
Molded EVA Shoulder
Made of 1680D Ballistic nylon
Arm closure is adjustable
Compatible with both shoulders left and right
Features impact system with EVS Support
Adjustable Straps
Neoprene Support