I will have to admit that I have been reluctant to try the FASST Co. Flexx handlebars for quite sometime being that I love a Pro Taper EVO bar, I thought there would be no reason for me to continue my search for comfort in handlebars, but since my job is to try other products and relay that back to you all, I called up FASST Co. then went to work. Here are my thoughts: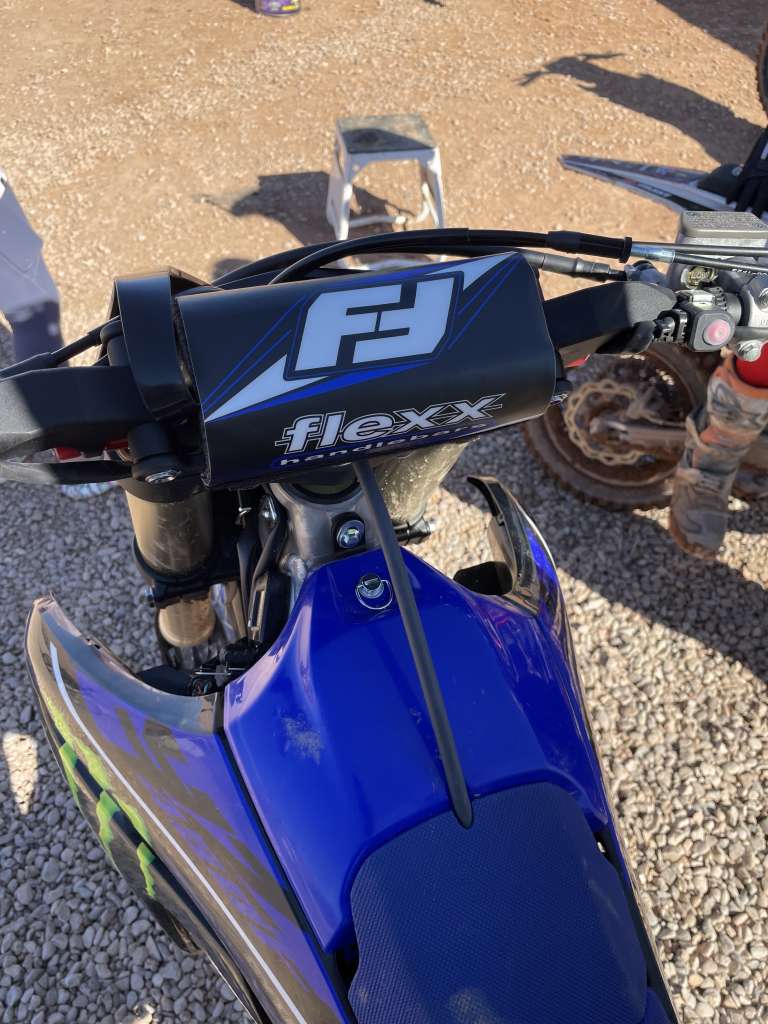 Fasst Company takes pride in bringing you the only handlebar Made in America. Constructed out of 7000 series aluminum; employing the latest technology in CNC machining and extrusion methods, their handlebars are made with the utmost hands-on precision and care. Flexx handlebars are tunable handlebars designed to absorb high-frequency abuse and vibration while protecting the rider from hard slap down landings as well as imperfections the dirt we ride on, can give. High-frequency abuse is square edge, acceleration bumps, braking bumps, rocks, roots, and just the normal every day wear and tear us riders feel on the bike. This could greatly fatigue a rider over the course of a moto or trail ride. Flexx handlebars are made to absorb the abuse instead of transferring it to the rider's hands, wrists, arms, elbows and shoulders so the rider can ride longer, charge harder and maintain fast lap times. In a gnarly impact, like casing a jump, hitting a G-out or flat landing, Flexx handlebars spread the impact, trying to absorb the abuse instead of transferring it to the body. I will admit that one thing I was nervous about with the Flexx bars was that I would feel the bar moving or that it will feel mushy, making the front suspension or cornering feel not connected. This wasn't the case for my ability. Flexx handlebars are designed to articulate near the same plane as the suspension in a natural motion for the body. Just as with any fork or shock, the setup for the rider is important. I also was skeptical about the fat look of the bar, but once riding with it, I hardy noticed it. To me it was more of a static visual thing more than a on-the-bike riding thing for me. 
Cole and the guys over at Fasst Company spent a tremendous amount of time on the "feel" the bar has in the rider's hands. The easiest way to explain what the difference is when riding with the Flexx bar between other handlebars I have tried is: try dropping a small rock from 10 feet high onto your hand then try dropping it from 5 feet up. You will still be able to feel that rock from 5 feet high, but the impact will be much less than it did at 10 feet.  Cole told me that they were not trying to change the feel of the handlebar, but change the abuse coming through your hands. I didn't feel like there was much disconnection between the handlebars and the front tire when cornering because of the added flex the elastomer system provided. I do feel the bars move slightly if I try to bank off a rut really hard, but that feeling was very minimal. I also noticed much less vibration coming through my hands with the Flexx bar, which left me wanting to try these bars with a KTM (since steel frame bikes vibrate more), which I haven't yet. My recently retired riding buddy tried a set on his 2022 YZ450F and said he could actually ride longer before his hands went numb. Since his retirement he has been having trouble with his left hand going numb, when he rides, and the Flexx bars actually allowed him to ride longer than his stock handlebar did.    

There is tons of tuning with the Flexx bars as well. Fasst Company offers five compression and three rebound elastomers in total. Three additional compression and two rebound elastomers come with the bar when purchased. This allows each rider to adjust the Flexx handlebars to his or her specific preference. Each compression elastomer is further tunable by threading the lock nut in or out. Flexx handlebars are offered in five sweeps, three heights and four widths, which allows Fasst Company to work with riders to find out what their personal ergonomic needs are and match them to the correct bend. The new low handlebar (at 68mm in height) is one of the next set ups we are going to try on our KTM. They also offer bends and the necessary hardware to install Flexx handlebars on adventure bikes with specific bends for each model. 
Flexx Handlebar Tested: 12* Moto. 
Dimensions: 
Sweep: 54mm 
Height: 92mm 
Width: 816mm (Cut to 807mm)
Available handle room for controls: 240mm
Elastomers tested: We initially rode the Flexx bar with red/red elastomers in the stock setting. We then backed this combo off a full turn which we liked better for added comfort.
My retired 59 year old tester rode with Yellow Compression/Red Rebound elastomers with the nut set to 3.5 threads. My 59 year old test rider preferred this setting allowing him to ride more laps before his hand numbness set in.