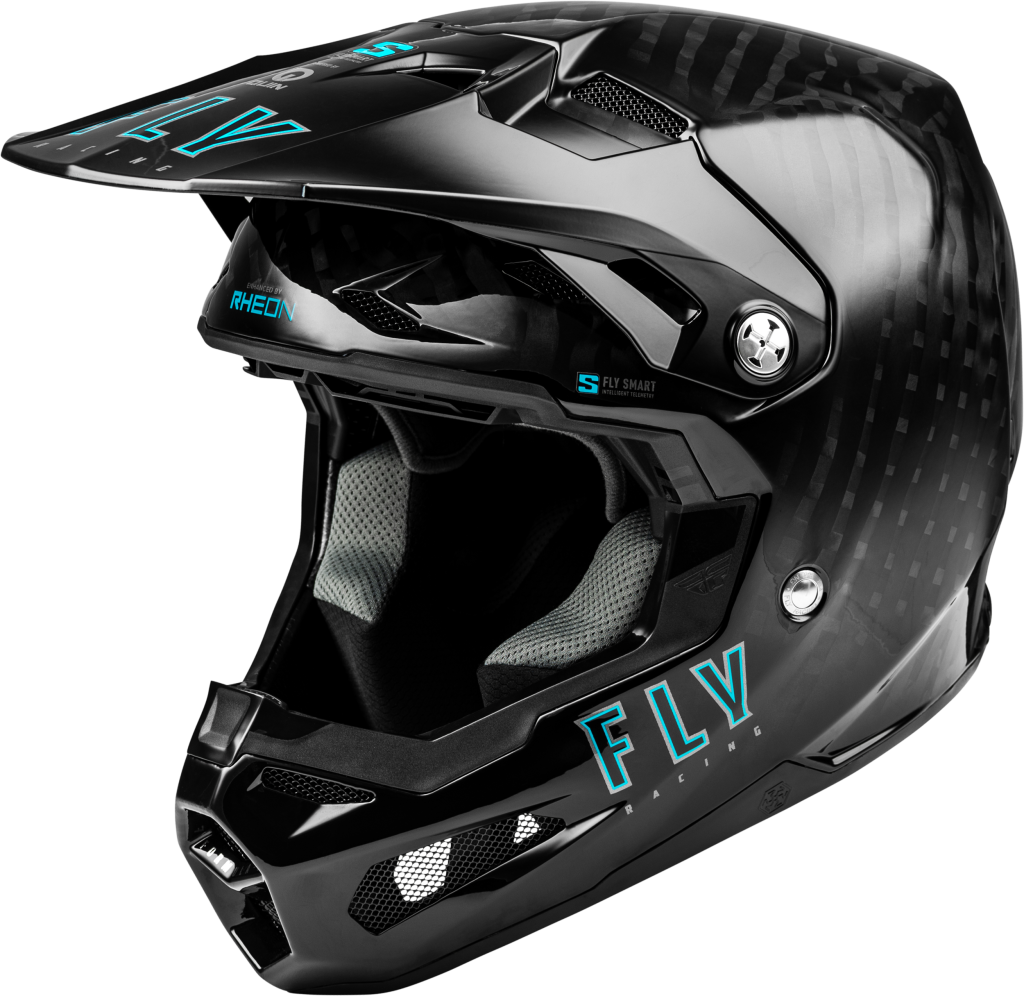 FORMULA S HIGHLIGHTS
– At the core of the Formula S technology is the Quin device. Quin specializes in crash detection for motorcyclists
and has been helping riders get help in emergencies since 2018.
– Every FLY Formula S helmet features Automatic Crash Detection, an S.O.S. Beacon button, emergency alerts and
the option for a direct link to 911 emergency services supported by a 5-diamond level monitoring center.
– In the case of an emergency, FLY sends mission critical location, health, and safety data to the rider's trusted
circle and 911*. Alerts are sent to emergency contacts via e-mail and push notification. APEX members receive
ability to send alerts via SMS and Q-Protect an additional, 5-diamond level monitoring call center support.
– Q Protect provides professional monitoring and emergency dispatch for riders who want to entrust their safety
to experts instead of friends and family alone. Q Protect links emergency data including name, accident location,
vehicle info, medical and health info and impact analytics to local 911 Public Safety Answering Points most
capable of rapid response. *Q Protect is currently only available in the United States of America
– Crash Pro provides impact analytics including speed at impact, speed comparison before and after impact,
distance traveled after impact, and impact data to APEX members.
– For every non-crash emergency, a rider can manually trigger the S.O.S. Beacon through the panic button in the
FLY app or by tapping the helmet 4 times.
– Your smart helmet won't call for help for every drop, ding, or bump. The algorithm identifies drops and send you
an alert to check your helmet for damage.
– Technology is always evolving, and the FLY app can push updates to the helmet wirelessly as the algorithm is
continuously improved and additional analytics are developed.
– Data at your fingertips to help you reach your goals – whether it's safer, smoother riding, or faster track times.
Record your rides and track your speed – max and average, ride time, consistency, hard braking, rapid
acceleration, and more.
– The Q-Score is a metric of the frequency, consistency, and safe habits of each ride. The higher the score, the
safer and more consistent the ride style.
– The Quin device uses five scientific grade sensors to evaluate data during use and detect crash situations. Data
can be shared with FLY's analytics team to enhance algorithms and metrics. Thereby constantly improving safety
of riders and expanding data metrics to improve performance on the track, trail, and road.
– LED indicator lights visible from exterior of helmet.
– Bluetooth 5.0 guaranteed radio range of 20 meters to ensure a stable connection to the smartphone.
– Rechargeable lithium-ion battery. Two-hour fast charge mode via Micro USB and up to 45* days battery life
enhanced by automatic sleep and rise to wake functions. (*Estimated battery life with 2 hours of daily usage. Up
to 60 days based on usage)
– Device sleeps automatically after 5 minutes if the app does not detect any movement, or if connection with the
hardware is lost for more than 1 minute, and wakes at the first detection of movement to optimize battery life.

FLY SMART INTELLIGENT TELEMETRY BY QUIN
 Quin Race Sensor – Three sensors constantly evaluate data during use and will auto detect a
crash event.
 Crash Detection – In the event a crash occurs, the Fly Smart App will contact your
emergency contacts and nearby riders in the Quin smart helmet network.
 SOS Beacon – In need of assistance, but still on the move? Provide your emergency contacts with
a live GPS beacon while you're travelling.
 Ride analytics – Live GPS tracking, speed, accelerations, Q-Score and more. Wireless updates
ensure the device receives the latest developments from Fly Racing and Quin.
 Rechargeable battery – Two hour fast charge mode via Micro USB and up to 60 days battery life
(depending on usage) enhanced by automatic sleep and rise to wake functions.
 Bluetooth 5.0 connection to device with Fly Smart App.
 Integrated LED lights indicate device status and flash red if a crash occurs.
ADAPTIVE IMPACT SYSTEM (AIS)
 12K carbon fiber shell produces an extremely lightweight shell with
superior penetration resistance
 Impact Energy Cells made of RHEON, the Impact Energy Cells
maximize absorption of low-speed linear and rotational impacts,
reducing forces transmitted to the brain
• Conehead® EPS Technology provides a softer liner whereby the
cones help manage or absorb an impact force more efficiently. Six
critical zones have been fine tuned for a progressive response to
low-speed and high-speed impacts.
• Expanded volume EPS means strategic areas of the helmet have
more impact absorbing EPS, more suspension between your head
and the ground
CONSTRUCTION
• Expanded Polypropylene (EPP) chin bar creates an additional
element of impact mitigation, and is used in the chin bar for its
superior damage resistance, and energy absorbing properties
• Clavicle shell relief zone creates a soft zone filled with EPS and EPP
to aid in reducing clavicle injuries
• Custom molded rubber trim with integrated nose guard
• Comfort liner and quick release cheek pads are made of washable
moisture-wicking, anti-microbial material
WEIGHT
• 1290 grams +/-50g (size MD/LG), 2.8 pounds +/-0.11lb (size MD/LG)
VENTILATION
• True Functional Ventilation (TFV)-When in motion, air is forced
through multiple air intake vents, then passed through aligned vent
channels in the EPS and exits out multiple rear exhaust vents
STANDARD
• ECE22.06 / DOT approved