So the new 2022.5 KTM 450 SX-F Factory Edition has gained seven pounds from the standard 2022 version. If you want to knock off almost two pounds of that with a muffler system and get some added power in the mid range look no further than the FMF 4.1 RCT Full System. Yes, that's right the new KTM platform has gained some weight which to me isn't a bad thing, but for you calorie counters out there, there is some hope to knock some of that back down. 
FMF recently released their 4.1 system exclusively to KTM authorized dealerships so don't expect FMF to stock these online. For the next six months you will have to call or drop into your local KTM dealer in order to get this beautiful looking system. The FMF system is painless to bolt on and takes around 10 minutes. You will get more mid RPM response as well as more mid range pulling power out of corners. Top end is slightly increased plus the over-rev is as good as stock system. In the past FMF has done a great job with their KTM mufflers and the Factory Edition 4.1 system is no different. It is one of the few times that I was impressed because it was actually better than stock in a lot of areas. The downside is that you must keep up on repacking the muffler (every 10-12 engine hours) because the FMF will burn through its packing and that could damage your expensive titanium can.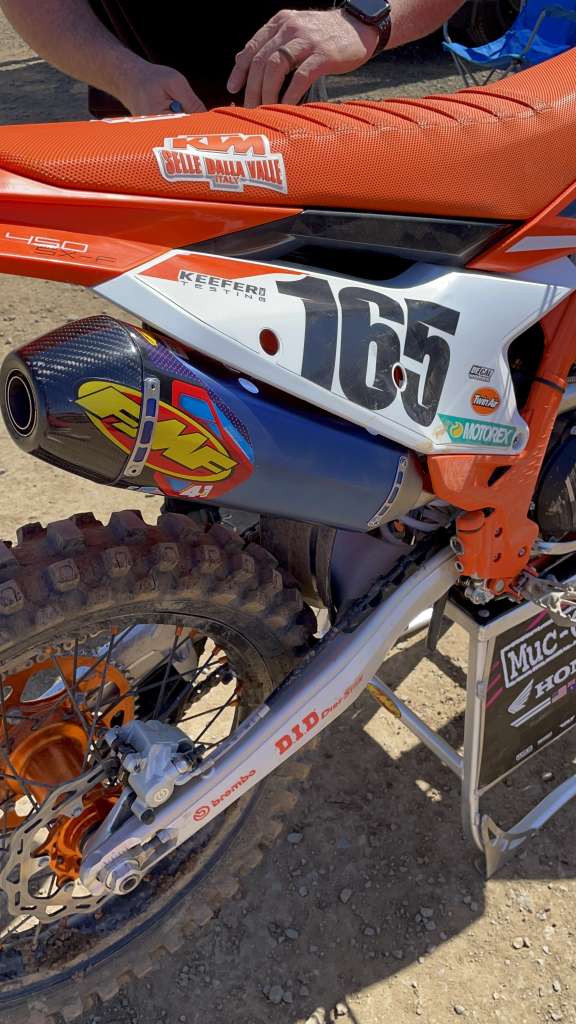 I tried the 4.1 muffler with the insert in as well as out and I actually preferred the insert in, which wasn't the case with last year's model. With the insert in, the 4.1 system gave the KTM slightly less low end RPM response but pulled longer through second and third gear. With the insert out, I got more low end RPM response but second and third gears didn't rev quite as far. I preferred the more linear longer power with the insert in. For closed course use, I cut the screen out of the insert and then re-install with no screen. This creates a little back pressure near the end of the 4.1 muffler can and helps with rear wheel traction in my opinion. 
Did I mention that you will lose almost two pounds with this system? If you slap on spring forks like most of you do, you will be gaining almost 2.5 pounds. You can get most of that back with a 4.1 Titanium FMF Muffler system and also gain some quality power where I feel like this KTM 450 FE needs it. 

Quick Tip: You can install Twisted Development's exhaust flange on the new 2022.5 KTM 450 Factory Edition along with the FMF 4.1 muffler system and get more bottom end than stock as well as gain some more mid range power while keeping the KTM's excellent rear wheel traction. It's amazing what these two pieces combined can do to this stock engine character.