The all-new Instinct Boots are were designed around some of the top pro-level riders seeking best-in-class performance from their motocross boots. With major changes to fit, grip, and the closure system, the Instinct has been redesigned from the sole up with direct input from riders like Ken Roczen, Tim Gajser, Adam Cianciarulo, Ryan Dungey, and the Pro Circuit Team.
Instinct Boots are constructed using ULTRATAC on the outsole, side of foot, ankle, and burn guard, in order for the rider to grip the bike better. Exclusive to Fox, this rubber compound is said to deliver the highest grip on offer. To go along with this new grip, the slim and flat medial design (inner side of the boot) actually increases surface area that kept me in close contact with the bike and further enhance your connection. This is one of the features of this boot that I like the most. It feels slim and not fat around my ankle/calf area.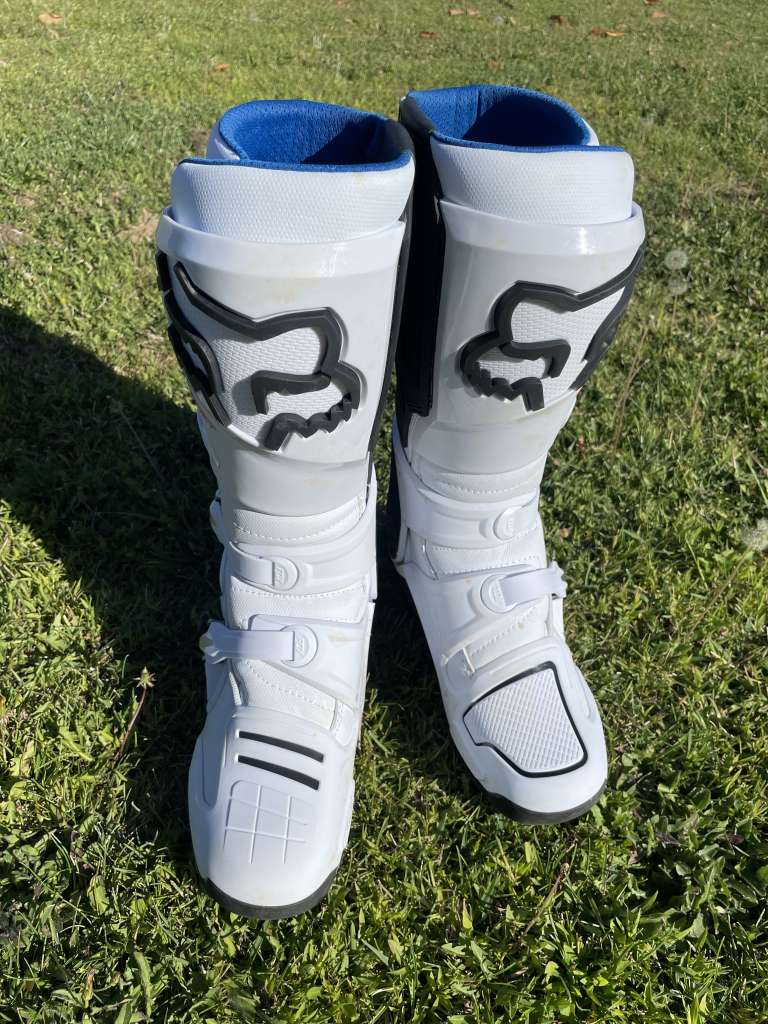 With half sizes now available in the most common size ranges (9.5, 10.5, and 11.5), Instinct Boots deliver improved comfort and a more precise fit. With focus specifically on the new and improved fit, step-in-comfort is great, but actually slightly bigger feeling in size right out of the box. If you wear a size 10 in a Instinct, you might want to go with a 9.5. Instinct, Motion and Comp. riders can now should expect this type of fit, which is actually my normal shoe size (9.5) and you're good to go.
In terms of protection, Instinct Boots incorporate TPU, a hard plastic material, in strategic locations to offer full coverage where you need it most. These boots offer the most protection of all Fox motocross boots, with little to no gaps in coverage care of TPU at the ankle, over the Achilles (which also includes a metal insert), at the calf, shin plate, and toe cap. The patented hinge lockout system around the ankle also stops motion before hyperextension to help prevent injury.

Also updated for 2022 is the buckle and closure system. On the Instinct Boots, this 4-buckle system features a new, patented forged metal buckle system. This system provides a more durable, secure closure for a better fit than last year's Instinct boots and includes extended-length levers for easy opening and closing. The new ball and socket mechanism helps mobility  providing "float" as the boots flex and contract while you ride. This buckle and closure system is the same across all Fox boots, but Instinct has the upgraded forged metal buckles for increased durability, which DO NOT seize up when wet/muddy.
Over the course of the Instinct's production lifespan, the sizing has been slowly evolving. To elaborate more on the sizing, I have noticed a true-to-size "boot fit" since early 2019, but when I tested the 2023 Instinct boots, I noticed they are a little on the big size for my size 10 "boot fit". Luckily Fox has introduced half sizing for a few sizes and that included my size 10 "boot fit". I went to a 9.5 which seemed to fit snugly but was much better than the slightly bigger size of the 10 boot that I normally wear. If you decide to purchase a new pair (and have an older Instinct model) you may have to go back down a half size (Fox sells the half size in a 9.5, 10.5, 11.5). The toe-box is a little less tall than past Instinct versions, which makes for a more secure feeling while riding, but not as tight as a Sidi Crossfire 3, and the aluminum buckles are so much easier to operate than those found on the older Instinct, which were plastic. The first positive aspect/experience of the boot you will notice is the lightweight feel to the Instinct compared to other boots. My legs certainly do feel less fatigue when riding tracks that force you to ride leg high through ruts/corners. To me these are the lightest feeling boots that I have ridden with to date. The feature that I was most surprised with was the inner comfort of the boot. I am so used to have having an inner bootie for ankle support, I thought I would feel naked without it, but it literally took me only a few minutes until I appreciated how much comfort my feet/ankles had. I don't have bad ankles, but I do ride a lot and my ankles can get sore from riding all day long. The Instinct boots do have more movement in the ankle area than a Tech 10, but I also don't feel like my ankles are being overworked or stretched. The new Instinct is stiffer than the older version and provides more support but DO NOT think that you will be getting more support than a Tech 10. I do feel Fox went the right direction when restructuring the boot for protection. Past Instinct boots were soft and comfy but broke down too quickly. The new boot holds its integrity much longer and can provide more support over the long haul versus the older model. The sole also has more grip than past Instinct, which provides excellent absorption/cushion to my ankles when slamming into jump faces or when I really screw up and case the crap out of something. However, it is tougher to feel the footpegs versus a Tech 10. It does take some getting used to if you're switching over from a Tech 10.

Here is a tip: After break in (which isn't very long at all) I will tighten up my buckles tighter than normal, so that I get a more secure lock around my ankle (this is important with the middle two buckles). The inner portion of the boots have decent grip against the frame and this is an important feature to me because I grip with my legs a lot! Some boots use a rubber like material on the inner part of the boot which is better, but the material that Fox uses is pretty good for gripping.
Like a good running shoe, the insole has enough cushioning and support without feeling too rigid or bulky. Off-road riders will love this boot based on the fact that it truly can be worn all day, but Fox also offers the Instinct in an off-road version as well with a more aggressive sole. The protection level certainly feels sufficient for the usual battery of rut-snags and rock-hits that I encounter on any given day of testing. However, to me, the Instinct is built for performance and comfort, but the integrity/support of the boot still can break down a little quicker (albeit longer than older Instinct boots) than other top tier boots out there today. This is the only boot that I can wear straight out of the box and feel my shifter as well as my brake pedal without any issues. I can't pull a set of Tech 10's out of the box and feel "good" right away, but I am able to do this with the Instinct's. The Fox Instinct boots DO NOT hardly need any break in period. They are ready to rock! The durability of the sole is great as I have been logging some serious time in these and they have worn similarly to a Tech 10. The Instinct sole will feel harder on the pegs compared to a Tech 10 so just know this. Overall, the new Instinct boot is still one the most comfortable boots to put on your feet and now they hold their integrity longer. The Instincts will set you back $559.95 and come in white and black with other colors that will be available soon. 
If you have any questions about these boots please feel free to email me at kris@keeferinctesting.com.