Straight from Mrs. Keefer's washing room to the Keefer Tested website is some white gear cleaning insertions. I love white gear, but some of you may hate it because it is a pain in the ass to keep clean. You east coast red clay riders usually steer away from white gear but for everyone else, here is a step by step instruction on how to wash your white gear. Or at least how Mrs. Keefer does it.. You can email her at heather@keeferinctesting.com if you have any questions.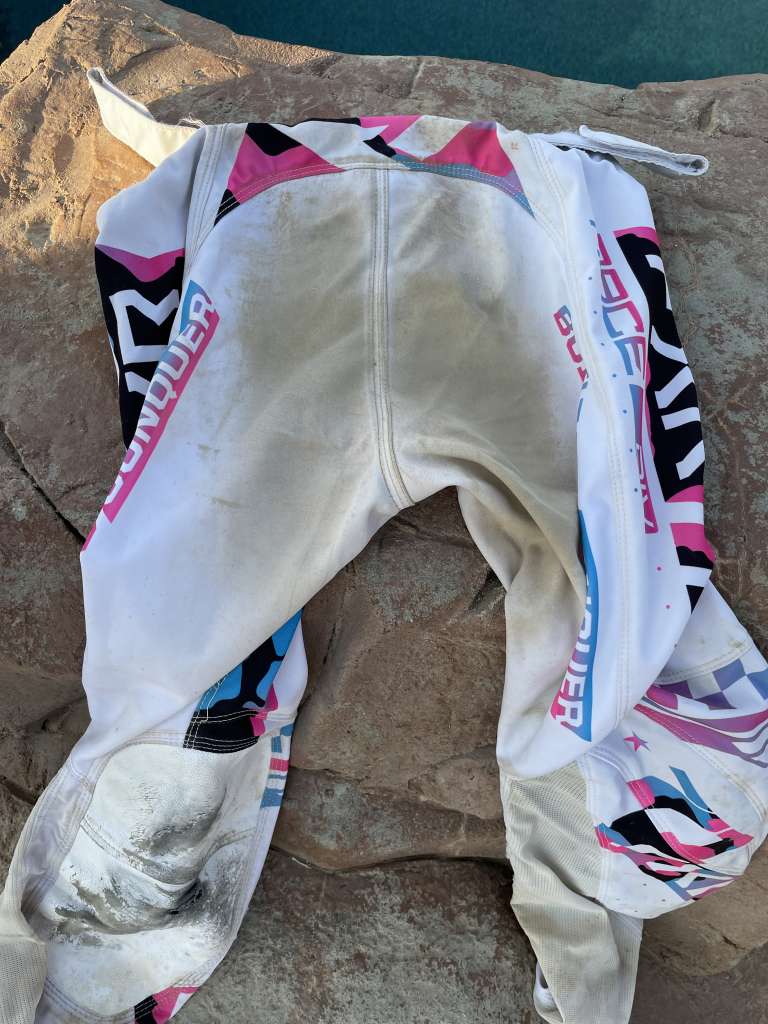 Step One: Lay out your dirty gear on a flat surface or hang them up so you can power wash the dirty area.

Step Two: Grab your trusty power washer or high pressure hose nozzle and spray the affected area. Be sure to not get too close to the pant/jersey as some high pressure power washers will tear the material of your gear. Make sure to turn pant/jersey inside out as well and spray. Basically you need to spray the dirty area long enough to see that some of the stained area comes off. You will still see stains after spraying down, don't stress.

Step Three: Mrs. Keefer likes Oxi Clean to spray on stained area of the pant/jersey. Some gear companies will say NOT to do this, but we do it anyway and it has been fine. Spray the Oxi Clean generously on affected stained area and let sit for 3-4 minutes. Once soaked in, continue to spray down affected area until all Oxi Clean residue is gone. By now you should see a noticeable change in the color of your gear (from brown to slight white).
Step Four: Once sprayed down/rinsed off, stick into washer on "Gentle". We use Tide or Kirkland brand pods in our washing machine.

Step Five: Let hang dry (DO NOT MACHINE DRY). After drying you should see a HUGE difference in the color of your white gear. The stains should be 95% gone and the white color should almost return.