Something that came across my desk the other day that I thought was interesting was the NuAxle Adjustable Offset Axle. The NuAxle allows you to adjust the steering and handing of your motorcycle with just a turn of the axle, using the indicating notch on the large end of the axle. The NuAxle comes with an axle, a slotted bushing, two stainless steel wheel spacers (optional) and an axle wrench. This specific axle can be only used for Yamaha 22mm axles (2014-2022 YZ250F/450F/FX and 2019-2022 WR's).
The NuAxle uses an oblong axle that increases or decreases the trail of your motorcycle. By simply turning the axle 180 degrees you can essentially increase/decrease the desired trail by 2mm. The unique thing about the NuAxle is that you can "dial in" your preferred offset by small increments when turning the axle. If you would prefer a 21mm offset you can turn your axle 90 degrees for a 1mm change. This caught my eye so I blocked out a day to try this unique handling tool.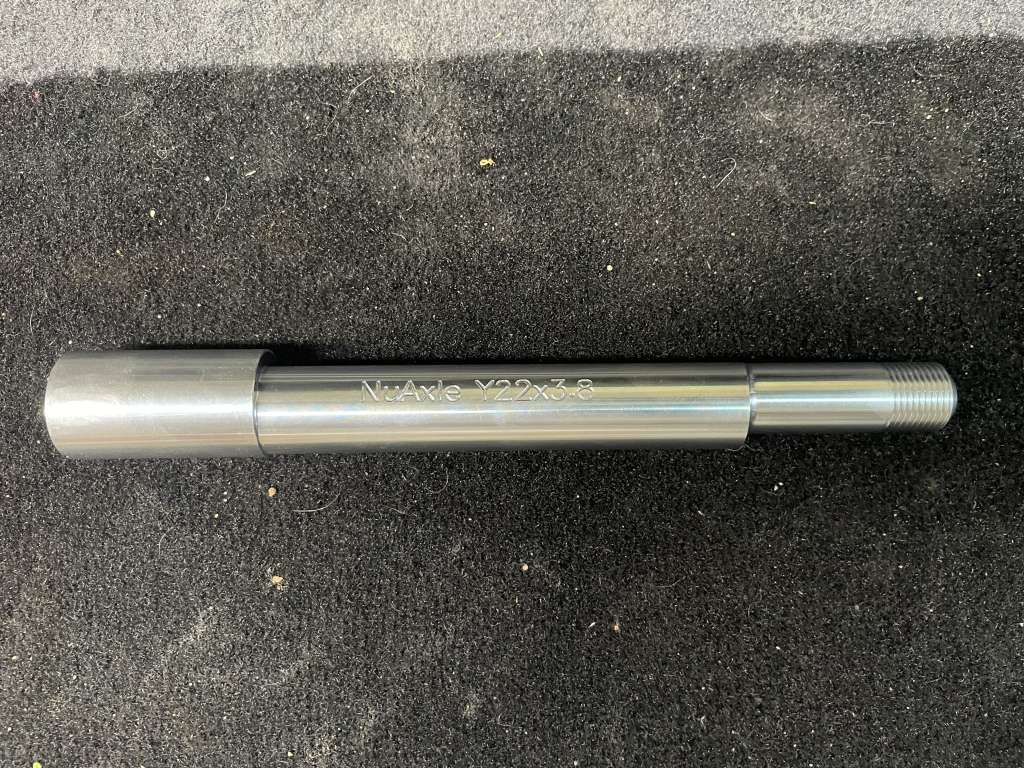 I will say that getting the desired trail from the axle over the clamps is a different feel. With aftermarket clamps I can feel a more positive lean in when I decrease the trail but with the NuAxle I had slightly less positive feel than I did with an aftermarket clamp. However, with the NuAxle in the 20mm position I did get more positivity in area 2 and 3 of corners with the NuAxle pointed at 3 o'clock. The difference between clamps and this NuAxle is only felt on initial lean (area 1). 
With the NuAxle pointed out at 9 o'clock (24mm offset) I noticed slightly more stability immediately chopping the throttle after a long rough straight. I just felt this setting had slightly better contact feel once off throttle but did hurt initial lean in more than the other setting at 3 o'clock. I did try 1mm increments but didn't feel a huge difference in any direction. The only thing I could feel (in the 21mm offset position) was better lean angle traction on throttle in certain sweepers. If you prefer the standard 22mm offset going straight up with the indicator mark (12 o'clock) will get you to standard offset.

The axle is made out of 4140 chromoly steel and that means it's slightly heavier than stock which meant we did get a slightly more rigid feel on slap down landings and initial touch of the front wheel. This unique design is not that difficult to install as you use the provided aluminum sleeve to insert into the left side fork lug (axle housing) and slide axle in place using the stock lock nut. You will notice provided wheel spacers with the kit, but that is optional. I didn't use the stainless steel spacers as they provided too much rigidity for my taste so instead going to stock spacers ensured that I got as close to the stock feel as possible. 
The NuAxle is good if you're not looking for the bling factor of an aftermarket triple clamp and want to spend slightly less money (sold for $250.00). The NuAxle will provide you with smaller increments of desired change but also will not have quite the positivity of a decreased trail offset clamp but you can get less rigidity from the NuAxle, depending on which clamp you go with. I think this is a good purchase if you're the type of rider who likes to ride off-road and moto and maybe can't decide on which offset to run. This allows for adjustability for each discipline and can help the handling of your YZ250/450F/FX if you need it. You can reach out to NuAxle via email at nuaxle@gmail.com or call them at 626 627 5049 to order or for more information.