There are a few off the bike pieces that are essential to me and my testing program. One of those things is a gear bag that fits all of my crap and isn't a huge/heavy monstrosity. I have used and gone through just about every gear bag imaginable, but only a couple have really held my excitement for more than a couple trips to the track. You may be thinking it just a freaking gear bag Keefer, but to me it's something I use almost everyday and am in and out of. I have been using OGIO products since I started at Dirt Rider way back in the early 2000's and absolutely loved the 9900, but that bag has been discontinued. The 9800 is decent, but I really wanted something more compact/smaller/lighter to travel with and take to the track. Enter the OGIO Trucker gear bag for all us non lifted bro truck kind of dirt bike riders. AKA gentlemen truck or van owners.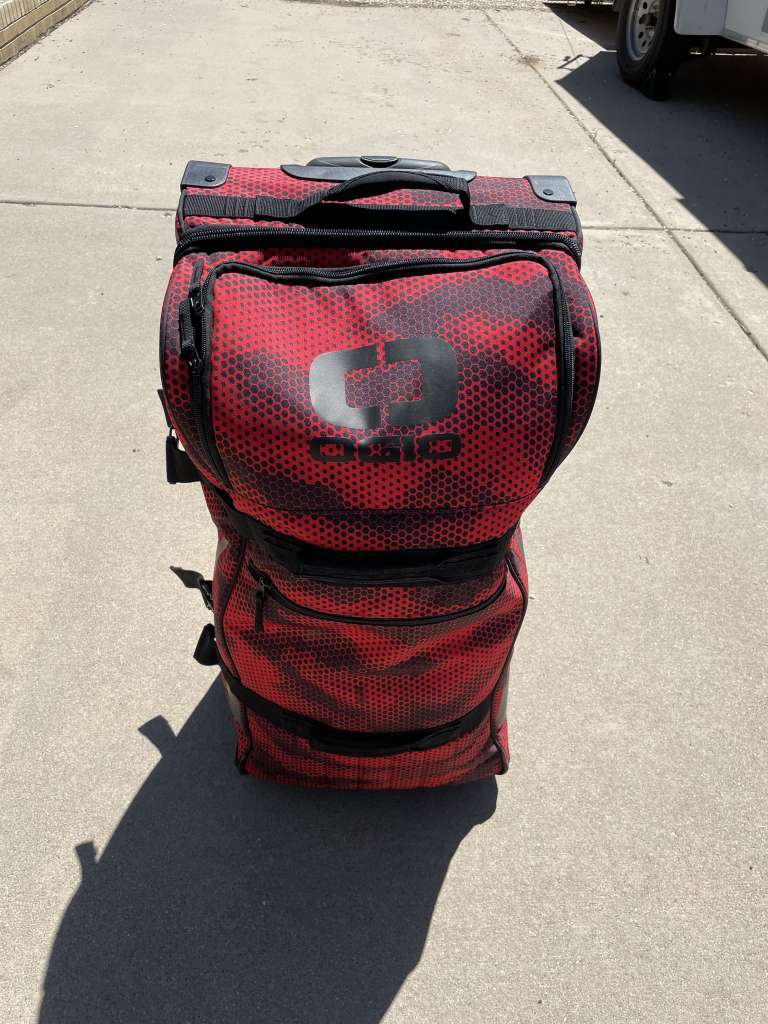 The OGIO Trucker gear bag has a dimension of 33" H x 13" W x 15.75" D / 85cm H x 34 cm W x 40 cm, weighs 6.6 pounds, 4 large compartments keep your gear clean and organized, has a special padded helmet compartment that is accessible also from the outside of the bag, an easy clean eco-friendly PVC-lined boot compartment, a velcro divider that allows for use of the entire bottom of the bag, a top lid zipper pocket, a reinforced bottom with an all-terrain wheelset and a large plastic grab handle that helps keep the bag upright.
So the short story to this test is that I have owned this bag for over a year and haven't really wanted to try another bag since. I looked at my bag today and thought why haven't I did a review on this sucker yet? Well now here we are! The Trucker is small enough to fit in the smallest of trunks yet big enough to hold three sets of gear, knee braces, socks, helmet, several sets of gloves, a pair of boots, several sets of goggles, snacks, tear offs, and still have room for other crap if I need it. Before the Trucker bag was introduced I was a 9800/9900 gear bag guy, but it was heavy (at 14.1 pounds) so I would almost always go over the weight limit (at the airport) forcing me to pay an oversized fee. LAME! I hate spending money on stuff that I feel is not warranted and the weight on the 9800 wasn't worth the 30-50 dollar oversize fee. The adrenaline weighs in at 6.6 pounds and allows me to sneak in some extra gear and I am still under the weight limit. SCORE!

I love that I can separate my stinky gear from my fresh smelling gear with the separate compartments. Mrs. Keefer likes this because she doesn't have to wash two sets of gear when opening/pulling out my dirty gear. The clean gear remains clean and doest have that stank on it! Yes, my wife washes my gear, so don't be jealous. #HomeLife. Sometimes when gear bags come with separate boot compartments it can be a pain in the ass to stick dirty/muddy boots, but with the PVC lined boot compartment, I can simply lay my boots down inside and zip up the bag. Boom! Easy! I also like that I can separate my Oakley Airbrake's so they don't get damaged (you Oakley Airbrake guys need this).
Mrs Keefer's Thoughts: Look all I know is Kris's gear stinks up the laundry room up to high heaven and having to reach into that god forsaken bag to get his gear is not fun, but I do it. I like that this bag has the separation compartment because it doesn't blow out his other clean stuff I put in there for him. I remember another bag he was using last year was horrible because his lazy ass would just throw his used/old gear in with his clean gear and all of it would stink. More work for me right? This OGIO bag makes my life a little easier and his bitching about all of his gear stinking before he even rides, just disappears. If your wife washes your gear, do them a favor and get this bag because it will actually be helping her. Oh and make sure you get a girl who checks you in for your flights! Thank you. -Heather Keefer

The OGIO Trucker is durable and is around a hundred bucks cheaper (at $229.99) than the 9800. If you're looking to get a compact, durable, and useful gear bag take a look at the Trucker over at the ogiopowersports.com. OGIO has a designated moto site specially for their powersports products.