Life is full of choices and those choices that we make in life determine our successes and failures. Being an editor of my own online motocross website as well as the test guy for Racer X I get a lot thrown at me. With all of the positives of so many choices there comes a time where you have to pick what is best for you when it comes time to ride/race what YOU want to race. This comes with its struggles as I don't want to piss off manufacturers just because I choose to race a certain color. With all the bikes I test there are a couple that I feel like I can race hard and do well on. This doesn't mean however that the others I DO NOT choose are no good. The ones I don't choose just have characters that need more time addressing and sometimes I simply run out of time before the event. I am still at a point in my life when I decide to race, I want to give myself the best chance to win. I really try to separate the test rider and racer when it comes to lining up on the gate on any given Sunday. In order to keep a transparent testing website, I thought why not give you a REAL LIFE breakdown of a couple machines that I was thinking of racing at the ranch in August. You can use some of this info for your personal decision making as it may help you decide on what type of bike you may need for which type of rider you're are or becoming. 
Loretta Lynn's is a race that my family and I try to attend as much as we can and with this year's event coming quickly, I found myself trying to figure out which bike would be best for me to race. It came down to two specific machines: The 2023 KTM 450 SX-F and Yamaha YZ450F. As you may know I ride the Yamaha A LOT on my own time and have won Loretta's on the 2020 YZ450F so I was looking to change things up for 2022. Now the Loretta's rule states that you can't race a 2023 motorcycle at the ranch so I was just going to race a 2022.5 KTM 450 Factory Edition if it came down to picking the orange machine. The FE and 2023 KTM are the same bike minus color changes so it would not be a big deal to get a FE for the event. I went and raced/tested at several tracks with both bikes and came away with positives and negatives of each but ultimately my decision was made based on comfort. Chassis comfort is what allows me to go as fast as I can. I don't need the fastest engine, I don't need a bike that corners the best, I just need a bike that is comfortable on bump absorption and is predictable when deep into a 20 minute moto. Below are some positives and negatives of each bike and why chose the color I did for this year's Loretta Lynn's amateur national.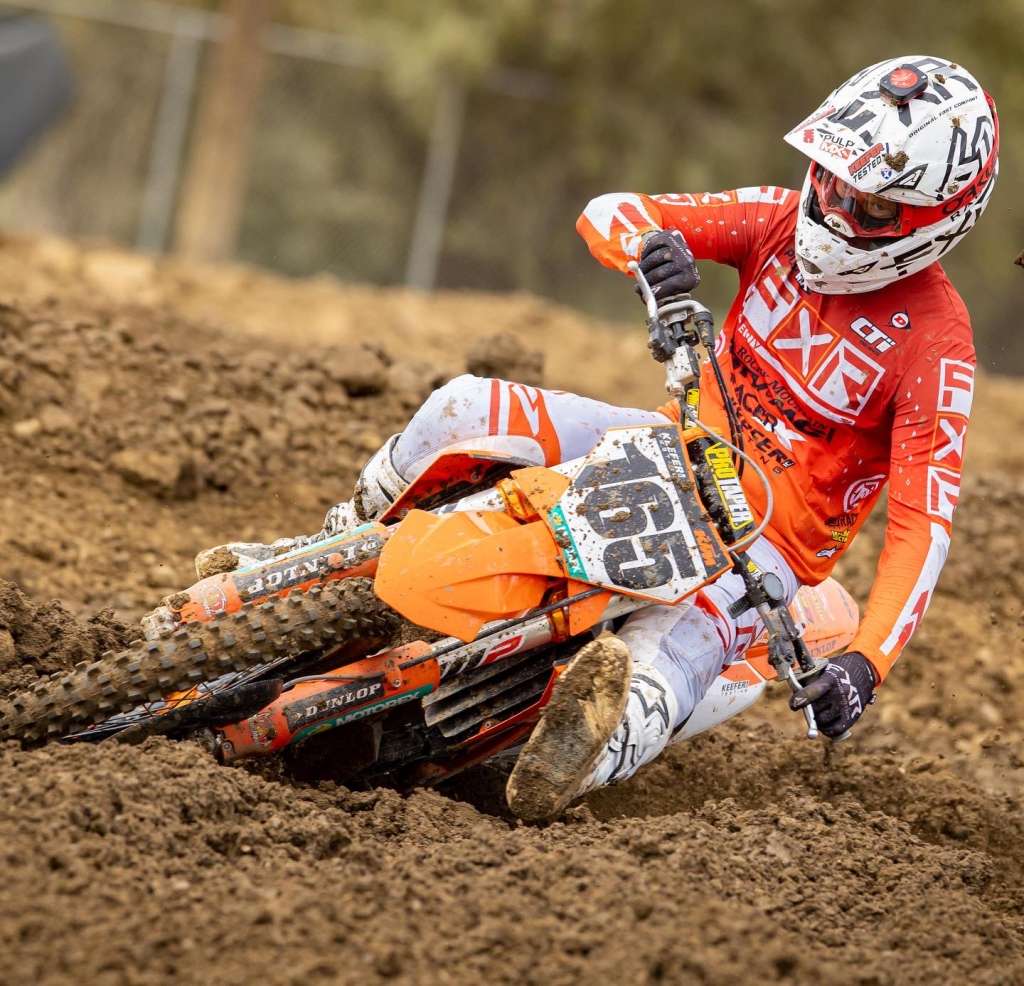 Positives Of The 2022.5/2023 KTM 450 SX-F:
Easy To Ride Engine Character: The KTM's smoother roll on power delivery is sneaky fast yet doesn't rip out your hands under acceleration. This provided me with better roll speed through corners than the Yamaha and gave me a little more rear wheel connection. 
Positive Cornering Character: The KTM, even though not as good through the corners as the older orange chassis, is still better than the Yamaha once in a rut. I feel like the bike is easier to lean in area 1 and 3 in corners and has more of a front wheel bias feel with this new chassis design. 
Rider Triangle: The KTM's rider triangle area is much more comfortable (even when I adjust the Yamaha's cockpit). 
Negatives Of The 2022.5/2023 KTM 450 SX-F:
Vibration: If you come off of a Japanese machine onto a KTM you will notice a ton more vibration through your hands and feet. This is something that I always had to get used to when coming back onto the KTM. After a coupe hours of riding, I did get used to it, but to me KTM needs to address this feeling for the average consumer. 
Bump Absorption/Track Feel: Compared to the Yamaha, I just feel more of each track's imperfections. Square edge, braking bumps, jagged ruts are magnified with the KTM. No matter what you will feel bumps on a track but it is in what capacity you feel those bumps. Does it feel harsh or soft when you hit those bumps? Well with the KTM I feel like more of the bumps on the track are harsh compared to the Yamaha's chassis absorption. The KTM does get a better feel after 10 hours or so, but it still doesn't get the bump absorption of the YZ450F. 
Suspension Comfort: This is a big one if you're running stock suspension on your KTM. I tried re-valved stock suspension as well as the WP 6500 fork cartridge kit and it still is not as good as stock KYB stuff. The stock AER fork just doesn't have that comfort or damping feel of a KTB SSS fork. The WP 6500 cartridge kit is tons better than the AER fork, but still doesn't have that lean edge comfort of a KYB. With the 6500 inserts installed the KTM gets more planted and more front end traction but I still get harshness through my hands when trying to ride some bumps on the edge of my tires. If you don't know what that means, think about when you have to cut across the track a little to set up for a corner, or when you're trying to set up/arc the next corner and you have to cut across the track when bumpy. This is where the Yamaha feels more planted than the orange bike. I will say having AEO/REP suspension on the KTM helped tremendously. The added comfort that I gained compared to where I was at stock was tenfold. 

Positives Of The 2022 Yamaha YZ450F:
Straight Line Stability:  The Yamaha may not corner as good as a KTM once in the rut, but getting to the corner will be much more pleasant to your corner set up. What this means is that I can see up for corners better which in turn gets me through the corner faster because I can carry more speed down the straight. I also can cut across the track easier than I can with the KTM because the chassis is more planted to the ground. 
Suspension Plushness: Nothing is better at hitting bumps than KYB bump sticks. The easiest way to give it to you in layman's terms is drop a rock from 6 feet up and let it hit the ground then drop the same rock from 3 feet up and let it hit the ground. This is what it's like comparing WP suspension to KYB suspension. It just feels like you are hitting bumps with less force on the KYB suspension thus allowing your throttle hand to stay on the gas. 
Exciting Engine Character: Depending on how exciting this could be a bad thing. No one wants too much excitement on a 450 (unless you're a bigger rider), but the Yamaha has a blend of connectivity and rpm response that makes it easier to pop in an out of areas of the track. This makes it feel lighter than it really is and allows the rider to be more creative. 
Negatives Of The 2022 Yamaha YZ450F:
Heavy Feel Through Corners: Yes, once you get off of the KTM and on to the YZ450F you feel the weight of the initial lean into corners. With that weight comes stability but the Yamaha does feel lethargic when trying to dive into an inside rut.  
Wide Feel/Rider Triangle: When you do come off of a KTM, you will notice how wide the Yamaha is. This takes some time to get visually used to as well as get used to the odd feeling cockpit. You feel like you're sitting in the Yamaha versus on top like the KTM. The Yamaha has that old KTM foreign feel to it compared to the other bikes in its class and I can relate to the people who just can't get used to the old feeling cockpit of the blue bike. The Yamaha feels dated (cockpit wise) compared to the KTM.
Touchy Low RPM Throttle Feel: When riding your new 2022 Yamaha YZ450F stock you will notice that it can be a handful when trying to roll on the throttle in area 2-3 of corners. The good new is you can fix "most" of this with a TP3 map via Yamaha Power Tuner. Unlike the KTM, the Yamaha is a little more engine tunable for your needs. The KTM has gone away (for now) with their "My KTM Connectivity Unit" so dialing in your 22.5-23 KTM is a little more difficult. The good news is that the KTM is much more linear through corners than the blue bike so adjusting the orange bike is not needed as much.

Verdict:
So after breaking down three positives and three negatives, which way did I decide to go and why? You might be telling yourself, oh of course he picked Yamaha! I get paid nothing from either of these manufacturers and they both assist me as much as they can with testing time. However, after a couple months, I decided I am sticking with the old blue pig because of its stable feeling and better bump absorption. Loretta's gets rough so I need to feel less of the track in order to go as fast as I can. Sure, the ruts are deep and the KTM corners better when inside those ruts, but the Yamaha will get me through the long rutty straights (with bumps inside them) better than the KTM. At Loretta's there are bumps inside the ruts that can upset chassis balance so I would rather have a slightly more planted feel with a heavier feeling machine. I will rely on my cornering technique to get me through the tighter sections of the track. This decision was one of the hardest I have had to make in a while as the new KTM chassis is more stable than the previous version. I gave my wife headaches every weekend as I thought I had an answer but it would change from week to week. The final nail in the coffin for me was that I had more time on the KYB suspension and I knew what it was going to do. It was tough to get testing time with WP, but I am sure if I had more time getting a setting before LL's then I would have chose orange. The good news is that I will be doing more WP testing once I get back from LL's so I will have more 6500 cartridge settings as well as XACT Trax shock settings to fill you all in on. 
If you have any questions about this test, or if you just want to argue about my decision. please feel free to email me at kris@keeferinctesting.com.