Dirty/smelly gear is not a real treat when you have to put it back in your gear bag after your ride. Some use trash bags, some have hampers that are quite cumbersome and take up room. Orrrrrrr, if you're like me, you just chuck it back in one of your gear bag pouches and then forget about when you get home. The result is not pleasant and if you're lucky enough that your wife does your laundry, she will be pissed off at you (Yes, Heather washes my gear. I know.. Leave me alone).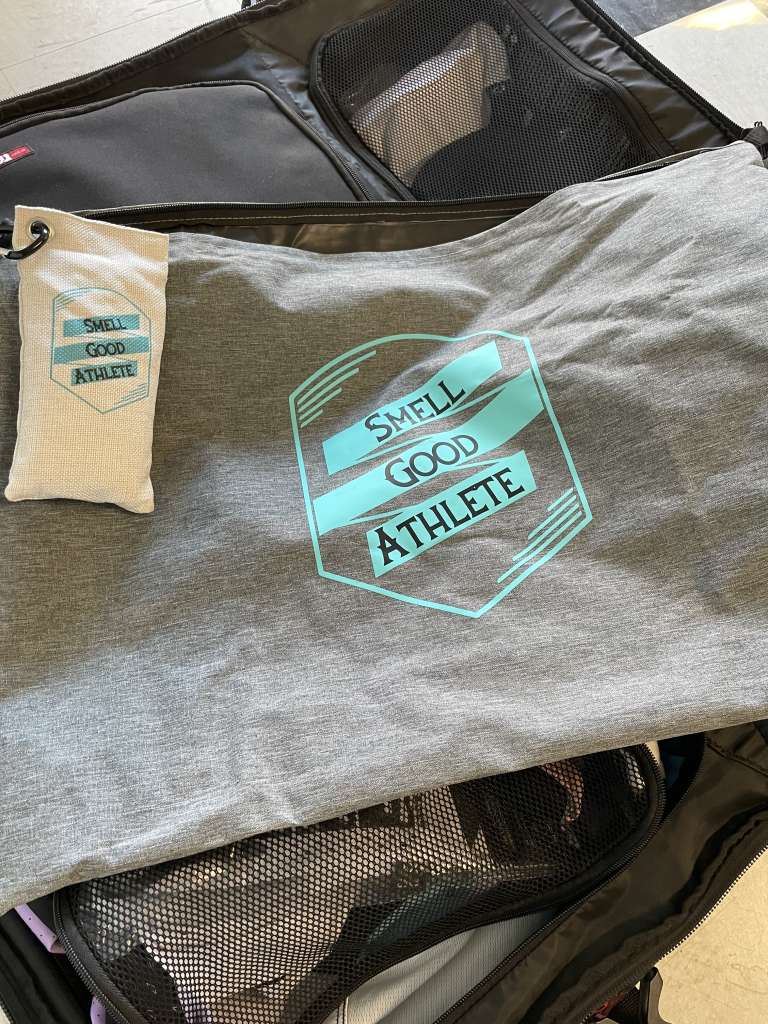 The Smell Good Athlete Bag comes with a bamboo-charcoal insert to help wick moisture and absorb most of the odors that I throw into it. It's easy to stick inside your gear bag and leave out and then once you're done riding you just simply put all that wet nastiness into the SGAB. Now this doesn't mean that I magically remember to wash my gear when I get home but it does mean that when I do get around to opening my bag back up, there is NOT a funk coming from it. Orrrrr you can even leave the SGAB outside of your gear bag so maybe you wont forget it's there when it comes time to unload the truck or van. Either way, this bag has been a big hit in my household and it's even better that it comes from an actual Privateer racer, Chris Howell. The Smell Good Athlete Bag idea came from Chris as he drove all over the country with smelly gear. According to Chris, his wife wasn't pumped on the smell either, so along came the Smell Good Bag! Boom! The cot of the bag is $50.00 and comes with a Smell Less Laundry Absorber and each of those should last you more than a couple months. If you need another Laundry Absorber you can order those for $15.00 each. Do yourself a favor and support a privateer with a great idea and help your funky gear bag situation. You can check out the bag over at www.smellgoodathlete.com. 
Care Instructions: Please wash bags in cold water on delicate to preserve the integrity of the bag and help it last. DO NOT WASH the bamboo-charcoal inserts. The inserts are detachable and can be recharged monthly by setting outside in the sun.Our Smell Less Odor Absorbing bags are scent free and made with a combination of bamboo and charcoal to help wick moisture and absorb odors. Our accessory kit comes with 4 Smell Less Odor Absorbers to switch out in your Smell Less Laundry Bag or to place anywhere else you made need some extra help.
*The Smell Less Laundry Absorber does not absorb all odors. It is meant as an extra tool to help your Smell Less Laundry Bag until contents are ready to be washed. Do NOT wash your Smell Less Laundry Absorber. It needs to be detached before washing and can be recharged by being placed in direct sunlight every few months. Refer to your care card for instructions.