Here at Keefer Inc. we get a lot of emails asking if we need help with testing product. Our answer normally is, "write a test on your own bike and send it back to us". After that email we usually hear back from 10% of the people that actually email us. Woodson Bagnal was one of the few that not only got back to us with his own evaluation of his machine, but it was actually written decently. We all start somewhere and over here at Keefer Inc. we like to give our reader the platform to put their own evaluation up for the world to see. Who knows? Maybe Woodson's test may help your decision on your next bike purchase? Below is Woodson's take on a 2021 Gas Gas EX 300 two stroke! -KK
After spending several years off the bike, I decided to rebuild my 2003 KTM 125 sx and get back into riding. After a full motor and suspension rebuild, I hit the trails and immediately fell back in love. After racing a few local enduros and getting sucked into the National enduro series, I quickly realized it was time to upgrade the equipment underneath me.
I knew I wanted to stay on a two-stroke bike and knew I wanted an electric start-having to kick your bike 40 miles into a mud race needed to be a thing of the past. Having my criteria set, my choices were between  the Austrian brands or a Beta. Adding a little more of a challenge to my search,   the world was in the midst of a pandemic making it even harder to find new bikes. Despite this, after looking at what my local dealers had within about a 2 hour radius of me, I decided on a 2021 GasGas EX  300.
One of the reasons I wanted to stay on a two stroke was due to the different types of terrain I have here in the Carolinas. Within two hours of leaving the house  I can be blasting sand whoops in the southern part of the state or head up north and ridetechnical mountain terrain. When most people think of east coast riding, they think of deep loamy dirt-which is true part of the time,but not always. We really do have a little bit of everything.. We have hard packed trails with loose sand or rock over to the west we have the classic Carolina clay that can be as slick as ice after a hard rain. Then we also have deep loam in the pine trees with roots and large granite rock faces. Here in the Carolinas specifically we face a wide range of riding styles and terrains, which I felt a 300 two stroke would allow me to ride in all areas well.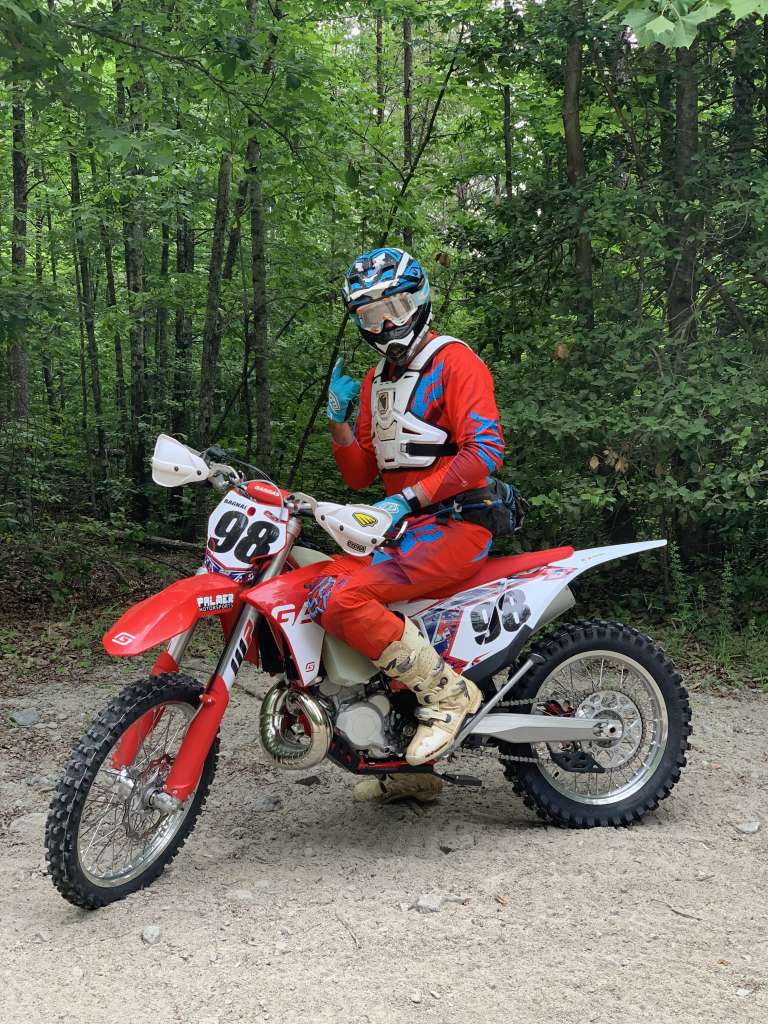 Once I got the bike home, I set up my handlebars and levers to my liking. At 6'3 200 pounds, I was very happy with the ergonomics of the EX 300. I moved the bar mount to the forward position and rolled the bars forward, money. I was able to transfer from the saddle to standing and back with little effort. When riding trails, I like to stand and be over the handlebars letting the bike work underneath me. The GasGas 300EX is thin between the legs but still gives you enough to pinch and move the bike where you want it.
One thing I struggled with when I first got my bike was the fork and shock. The forks felt harsh and I struggled with finding the right air pressure and clicker settings. I initially started with the suggested air pressure of 9.6 bar or 139 psi and 12 clicks out on compression and 18 clicks out on the rebound. I felt the fork deflected and did not travel well over the fast chattery conditions of off-road racing. After speaking with my local suspension shop, I was able to find a comfortable setting at 121 psi, 14 clicks out on the compression, and 12 clicks out on the rebound. This gave me more comfort over the fast chatter and square edges in off road riding while still giving me enough hold up on big hits and G outs. The rear shock has always felt soft and blew through too much for me in faster riding. Especially on the moto track or out in sand whooped trails. Even after changing the rear spring for my weight, setting my sag, and stiffing my low and highspeed compression, the rear shock seems to still be lacking for those big hits. Where it lacks in the big hits it manages to track super straight and does not step out when the trail has lots of roots, rocks, and square edges. I am wondering if the GasGas has some lighter valving compared to the KTM or Husqvarna being more oriented to the weekend warrior rather than Ready to Race of the KTM.

Once I was able to get my suspension more dialed, I was really able to tell the handling characteristics of the 300. First things first though the tires had to go. The Dunlop AT81 front tire is one of the most unpredictable tires I have ever ridden. Sometimes it would push in flat turns other times it would grip fine. It would always climb out of ruts and deflected on roots and rocks. Once I replaced the stock tire with my personal favorite, the Michelin Starcross 5. Once I put this on, I gained more comfort in the front end and confidence in where I could put the front tire. As for the rear AT81, I had no complaints. It was predictable and gave me lots of traction in a wide range of terrain. The bike could be used both as a front end steering machine or a rear end steerer. For woods riding and racing I love this aspect. In tight technical woods sections, it's important to have a bike you can trust your front end and place it where you need. Riding tight woods, every inch counts or you end up smashing a tree. When the trails open up or you are in a field test, being able to lean the bike over and steer with the rear and keep your speed is crucial because you do not always have a rut or berm to rely on.
Now that I have bored you with the ergonomics and suspension talk, I am sure you are sitting there asking yourself, what about the motor? How is the Power? It's a cross country 300 can you race it but still tractor it up a wall of a hill?  Well, I am glad you asked. The GasGas EX 300  is one of the best two-stroke motors I have ever ridden. First off, the counter balanced engine has hardly any vibration compared to other two strokes I have tried, even being a steel frame. When you think of a 300, most of us think of guys like Billy Bolt or Johnny Walker and even though this bike is considered the cross-country model, the bike will lug for days! Mountain riding here on the east coast is some of my favorite riding. Recently have ventured into harder enduro style single track, but not like what you watch the pros do, but these trails are slow and technical with tough features that require low speed traction and grunt. But this is the EX model which is for cross country riding, is it fast? But the simple answer is YES. This bike rips. I have raced this bike in several local and national enduros, hare scrambles, and have even raced it at some local motocross races. This bike can be revved to the moon and with a little feather of the clutch and gets out of the corner and goes. It's TPI, it's nothing like a carbureted 300. I'd beg to differ. After riding a Beta 300 race edition the other weekend then hopping back on my GasGas, I found that my bike was much faster off idle and pipier compared to the Beta. The Beta did not have near the punch of my GasGas, nor did it rev out as far.

Now every bike has its issues or short comings and the GasGas EX 300 is no exception. For an off-road bike that cost $9,599 MSRP you would hope it would come with a skid plate and handguards. This is the first thing riders do before hitting the trails. Its tough buying a bike of this cost then immediately having to spend more money throwing protection items at the bike. The next thing that took more of a learning curve is the AER fork. Though I have grown to appreciate the AER fork, at first it was very difficult finding the right air pressure and clicker setting. Having a coil for just takes some steps out before you ride and for your average guy you do not have to worry about your air pressure before every ride. You also have to worry about the AER fork heating up after a hard enduro section or long hare scramble. This will cause the fork to get stiffer and not prefer the same as the day goes on. To help combat this I got some motion pro fork bleeders so that I can help keep my forks more consistent. Finally, the tires, specifically the front, needs to go. I am all for giving us a good set of Dunlop tires but the AT81 front tire has got to go. Give us a Dunlop 33 front with an AT81 rear. Dunlop themselves does not even recommend their AT81 tire for GNCCs. It is always the MX33 and an AT81 rear, unless it's a sand race. So why give the general public a tire that even Dunlop does not recommend. Other than these minor issues. The GasGas EX 300 is really a great bike.
The 2021 GasGas EX 300 is one of the best bikes I have ever ridden and the best bike I have ever owned. I ride my friends' bikes, 250 two and four strokes, 350s, and even 450s. I always come back to my 300 and pumped to ride it. This bike allows me to do a 60 plus mile adventure ride Saturday and race motocross Sunday. For me this is the ultimate "50/50" bike. Though I ride more 80/20 woods/moto. Plus, it is red and we all know when you walk out into your garage and see a red bike it just makes you want to ride. Whether I am riding tight woods banging bars off trees or hitting a jump on a motocross track, the 300 allows me to ride both and be competitive. If you are a woods guy and have not ridden a modern 300, I strongly encourage you to try one, it may be your next bike.