Kris Keefer (Mammoth Qualifier) 
Track: Glen Helen Raceway 2/13/23
Terrain: Sandy top soil AM with hard pack in PM 
Start: Dirt
Avg Lap Time: 1:47
Total Number Of Motos: 4 motos (Four 5-6 lap motos)
Weight At Time Of Race: 175 pounds w/o gear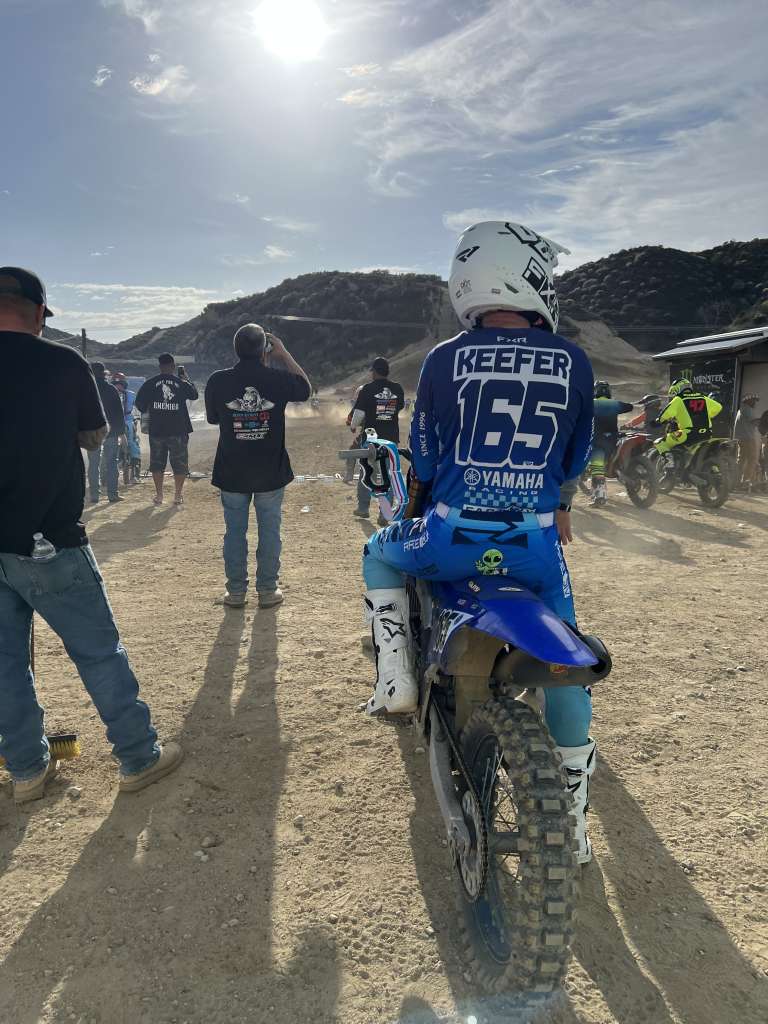 2023 Yamaha YZ450F: 
Engine Hours 45.6
Mods/Parts: 
Tires: Dunlop MX3S/MX33/MX14 13.5 front/12.5 rear PSI (MX14 1st motos/MX33 2nd motos)
Bars: Pro Taper SX Race Evo +1 bar setting
Grips: Renthal Half Waffle Soft
Levers: ARC RC-8 Clutch Perch/26mm ratio lever
Clamps: X-TRIG ROCS 22mm offset (3mm FH)
Muffler: FMF 4.1 Complete System (Ti muffler with stainless head-pipe/mid-pipe
Throttle: ZRT Aluminum
Rider Triangle: Stock
Gearing: 13/49 Renthal Sprockets/DID ERT3 Chain
Engine Mods: Stock
Engine Oil: Blud Racing 10/40 Pro Series
Fuel: ETS MX18
Holeshot Device: WC Pro Launch 120mm setting
Graphics/Seat: DeCal Works/GUTS Racing
Suspension: Enzo Racing Test Fork/Shock Spec #KK101
Air Filter: Twin Air
Plastic: Stock
Results: 1st 40A (1-1), 3rd 450 Pro (2-3)
Notes: 
Works Connection Holeshot Device Set to 120mm. Was at 125mm. Preferred 120mm at GH for less wheel spin out of hole. Ruts form behind gate and get deep/hard pack so 125mm fork setting felt too low for rear end traction

Dunlop Rear MX14 tire is like cheating off the start. Ground is sandy top soil/hard underneath. MX14 provided superb straight line acceleration and decent lean angle for most of 1st motos. Second motos track was too hard/edgy which forced me to move to the MX33 120/80-19.

Ran "Control Torque" Yamaha Power Tuner Map all day. Linear feel with nice broad 2-3rd gear pulling power up hills.

Enzo fork has better small bump comfort with better lean angle initiation. 3mm fork height with 104mm sag. Shock needs some work as I feel too low on high speed compression loading. Needs more HSC damping feel in g-outs or landings.

X-Trig ROCS 22mm offset clamps help with front tire feel on area 1 of corners with shallow ruts. Front end positivity felt, also slightly less bump absorption feel with ROCS clamp compared to stock. I will take more lean angle traction at Glen Helen over slap down bump feel.

Experimented with 20mm X-TRIG ROCS offset the day before race under similar race conditions and it helps corner entry as well as off throttle wiggle. Front tire is more planted on initial lean, front end feels heavier, area 2 feels like I have some oversteer yet area 3 of corner feels more positive/less vague. I need to re-visit this setting with different shock setting to see if it helps some of this twitchy/off throttle feel that the Yamaha has. 

Shape of stock seat hurts my ass. Gives me monkey butt and the edges of the foam are too thin and close to the subframe rails. This forces me to wear padding in my shorts. Going to try new GUTS foam shape.

FMF 4.1 system provided smoother roll on power (compared to stock) which allowed more rear wheel traction out of choppy corners. FMF system helps with mid range hit as it smooths out the bottom to mid range transition.

ARC 26mm lever ratio helps with clutch action off starts. Less grabby and more of a wider engagement. Works Connection perch/26mm lever ratio is also as good, but WC has better pull feel at the lever.

Hinson full clutch basket kit improves clutch life during Moto and provided less slippage under heavy abuse. Action of clutch is smoother out of the gate and allowed me to slip clutch less once past the gate/on starts. Clutch lever pressure is also not compromised as pull is as good as stock feel. 
Suspension Setting: 
Fork: (Spec #KK101F)
C: 10
R: 12
Height: 3mm
Shock: (Spec #KK101S)
LSC: 10
HSC: 1.25
R: 11
Sag: 104mm