Loretta Lynn's is on the horizon so that means pops has got to get the race bike all sorted for the kid. Aden is a lucky little shit, although he is not oblivious to the fact, he also has to hear his dad talk about what he didn't have growing up. I mean I heard the same thing when I was 16 as well from my dad, so why not pass that blessing on down to my kid (insert evil laugh here). As parents, we always try to give our kids what we didn't have and this 2022 Kawasaki KX250 is something I would have killed for when I was 16. In 1992, (when I was 16 years old) I was on a two year old 1990 Suzuki RM125 with the rear tire flipped backwards to get that sharp edge going again and some touch up paint on that blue frame! 
Over here at Keefer Inc. we try to give you a full transparent breakdown of what we race and why, so without further ado, here is Aden Keefer's full race spec 2022 Kawasaki KX250 build. If you're looking for any further information on this build or how to get in touch with anyone of these companies that helped on this project, please feel free to email me at kris@keeferinctesting.com. We may also have some sort of discount code for you as well if you decide you need anything for your own Kawasaki KX250.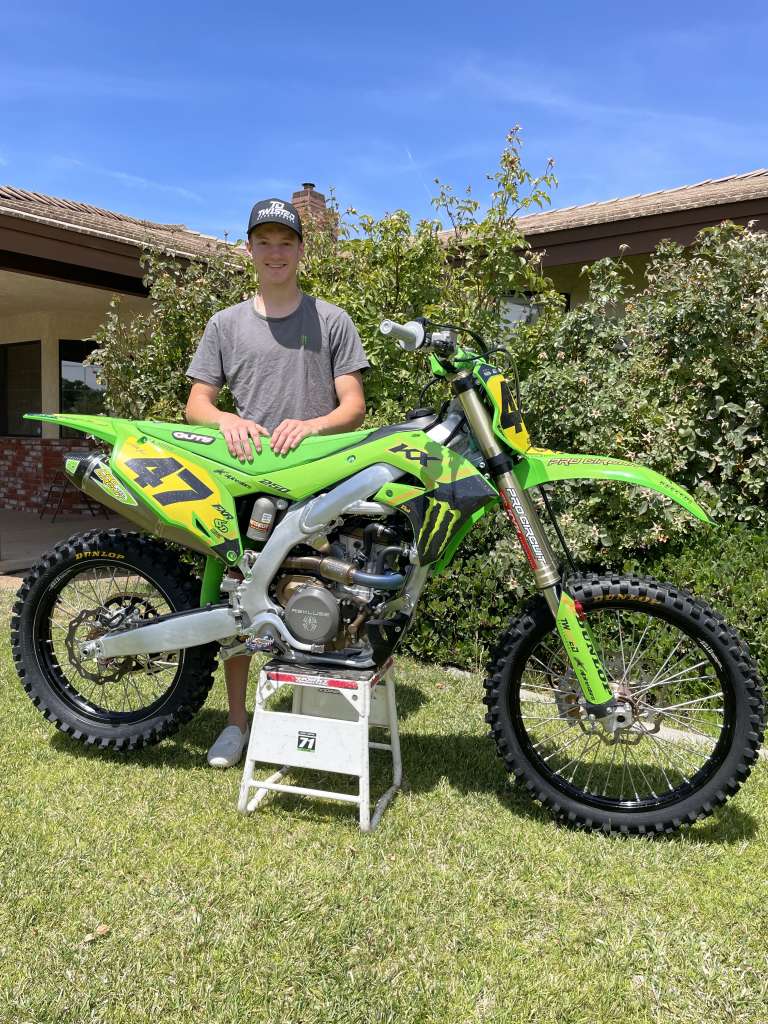 Aden Keefer
Track: Loretta Lynn's 
Terrain: Clay base with sand mix
Start: Dirt
Avg Lap Time: 2:00
Total Number Of Motos: 6 motos (Six 20 minute motos)
Weight At Time Of Race: 135 pounds w/o gear
2022 Kawasaki KX250:
Engine Hours 15.6
Mods/Parts:
Tires: Dunlop MX3S/MX33 13.5/12.5 PSI
Bars: Pro Taper Race Team Bend Evo
Grips: Renthal Half Waffle Soft
Levers: ARC RC-8 Perch/Lever
Throttle: ZRT
Rider Triangle: Stock
Gearing: 13/51 Pro Taper Sprockets/DID ERT3 Chain
Engine Mods: Twisted Development head work, Twisted Development cam spec, Pro Circuit Valve Spring Kit, J&E HC piston, ECU mapped By Twisted Development, TD electronic water pump, Sano Metal Super-Finishing on internal engine parts.
Engine Oil: Blud Racing 10/40 Pro Series
Fuel: Renegade SX Pro
Holeshot Device: Works Connection
Graphics/Seat: DeCal Works/Guts Ribbed Seat Cover
Suspension: Pro Circuit Fork/Shock re-valve Spec #AK2.0
Air Filter: Twin Air Power Flow Kit
Plastic: Acerbis

Notes:
Jamie at Twisted Development developed an engine package that create more torque/low end power yet we made sure we didn't have too much hit down low for Aden's skinny profile/build. We wanted a longer power with good grunt to get out of the gate, so Jamie created an engine character that is stronger than stock down low, yet climbs through the mid range-top end quicker/more free of a feel and pulls longer on over-rev. This engine character is not your typical Twisted engine. This engine spec is more of a B level engine power character but with A level type of parts.
The electronic water pump keeps the engine running cooler in the Tennessee heat as well as creates less drag on the engine. This is one of the reasons this engine spec is so free feeling. With that free feeling, the KX250 now has more of an exciting feel to it out of corners and this makes the bike feel lighter through long ruts. 
Luke at Pro Circuit created a valving spec for Aden that has evolved since his time with Team Green. Being that Aden is 135 pounds we started with a light valving stack but with a heavier spring set up. Aden now has needed more low speed damping now that he is getting more aggressive and has slightly less finesse on the bike. The Pro Circuit suspension setting has proved to have more comfort initially than stock yet have more hold up on the end stroke. This setting is a little firm for slower riders, but for an aggressive 16 year old, it seems to allow him to ride the rough line if need be. Also, adding the Pro Circuit linkage to this suspension spec has kept the rear wheel on the ground better on softer tracks with taller bumps. During our west coast test sessions, Aden didn't notice much with the linkage installed. Yet, when we went back east where the dirt was softer and the bumps were taller/sharper, it kept the rear end more balanced off throttle. 
I convinced Aden to go the Pro Taper EVO route and not the Fuzion (crossbar) direction for more flex and not he has thanked me. More flex and less vibration is felt with the EVO set up. However, we both like Renthal half waffle soft grips for comfort. 

DeCal Works does a great job at making your imagination come to life on your bike. Aden has kept with the Team Green amateur motocross look but has Aden some of his personal sponsors to the bike. I also like the sparkle/flake that is sprinkled around the numbers/shroud graphics. 
Aden prefers the Pro Circuit/ARC levers over the stock levers because they have wider/straighter blades, and also incorporates a different leverage ratio (26 degrees). This allows for a longer throw and a less grabby clutch feel. Rekluse also sent us their Torque Drive clutch kit and along with the ARC levers have provided Aden with a clutch that not only does NOT break fibers but gives the KX250 more low end bite/rear wheel connection. Without the ARC levers and the Rekluse Torque Drive installed we found the clutch to be too grabby and aggressive but with the Pro Circuit/ARC lever set up the connection to the rear wheel has improved when rolling on throttle out of slick corners. 

Sano Metal Finishing uses their ISO Tropic Super-Finishing to all of the KX250's moving engine parts. Isotropic Super-Finishing is the process of creating a uniform, non-directional (isotropic) finish on a metal surface. The process produces a uniform mirror-like finish on hardened steel parts that reduces friction, contact fatigue and stress risers. This finishing helps with making a freer engine feel as well as reduces heat. 

Suspension Setting: 
Fork: (Spec #KK145F)
C: 10
R: 10
Height: 3mm
Shock: (Spec #KK144S)
LSC: 10
HSC: 1.25
R: 9
Sag: 105mm