There are a couple companies out there producing engine mounts these days and while I stand by my claim that some bikes DO NOT need aftermarket engine mounts some bikes/models could benefit from a softer feeling mount. I have come to find out that one of those bikes is the 2023 KTM 450 SX-F. I will be honest and say that I am so busy with other projects that it is sometimes hard to try and test aftermarket engine mounts on all of my test bikes. I usually go off of feel and if the chassis feels stiff or "edgy" on the track. If I do notice that the chassis is a little rigid/stiff feeling, I will try some suspension settings as well as possibly some type of re-valve first before I jump on the engine mount wagon. I ran into Scott over at Works Chassis Lab and he handed me a couple sets of aluminum engine mounts to try on my 2023 KTM 450 SX-F. I have noticed that with the new frame update that KTM made in 2023 it makes the chassis slightly less compliant than in years past. I mostly notice the stiffness/edgyness out on hard pack west coast style dirt so if you're riding those types of conditions these mounts could help. In softer conditions I don't notice the rigidity as much, but to me it is still there.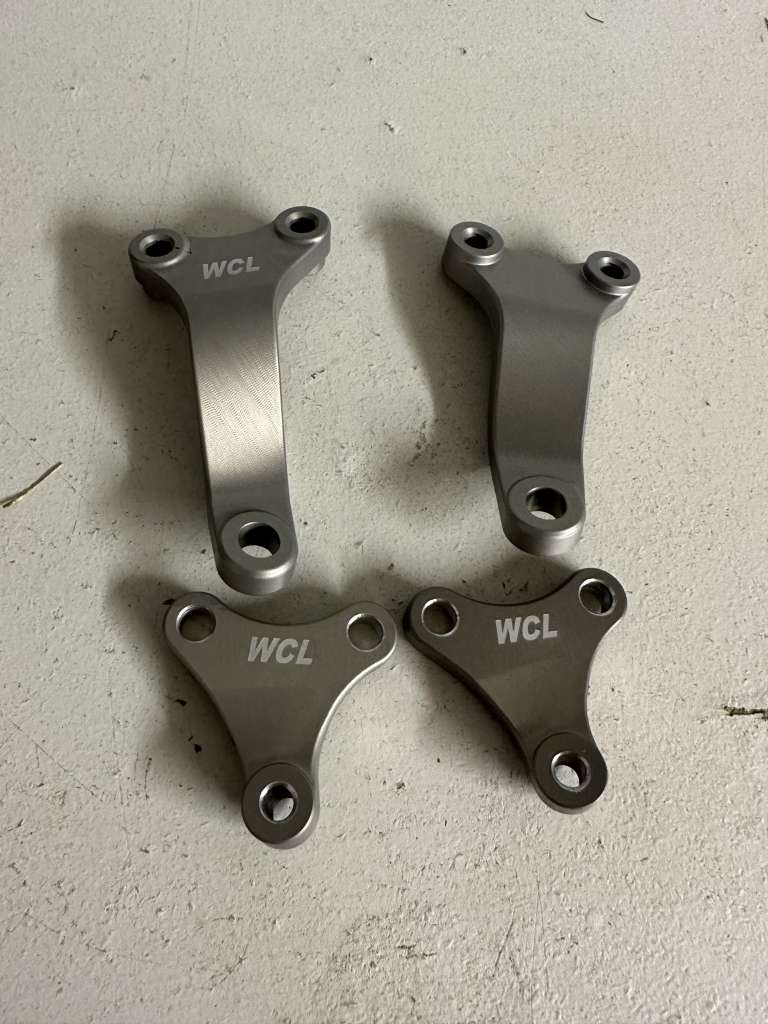 WCL is offering two types of mounts a medium and soft mount and both are noticeably different than the standard mount. The medium mount performed better at tracks like Glen Helen, Cahuilla Creek and Pala. Where the soft mount performed better on my desert tracks with no jumps and fast speeds. Basically in a nut shell the medium mounts provided a less harsh slap down feel, slightly less vibration through the pegs and gave me increased lean angle traction when on the edges of my tires. This is something the stock mounts lack, yet the WCL mounts give me a little more confidence in those lean angle square edge conditions. When you put the medium WCL mounts on it will feel like your front tire is stuck to the ground more in corners and it can give you a sensation of a low front end feel (off throttle) so lowering your sag to compensate for the extra front end bite you will be getting (with the medium mounts) will help with straight line stability more and not sacrifice your newfound front end bite. I went from a 103mm stock mount sag reading to 105mm, with the WCL medium mounts. For sure, it is a modification that helps comfort on sharp bumps and actually helps you AER fork lovers more front end feel. I tested the medium mounts on a spring conversion as well as the stock AER fork and it helped area 1-2 in corners more than the stock mounts did.

WCL will be offering the soft top mounts as well and to me this could be a good setting for you off-road riders that are looking for more bump compliance. Straight line bump comfort was improved but to me it sacrificed too much lean angle traction for me on true moto tracks. When I rode/tested with the soft mounts on desert terrain, it proved to have more straight line comfort than the mediums but I liked having that front end bite of the medium mounts in ruts. So this soft mount set up could be an option for you desert racers/riders or even you tight single track GNCC types that don't need to bank off of a rut or berm as much as moto riders.
The Works Chassis Lab KTM engine mounts run $349.99 and to me are worth the cost for how much comfort I get. They will be available soon (In stock by 3/20/23). You can reach out to the WCL gang at https://workschassislab.myshopify.com/ to order. Or just "Google" Works Chassis Lab.