I am usually not one to switch up engine mounts too much, but I have tried some in the past that actually have made certain machines more compliant and friendlier to ride. Works Chassis Labs has been making engine mounts for a few years now and supply some of the teams you see in the AMA paddock with these mounts you see here. Since you may see some of the WCL engine mounts you see on the Pro Circuit Kawasaki's I thought wy not try and revisit some aftermarket engine mounts to see if it really does help the 2022 KX250 chassis.
Even though my son Aden is around 140 pounds and racing he B class, he hasn't really complained about harshness or any negative handling traits on his KX250. This doesn't necessarily mean that you can't make this machine better, but you only know what you've tried right? An old testing saying is "you're only as good as what you try". I had a few different combinations to test/go through as I had a couple top stainless steel mounts to test as well as a couple front titanium mounts to go back and forth with to see what made the difference. We tested on a deep sand track near my home and at Glen Helen as these two tracks differ in a lot of ways.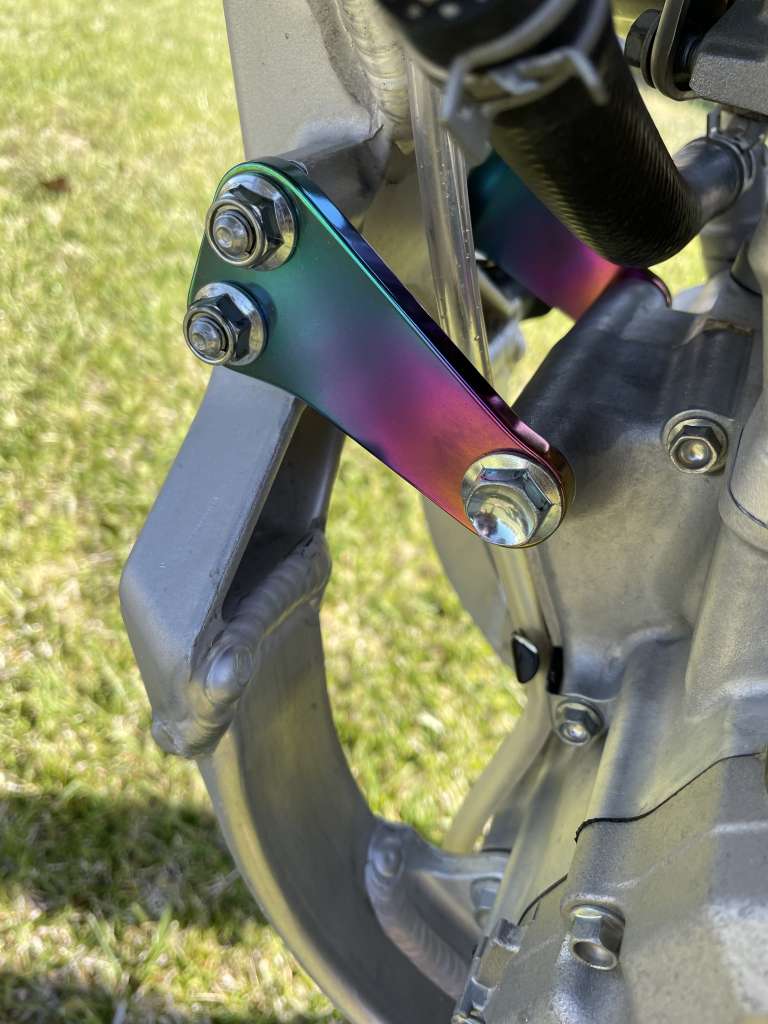 When we tried the medium top stainless steel mounts with the medium front titanium mounts my son and I immediately noticed more lean angle on throttle feel from the mounts. We now felt like the tire contact patch of the KX250 was a little wider and that left us with a feeling of stability while leaning under throttle when the track was choppy (or in other words better lean angle on the edges of your tires). We also noticed more front end traction in area 2 and 3 of the corners which improved the sometimes vague cornering character of the KX250. The downside was that the front felt like it became too low in (when coming straight) corners (or when immediately off throttle). Yes, engine mounts can make your machine feel lower in the front! Imagine that! Instead of trying to compensate with sag or fork height we decided to try the soft front titanium mounts to see if that could relax the front end up some and give us better straight line de-cel feel. 
Once we stuck the softer front titanium mounts on and stuck with the medium top stainless mounts the stinkbug off throttle feel went away and we kept that nice lean angle traction but also got more small bump compliancy on chatter as well as braking bumps. This soft/medium set up became the favorite between Aden and I and we both could feel the difference when going back to the stock mounts on the same day. The only real negative is that under heavy load (steep jump faces or rolling whoops) the chassis felt a little wallowy. I feel like going to a stiffer suspension setting could help this, but I would only add a very small amount of low speed compression between the fork and shock internally. 

Overall the titanium front soft mounts as well as the top medium stainless steel mounts proved to help the KX250's character around rough tracks. We increased front end feel and bump compliancy for $219.99 for the front mounts and $199.99 and for the top mounts. 
Extra Credit: For extra credit we left the stock front engine mounts on and went with the medium top mounts to see if we could get any advantage with half the cost and quickly found out that it does help initial touch (slap down) feel and a very small amount of first bump touch (think of hauling ass down the straight and then hitting the first braking bump) comfort. You don't get the extra front end feel you do with the titanium soft front mounts, but you do get a little more compliancy on certain areas of the track.