Engine Feel: Just in case you were trying to decide on if the 2021 KX450 is better than the 2020, even though not much has changed, there is actually a little difference because of the new clutch. The 2020 comes on quicker with a lighter, more free-revving feel and has less engine braking, but the 2021 has more connection to the rear wheel, more control under throttle and has a little more engine braking, which for me is a good thing. I am usually not a guy who likes to de-tune a stock 450cc motocross bike, but the 2020 Kawasaki simply is too crisp from 0-5% throttle opening on slicker/hard pack tracks. The 2021 KX450 comes on a little smoother down low and feels like the new clutch helps with rear wheel traction.
The mid range has a nice amount of meat and the smoother pulling power of the top end/over-rev is noticeable on longer straights or up hills. I didn't lose mid to top end pulling power with the black coupler (compared to the stock green one) and I could ride the KX450 more aggressively through corners with the updated clutch. This is an impressive power plant!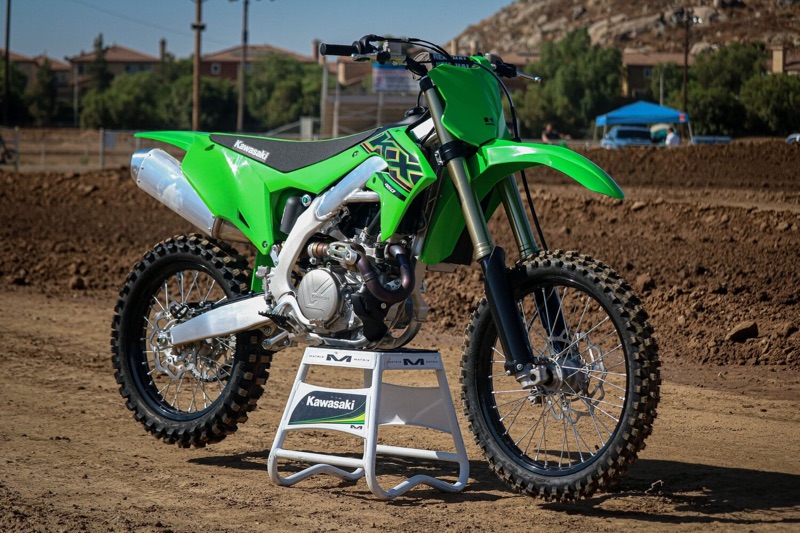 Weight Feeing (Chassis): I am able to lay the KX450 down with ease and cut down under a blown out rut almost as easy as a KTM/Husqvarna. I do get a little twitch on de-cel (which can be fixed with a fork spring change), but it wasn't a horrible or un-easy feeling. Straight line stability is still the same straight and arrow Kawasaki feel that you expect, but with added traction. The frame absorption is the best attribute of this machine and other manufacturers should take notice of how well this KX450 feels when the track goes to crap. The whole bike feels friendlier than any other 2021 machine on square edge and the only other one that comes close in comfort is the Yamaha YZ450F.
Suspension Comfort: The 2021 Kawasaki is so much more balanced than previous generation KX450's and I was able to set the front end down where I wanted to without feeling like the front end was going to snap my wrists. The fork has tons of comfort, but is also too soft/low on de-cel for my liking. At tracks with hills or sizable jumps, the fork was too low in the stroke and bottomed too many times. Going stiffer on the compression only hurt de-cel bump comfort, so I settled on going slower on the rebound, which helped some. The shock is soft as well on slap down landings, but going eight clicks (two full turns) in helped keep the rear end up and thus helps wallow feeling. This setting will get you by on most tracks, but do yourself a favor and read the recommended suspension settings below for optimal balance of the KX450. The recommended settings below will help with hold up and ride comfort.
Cornering/Chassis: The 2021 KX450 is a more "neutral" cornering machine than in previous years. I am able to get more rear wheel bite than last year, but I am still able to turn on the front end fairly well. I had a rear end steering tester with me when we did the intro and he mentioned how well it backed into corners still. I thought front end bite from area 2-3 of corners was still acceptable, but got even better with a heavier fork spring. I say "area 2-3" because the KX450 still does have a slight vague feel on entrance of corners, so increasing spring rate prevents the front end from diving, which in turn prevents your front tire from pushing on entrance.
Rider Triangle: The footpeg to seat to handlebar ratio is great! The seat is flat, which puts me more on top of the machine and the Renthal 839 Fatbar makes the bike feel very friendly for a wide range of riders.
Brakes: Do yourself a favor and get a 2021 KX250 rear disc and hanger. The 250mm disc is too grabby and really screws up my corners/braking points. The rear end will slide when I don't expect it and this causes my corners to be herky/jerky. Go back to the 240mm disc on the 21 KX250 and live life happier.
2021 KX450 Suspension Settings:
After almost 20 hours on the 21 KX450 these are the best settings for a wide range of riders. This setting is based around comfort and will give the rider the most confidence. Use this set up until you get a re-valve. Once you re-valve, use recommended suspension tuners spec.
Fork: 
Spring Rate .51 N/m Spring (.50 N/m is stock) *If B level rider and over 200 pounds .52 N/m springs are also a great option*
Oil Level: Standard
Compression:11-12 clicks out
Rebound Range: 10-11 clicks out
Fork Height: 2-3 mm
 Shock:
Spring Rate: .54 N/m (190 pounds or over, try .56 N/m)
Low Speed Compression: 16 clicks out
High Speed Compression: 1 1/8 turns out
Rebound: 10-11 out
Coupler/ECU Setting:
The engine on the 2021 KX450 in stock is smooth off the bottom and easy to ride, but does have a little dip from mid to top, so I created this map to help fill that dip in and make it pull slightly longer. You will notice even more of a linear (more control at low RPM) pull down low without any jerky feeling through corners. With this map installed it helped settle the chassis down through long ruts and improved overall traction feel. In the testing world we call this "cornering stability". With this map installed it helped the 2021 KX450's cornering stability, especially on intermediate terrain. You will need to use the white coupler and use the Kawasaki FI Calibration Tool to create this map.
Aftermarket Mufflers: I have tried a lot of mufflers with the KX450 and to me the FMF and PC have the most noticeable change to the engine character of the KX450. As ugly as the stock muffler is, it's a very good muffler for a broad range of power delivery. However, when you go to a FMF muffler, do yourself a favor and look at this article on how to make it rubber mounted. https://www.keeferinctesting.com/offroad-testing/2020/10/8/how-to-save-your-subframe-on-your-2019-2021-kawasaki-kx450.
We have broken a subframe tab because the FMF is a solid mount system, not rubber mounted. This doesn't necessarily mean that the subframe tab will not break if it's rubber mounted as we have broken the tab on the subframe with the stock muffler as well (which is rubber mounted).