For 2023, some 450 MX'ers have changed, some have remained the same, but that doesn't mean some of these clicker settings haven't evolved on the model(s) that have zero changes. For the other machines that have changed we have created an all new baseline setting for you riders between 160-200-ish pounds.  We have put a lot of time on all of these machines and have directed you towards these settings for a more friendlier feeling for your new 2023 450 machine. If you have any questions, I am here to help as much as I can. Kris@keeferinctesting.com is the place to ask away.
Kawasaki KX450: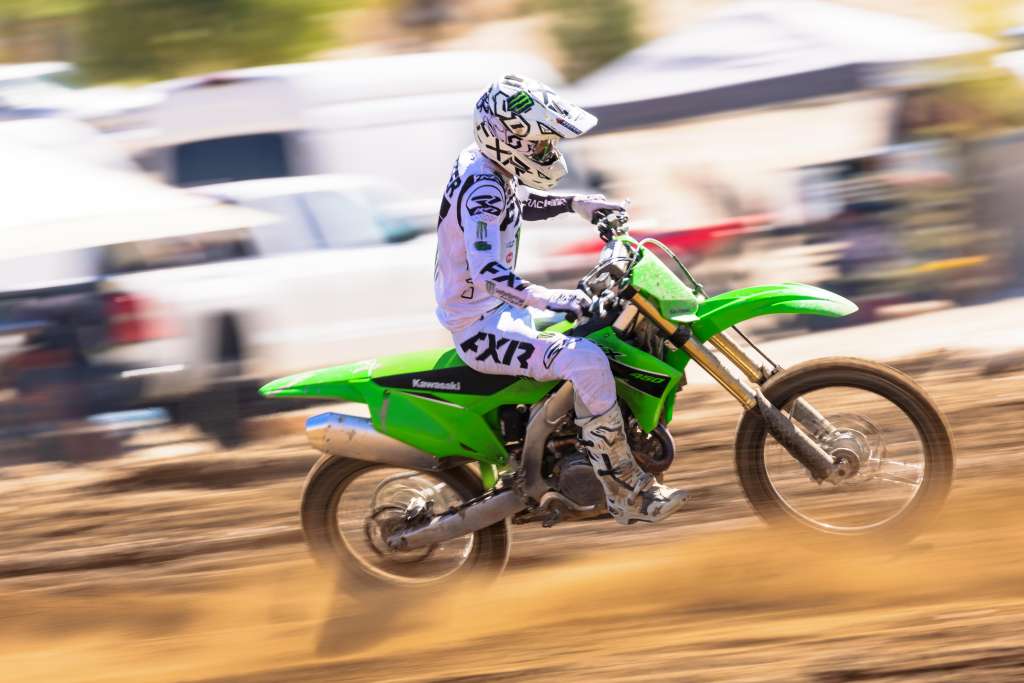 The stock 2023 KX450 fork is too soft on de-cel and needs more hold up. These settings will help achieve this and leave you with enough comfort where your hands will not be screaming for mercy when coming hard into corners.
Fork:
Spring Rate 5.1 N/mm Spring (5.0 N/mm is stock) *If B level rider and over 200 pounds 5.2 N/mm springs are also a great option*
Compression:11-12 clicks out (13 clicks out with 5.2 spring)
Rebound Range: 10-11 clicks out
Fork Height: 3 mm
Shock:
Sag: 105mm
Spring Rate: 54 N/m (190 pounds or over, try 56 N/m)
Low Speed Compression: 15 clicks out
High Speed Compression: 1 1/8 turns out
Rebound: 11 out
Yamaha YZ450F: 

Yamaha has an all new bike that took me a while to figure out because it feels nothing like the 22 version. The 22 felt heavy, yet planted, but the 23 feels light and more hyper (in the chassis department) like a younger teenager. If you're sticking with stock valving, the 2023 Yamaha YZ450F's suspension settings are stiffer this year so pitching should be less of a problem rolling off throttle. In fact, to me, the front end feels/rides taller so I can understand why the Yamaha R&D team is pushing you to run a fork height of 7mm. Getting the front end to bite on lean is crucial but the 23 YZ450F has more front wheel traction (even with the tall front end) than the 22 so you can afford to lose a little front end feel in area 1 of corners to gain some stability, which I feel this bike needs more of. Once broken in the suspension does get a little softer, but keeps most of the comfort we all know from a KYB/Yamaha set up. The shock is a little stiff on high speed compression so we do recommend backing that off a little bit so the rear can squat a little more coming out of corners. Break your Yamaha in around 5 hours and try these settings to see if this gives you a blend of cornering and stability.  These are the settings that I feel comfortable with after almost 18 hours on the stock suspension. 
Fork:
Height: 4mm
Compression: 12 clicks out
Rebound: 9 clicks out
Shock:
Sag: 104mm
Low Speed Compression: 11 clicks out
High Speed Compression: 1.25 turns out
Rebound: 12 clicks out
Honda CRF450R: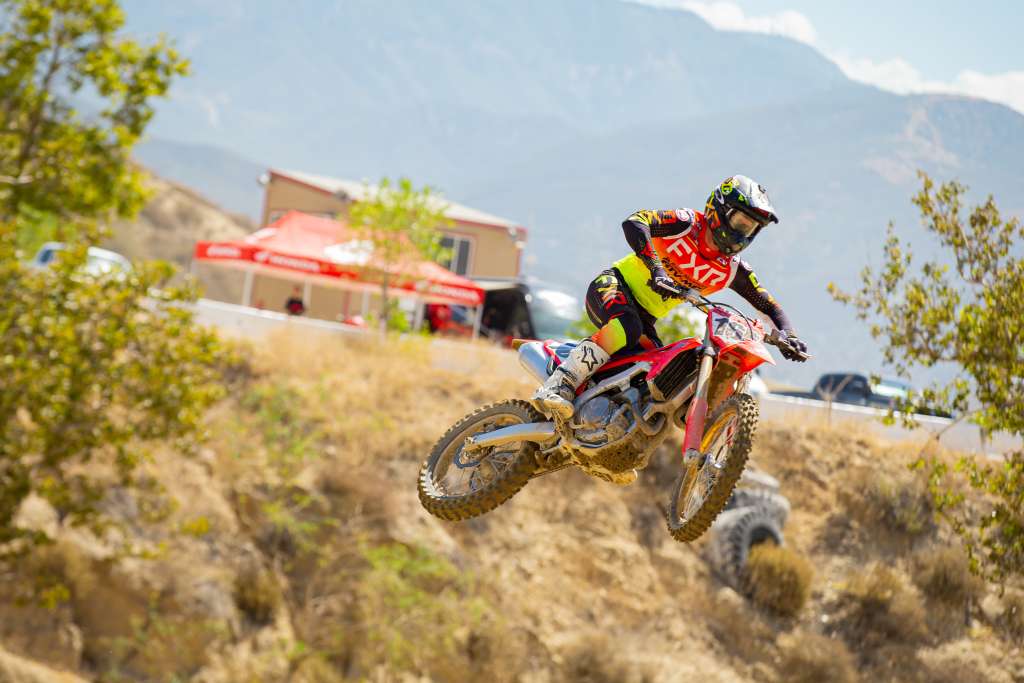 The front fork on the 23 CRF450R might be a little soft for you if you're anywhere over 180 pounds. Honda has a 5.0 N/m fork spring that is adequate for most, but the valving is still slightly on the softer side to aid in chassis rigidity. Out back the updated 56 N/m shock spring is much better for balance, so keeping the stock spring rate on the shock is just fine. You will have to adjust clickers a little get some added acceleration comfort, but once you install the updated stiffer fork spring as well as the clicker changes to the shock, your Honda is a much happier CRF450R at a wider variety of tracks. Bringing both ends up a little in the stroke (with the heavier fork spring rate) has given me more front/rear wheel traction as well a Honda that corners better without over-steering. Going up with the fork spring rate does help with track toughness and in most cases a straighter handling 2023 CRF450R. If you're not into spending more money on a re-valve at this time, simply get a heavier fork spring and try this setting:
Fork:
Spring Rate: 5.1 N/m (One 5.2N/m spring one side)
Height: Flush-2mm
Comp: 12 out
Rebound: 11 out
Shock:
Spring Rate: 56 N/m
L/S Comp: 10 clicks out
H/S Comp: 2 clicks out
Rebound: 11 clicks out
Sag: 105mm
KTM 450 SX-F:

The stock/recommended settings were 10.7 bar or 155psi of air in the fork, compression at 12 out and rebound at 18 out. This setting was, as suspected, too soft for my liking and after testing at a few tracks, I found a base line setting of:
Fork:
Height: 3mm
Air Pressure: 10.9 bar or 158.09 psi of air
Compression at 12 clicks
Rebound 14 out.
*With Factory Hard Parts Triple Clamp or Ride Engineering Split Clamp*
Height: 3mm
Air Pressure: 11.0 Bar
Compression: 14 clicks out
Rebound: 14 clicks out
Shock:
Sag: 102mm
L/S Comp: 9 out
H/S Comp: 1.25 out
Rebound: 11 out
Husqvarna FC 450: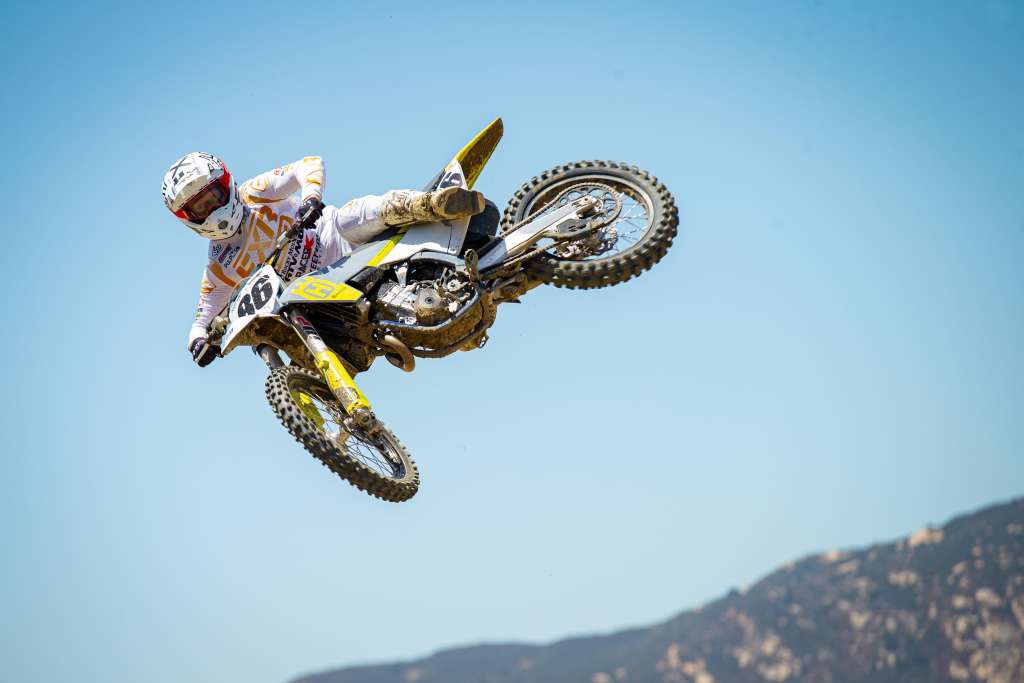 With this setting I had no issues bottoming on hard landings as well as  bump absorption/hold up/traction were very good even at GH late in the day. The shock was a bit more difficult to find a great setting for, but that is due to the shock spring being slightly soft (undersprung for my level of riding). The action of the shock wasn't bad, my issue was with a spring that is just simply too soft. The shock was riding too low in the stroke which caused a low squat in the apex of turns and a soft blow thru feeling on transitions, whoops, and hard landings. As I said this is easily fixed with a stiffer spring but if you don't/can't get a spring you can do the clickers settings below. Now some of you may ask why I didn't go further in on compression and I did try that (like I did on the 22), but the action on acceleration chop/braking bumps suffered when things are closed off that much. The soft feeling on landings, whoops and turns was more manageable than the instability in choppy acceleration bumps or entering braking bumps at speed. Not the ideal trade off, but again if you have to make do until you get the correct spring rates or a re-valve, these settings should work for you. At the end of the day this base line set up allowed me to get more comfortable at speed and gave me a direction of the areas I want to improve.
Fork (Stock Triple Clamp):
Height: 3mm
Air Pressure: 10.9 Bar or 158.09 psi of air
Compression: 12 clicks out
Rebound: 13 clicks out
*With Husqvarna Hard Parts Triple Clamp or Ride Engineering Split Clamp*
Height: 3mm
Air Pressure: 11 Bars
Compression: 14 clicks out
Rebound: 13 clicks out
Shock:
Sag: 102mm
Low Speed Compression: 8 clicks out
High Speed Compression: 1.25 out
Rebound:  9 clicks out
Gas Gas MC450:

The 23 Gas Gas MC450 has a similar suspension feel to the KTM, but the chassis has slightly more compliancy so the setting that I came up with is only slightly slower moving than the KTM. This is a general happy spot for the other red machine:
Fork (Stock Triple Clamp):
Height: 3mm
Air Pressure: 10.9 Bar
Compression: 13 clicks out
Rebound: 12 clicks out
*With Factory WP Hard Parts Triple Clamp or Ride Engineering Split Clamp*
Height: 3mm
Air Pressure: 11 Bar
Compression: 11 clicks out
Rebound: 10 clicks out
Shock:
Sag: 103mm
L/S Compression: 10 clicks out
H/S Compression: 1.25 out
Rebound:  8-9 clicks out