CHURCH OF 350! The 2023 KTM SX-F lineup has a different feel to it when comparing it to the older 2022 version. Most of the different feeling comes from the stiffer chassis and how that correlates to the track when it gets rough. Yes, the 2023 KTM 250/350/450 SX-Fs do corner slightly slower initially, feel stiffer from the swingarm pivot bolt back and the off idle rpm response is actually a little jerky when rolling corners at lower rpms. With all this being said is the 2023 KTM a better machine than the 2022? In some areas yes, in some areas no. Out on the east coast side of things the chassis feels more planted, but on the west coast (harder dirt,etc.) the bike can be a little "edgy" or firm feeling.  In this article we are going to be breaking down the 2023 KTM 350 SX-F and what you can do to get the most comfort out of your new orange machine. We even rank the mods in order of importance below! Follow these simple steps to get the most out of your 350 SX-F in stock form as well as some suggestions/mods that can help you get more comfort and easier to use power. Also in parentheses, I have put if each mod works for Husqvarna or a Gas Gas machine. If you don't see this next to the mod, then it DOES NOT work.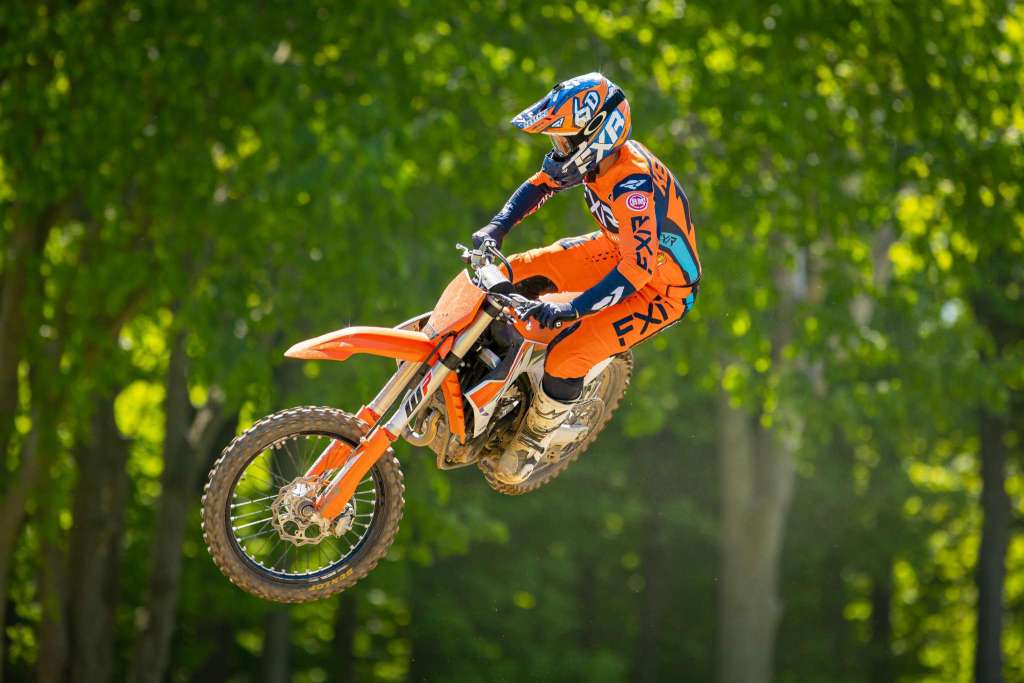 Suspension: Try these settings if you're anywhere near the 175-200 pound mark. This setting, along with the other chassis mods here (after an 8 hour break in period) should help the KTM feel less harsh and settle more. This setting will also work on the 2023 Gas Gas MC350 with the older frame. The Husqvarna FC350 has a different suspension spec so this setting will not work. IT TAKES 7-9 HOURS FOR THIS SUSPENSION BREAK IN!
Fork:
Height: 5mm
Air Pressure: 10.8 bar
C: 14 out
R: 16 out
Shock:
Sag: 103mm
LSC: 12 out
HSC: 1.5 out
R: 16 out
Torque Specs: (Works with Husqvarna and Gas Gas) Even though some engineers say that torque spec doesn't really matter in the grand scheme of "feel" on the bike, my body says different. The KTM chassis feels slightly rigid from the swingarm pivot bolt back as I get a lot of deflection (side to side) movement out west on braking bumps as well as acceleration bumps. Lowering the torque spec to 95 Nm helps settle the rear end slightly as well as helps the rear of the bike keep straight during off throttle situations. This will not give you added comfort, but will help settle the chassis with less side to side movement (mostly on-throttle type situations). Keep an eye on your swingarm pivot nut as it will back out over time (vibration) so either blue Loctite it or check it every now and again. The stock plastic frame guards will hide it and you will never know it's backing out until it's too late and your pivot bolt screws up your swingarm bearings.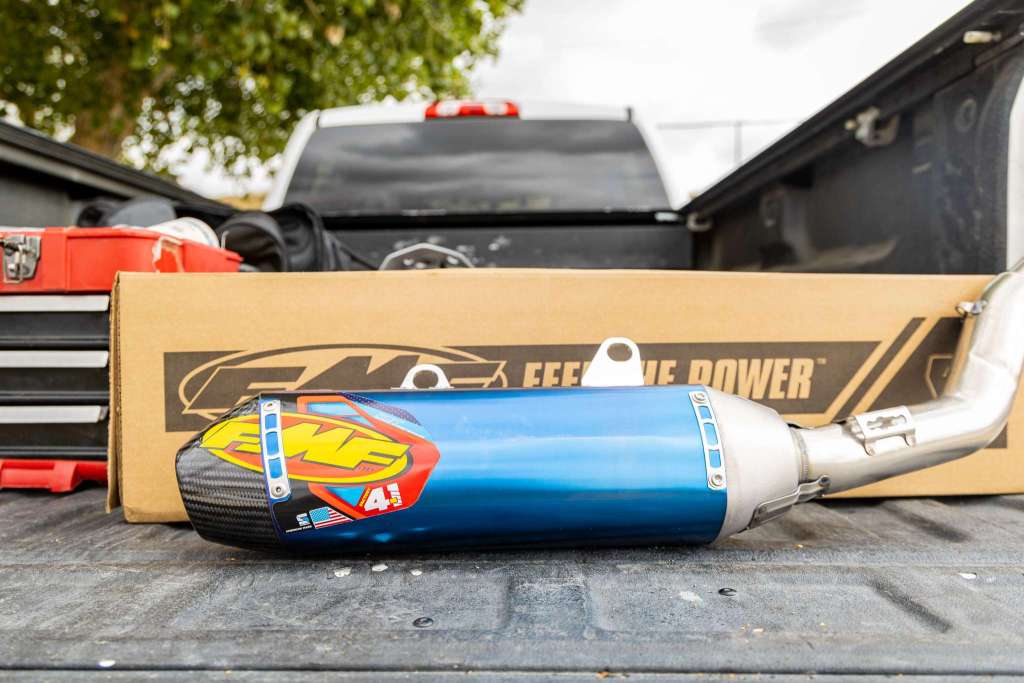 Aftermarket Muffler System: (Works with Husqvarna and Gas Gas) I have NOT tried all of the mufflers available for the KTM 350 SX-F but if you can get your hands on a FMF FULL system for the 2023 KTM 350 SX-F, you will be getting more mid range and top end pull without sacrificing too much low end. In fact, you will be getting slightly less rpm response but a better torque feel out of corners. I remove the insert from the muffler on the 350 unlike the 450 where I keep it in. Oh and you will also lose almost two more pounds towards the rear of the machine. I have steered away from mufflers like Akrapovic on this bike because of its smoother roll on character. I save that kind of character for the 450 side.
Handlebars/bends/grips: (Works with Husqvarna and Gas Gas) Going to a Pro Taper Husqvarna Stock EVO bend cut to 803mm will help with vibration as well as give the rider more comfort through his/her hands. Another option for riders is going with the FASST Co. FLEXX 12* Moto handlebar that offers the most flex for the rider, but this bar does take sometime to get used to visually. Both of these bends are adequate for 5'8 to 6'0 riders.
Gearing: I am still running a 14/52 set up and so far this is working out. I do run a 14/53 just to be able to run third gear more in corners when in hard pack conditions. If you're riding hard pack this engine/gearing along with these mods will pull third gear. The 23 KTM 350 will recover much quicker if the rider is in the wrong gear through corners (compared to the 22 version).
Chain Slack Measurement: (Works with Husqvarna and Gas Gas) 65mm-70mm may look like a lot of chain slack when your bike is on the stand but KTM assures me/and you that this is the proper amount of slack. This spec allows your suspension to move freely and not bind when under load. This also will help keep from your chain snapping because of a too tight tension spec. Some people will tell you it's too loose but this came straight from the KTM R&D department so don't yell at me!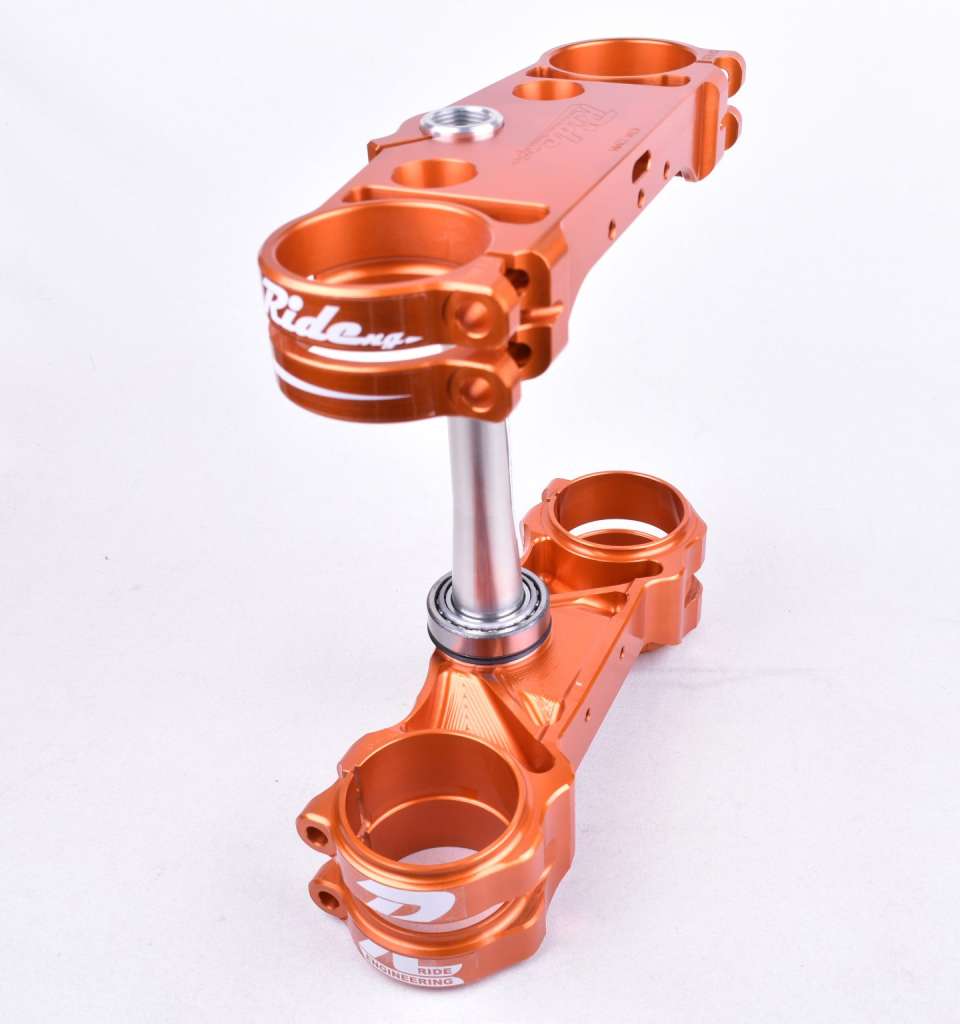 Triple Clamps: (Works with Husqvarna and Gas Gas) Because the 2023 KTM chassis is a little stiffer/nervous/twitchy out west on straight line than the 2022 a set of 23.5mm offset clamps really helps calm the orange bike chassis as well as gives the rider more front end feel/positivity. Going into this 23.5mm offset test I thought I may feel an even slower cornering KTM, but this actually helps the KTM turn into ruts better with more front end feel/traction. Ride Engineering is making 23.5mm split clamps for this model and to me this is a noticeable improvement with this 2023 chassis. This offset calms the bike off throttle (de-cel bumps) and allows the rider to set up better for the corners without having the chassis deflect off of braking bumps. To me, it made the new chassis feel less firm on braking bumps. By no means do you NEED a Ride Engineering specific clamp, but if you can find another offset similar (23.5/24mm), I feel like this chassis will like this on most tracks. Yes, even east coast, soft tracks (experienced this in the mid west with soft farm dirt).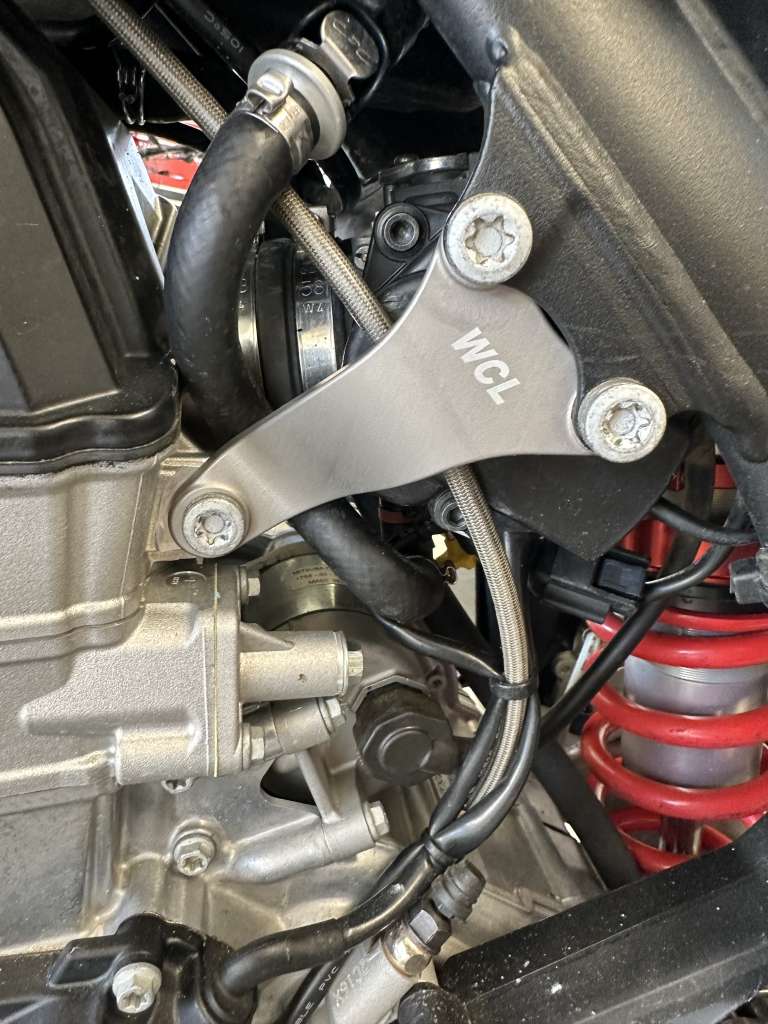 Works Chassis Labs Engine Mounts: (Works with Husqvarna and Gas Gas) You looking for some more comfort form that 2023 chassis? Yeah, thought so! WCL is offering two types of mounts a medium and soft mount and both are noticeably different than the standard mount. The medium mount performed better at tracks like Glen Helen, Cahuilla Creek and Pala. Where the soft mount performed better on my desert tracks with no jumps and fast speeds. Basically in a nut shell the medium mounts provided a less harsh slap down feel, slightly less vibration through the pegs and gave me increased lean angle traction when on the edges of my tires. This is something the stock mounts lack, yet the WCL mounts give me a little more confidence in those lean angle square edge conditions. When you put the medium WCL mounts on it will feel like your front tire is stuck to the ground more in corners and it can give you a sensation of a low front end feel (off throttle) so lowering your sag to compensate (106mm) for the extra front end bite you will be getting (with the medium mounts) will help with straight line stability more and not sacrifice your newfound front end bite. I went from a 103mm stock mount sag reading to 106mm, with the WCL medium mounts. For sure, it is a modification that helps comfort on sharp bumps and actually helps you AER fork lovers more front end feel. I tested the medium mounts on a spring conversion as well as the stock AER fork and it helped area 1-2 in corners more than the stock mounts did.
Vortex ECU: (Works with Husqvarna and Gas Gas) Whether you get the Vortex mapped by Chad at XPR or Jamie at Twisted Development is your call but both gentlemen have insanely good maps for this machine! Putting just about a 1000.00 on an electrical item may be out of your pocket book but I can tell you that out of all of these mods that I suggest in this article, this is the only mod you will feel immediately when rolling onto the track. As soon as you open the throttle on your mighty 350, you will notice more low end pulling power a longer mid range 3rd gear stretch and more top end/over-rev than you had with the stock ECU. It is crazy how far this bike will now pull 2nd and 3rd gears! It completely changes the power character and actually helps the chassis a little out of corners that have square edge. It allows the engine to use lower rpms (more torque feel) while going faster in order to help relax the chassis under load (heavy throttle).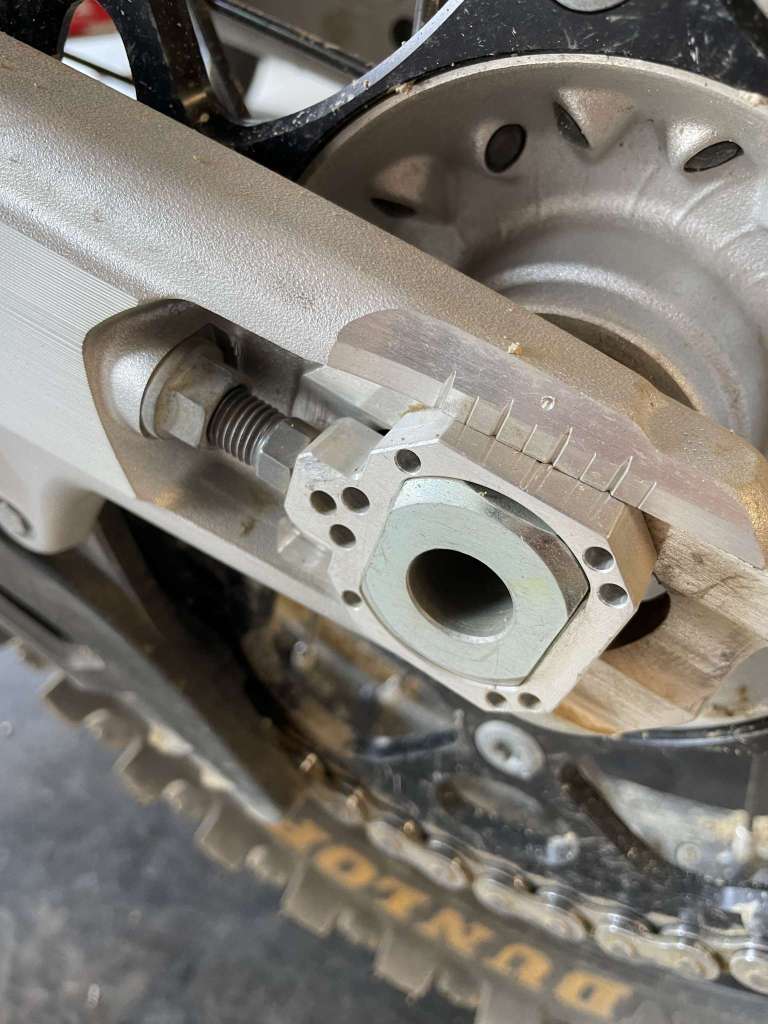 Works Connection Axle Blocks: (Works with Husqvarna and Gas Gas) Adding a little comfort to your rear end never hurt and getting rid of your fixed axle block on your KTM 350 SX-F will help your rear wheel feel. Hard to fathom? Not really! Allowing your axle block to float or move a few millimeters while under load coming out of corners can give you some added traction that you didn't know you had. Some riders can't understand that a little can go a long way and in this case, it can. Will this mod be as noticeable as your 23.5mm offset? No, but it will secretly give you some plushness to your bump feel on square edge. I have blind tested this part a few times and have always came back with the correct feel because it was noticeable to me. Try it for yourself. 
WP6500 Cartridge Kit: (Works with Husqvarna and Gas Gas) Duh… You knew this was coming! The 2024 KTM off-road bikes are ALL coming with this kit inside of them. This should tell you something! What it should tell you that KTM/WP knows that there is some sort of problem with the current AER set up and people aren't happy! Off-road riders need a consistent feel over the duration of a longer race so going back to a spring fork is a logical answer right? So why isn't a logical choice for us moto guys? Well, it is and I am here to tell you this mod will allow you to corner better as well as have better lean angle traction from your front end (once you get a Dunlop MX3S). The stock baseline 6500 setting that you get from WP when you purchase the kit is immediately better than the AER set up without even setting it up! I ran the base fork setting that WP recommends when you purchase the kit and it was a little soft but so much better/compliant than the stock fork. Once you let Mark at REP do his magic it gets to another level of comfort and performance. Rigidity goes down and traction goes up. It really is that simple.
Dunlop MX3S: (Works with Husqvarna and Gas Gas) I am going to keep this short. The Dunlop MX3S will NOT last as long as the MX33 but you will have much better lean angle traction and YOU WILL corner better! Run the 3S at 13.5PSI instead of the 12.5PSI of the MX33. Thank me later. You're welcome!
Mods In Order Of Importance: I am expecting an email asking me stating "which mod should I do first" so I am getting ahead of it now. Here is a list of the mods above that I like to do in order of importance. All of these mods together make for one of the most FUN bikes I ride. Sure a 450 is a great race machine, but these mods to the 350 are more fun to me than my 450 race machine! No motor work needed! 
Pro Taper/FLEXX Handlebars/Glue On Grips/Torque Specs

WP6500 Cartridge Kit

Dunlop MX3S

Split Triple Clamps

Works Chassis Labs Engine Mounts

Vortex ECU

FMF Muffler

WC Axle Blocks

ETS MX18 Race Fuel (If you want a little extra low end)