There is plenty of 2024 KX450 content out there to digest but just in case you want to break it down a little further, in more simpler terms, here are some "quick hit" topics you need to know about Kawasaki's new offering. We try to get to the point and hopefully steer you in the right direction to spend your money. Maybe we can even get Matthes to ride one and do a little comparison to his bLU cRU? Probably not, but a guy can try, right?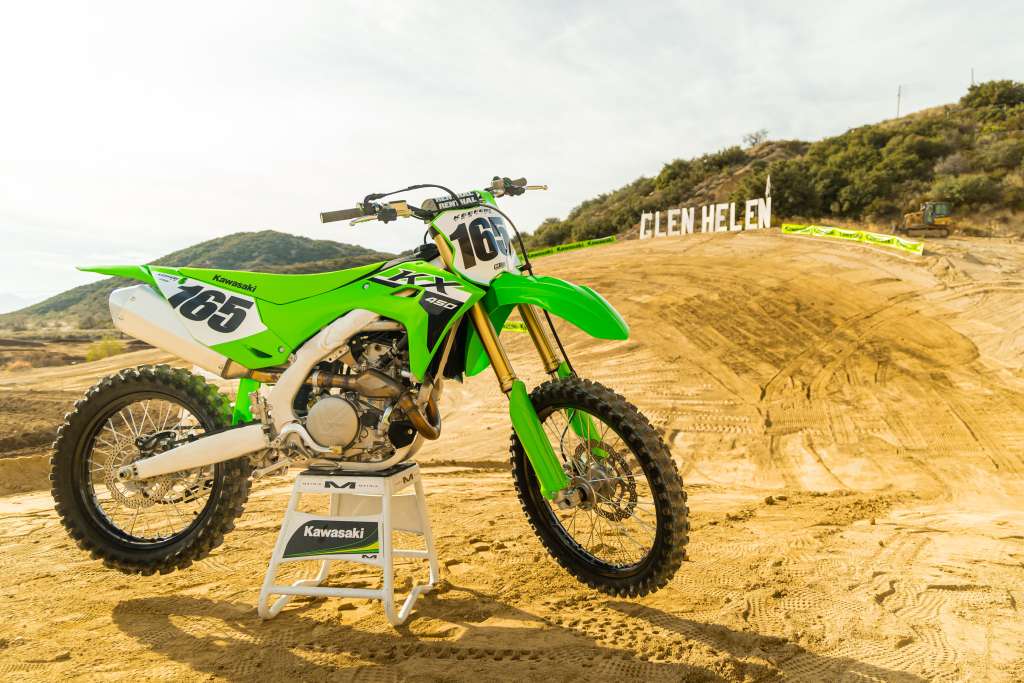 Slow Engine? Is it slower out of the hole than other 450s in the class? Yes, but sometimes that is not such a bad thing. Would I want more low end power out of the 24' KX 450? Yes! After three days on the new green bike it can (in some cases) can affect cornering ability. If you're down in the rpm enough on a slower corner it can make the bike feel heavy/sluggish. Originally when I tested the machine the first day at Glen Helen, I never got that low in the RPM to feel this, but the next two days (at different tracks) I felt the KX450 was tougher to lean into corners when the corners were tight. The 2024 engine pulls better than the 2023 on top end/over-rev, but I wanted more low end pull/torque feel. So what did I do? I went back home and drilled some holes in the left side cover to help get some air into the airbox. The airbox is small and needs more air. Once I drilled some holes into the airbox I got more low end rpm response as well as better pull immediately out of corners. This made the KX450 feel lighter and more maneuverable on slower/tighter corners. What this tells me is that the aftermarket will create some added power with filter/filter cages/airbox mods.
Some media outlets or people might criticize the lack of power down low but most of them will also tell you how another brand 450 is too much! It's hard to please everyone and I think the 2024 Kawasaki KX450 will be just fine once it gets to breathe a little more. There is less on/off feeling than the 2023 machine and to me it's much more manageable to handle on longer motor. I have done a few 30 minute motos and I can safely say that the 24 is easier for me to hang onto than the older bike. If you're coming off of a 2023 KX450, you will notice that second gear is longer on the 2024 yet third gear feels shorter. This is something I will need more time to figure out but I do know that second gear is more usable so don't be afraid to downshift into second in corners. If you like third gear (who doesn't) you will need to cover the clutch in corners and will find that the 24' likes to be shifted to fourth. With the "Cha 24" map installed (see keeferinctesting.com for map) third gear gets longer and more usable. The 24' engine is not as exciting as the 23' but if you think the 23' is too much for you, this stock 24' will be a delight. Just make sure to rip out the rubber grommet that comes stock inside the airbox.

Best 450 Chassis? I am not going to be too quick to say "yes" to this question, but after more than a few hours on the bike, the new 24' KX450 is quite pleasant on rough tracks as well as cornering. It has front wheel traction people! HOLY CRAP! Not only will it steer from the front tire (which is a Dunlop MX34 by the way), but it still is stable on straight line! Bump absorption is close to the 23' frame feel but now you have more freedom through corners to cut down as you wish. No more front end pushing in area 2-3 of turns and you can actually feel like you have a wide contact patch unlike last year. On lean angle (on throttle) this 24' chassis feels planted and gives the rider confidence knowing that the bike will not deflect or skip out. The chassis is the best thing about the 2024 KX450 as it has a ton of track toughness and traction feeling. The downside is that the bike itself has a lot of vibration to it. On low rpm, the 24' KX450 vibrates through the bars more than I like and on high rpm, the 24' KX450 vibrates more than I like through the footpegs. It makes the bike feel old/dated but we have some ideas to help this so stay tuned to keeferinctesting.com for future possible resolutions.

Stock Suspension Feel: The spring rates have not changed for 24' but the valving was beefed up from my understanding. The Showa fork has broken in now (with 6 hours on it) and is a little soft, yet there isn't a lot of pitching off throttle so getting the bike to remain flat coming into corners is a welcome attribute to the 24' KX450 (unlike the 23′). I do think that the Showa shock is a little firm in the mid stroke so you might feel like the rear is overpowering the fork a bit at times. I weigh around 175 pounds and would like a little more comfort on de-cel bumps with the shock so I will be playing with settings as we go. I either feel I need to go heavier on fork spring or possibly back off some mid speed compression (inside the shock). Compared to the 23' however the 24' Showa set up is much more balanced and allows the bike to work better straight out of the box. Oh and by the way you can't swap out your 23′ shock with the 24′. The 24′ Showa shock is shorter than the 23′ and the reservoir is on the opposite side from last year. Forks, triple clamps, wheels, fuel tank and seat are interchangeable between old/new bike.
Rideology KX App: This is going to be an ever evolving thing. This app is new and we are new to it. I will say that it is a little weird that we just can't simply load two maps into the machine. From what we are told that if you download a tune into the smoother map (light on) no matter what you put into that map (light on) it will always have a smoother value to it. Confusing I know. If you change your tune for (light off) the values that you put into your tune will ACTUALLY be what you change it to. Besides this confusion, the app is a nice touch and allows the consumer to customize his/her KX450. The interface is not difficult to navigate and is similar in a lot of ways to the Yamaha Power Tuner App. Like we mentioned above, we are on the "Cha 24" map as of right now but we will be working on some more ignition settings in the coming days.

23 or 24 KX450, Keefer? Before you email me and say which one should I buy, I will just save you some time right here and answer you. If it was my money, I would go with a 2024. Why? The simple answer is I prefer the 2024 chassis feel and cornering. Would I want more of the SR type engine feel? YES! However, I can work on that myself with an aftermarket muffler and some airbox mods. Hell, I might even go with a Vortex ECU! I can get the power back, that isn't a concern for me. Getting a chassis to have comfort and front end steering is way harder to achieve than a faster engine delivery. What if you were a rear end steering rider and you loved your 23'? The 24' still has some of that rear end steering character if you run your sag around 107mm. I am at 104mm with the fork height at 3mm but with sag at 107mm and the fork height at 3mm, you get more rear steer affect. You're going to listen to a lot of other media outlets complaining about engine feel on the 24' KX450 and then say that the 24' YZ450F is a lot to handle. Somewhere in the middle between those two is that perfect power feeling (in my opinion). From what I learned with other smooth character engines is that once you build them up a little, that smoother character doesn't just go away, but instead (when adding engine mods) you will get more torque feel, which gives a rider that connected/long puling power that makes for a fun day at the track. I am looking forward to seeing how I can untap some of this Kawasaki KX450 potential. If you're a larger rider that rides in soft dirt, the 23' KX450 or SR engine will be better for you in stock form. If you're a rider that is worried that 450 power is maybe too much for you to handle, the 24' KX450 will be the bike you will love.