Riding the Honda CRF450R is either the most rewarding experience or it's one of the most frustrating. The Honda's track toughness can sometimes be puzzling but these parts below help with getting you and your Honda in sync when out on the track. These are some parts that actually work on the Honda 2023 CRF450R/RWE that will make your riding more enjoyable.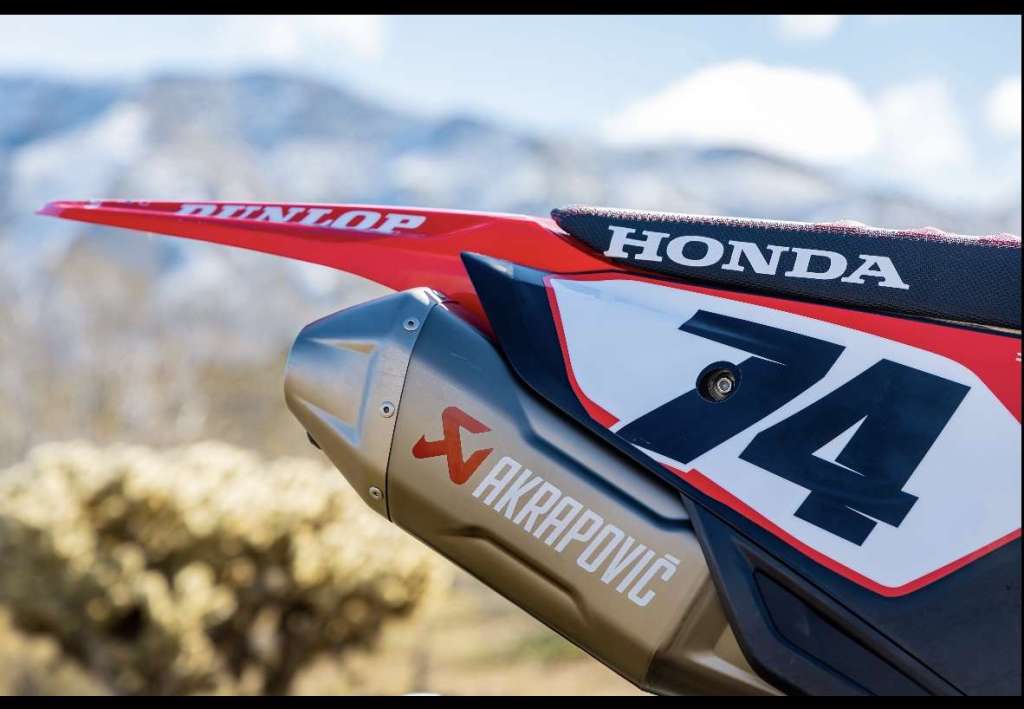 Akrapovic Evolution Muffler System:
Q: What does it help?
A: Helps with linear feel of low end (not as on/off feeling through corners), rear wheel connection.
Once out on the track is when I realized that this Akrapovic muffler system could actually help this Honda chassis calm down just like it did to the 2020 chassis. The Evolution system lets the Honda's engine roll on smoother at low RPM's and that smoother feel helps the rear wheel connection as well as provides less pitching (off throttle) than the stock system. AKA MORE COMFORT!!! The Honda CRF450R now builds a smoother roll delivery and a pulling power that is longer through the mid range than the stock system. This type of character can allow you to use second gear in corners more because the second gear hit is not as abrupt or quick and that doesn't upset your technique or the chassis. The Akrapovic also allows the rider to shift later out of the corner with its increased over-rev capabilities. Pulling power up top is increased slightly as your shifting points can be altered now because of the longer pull in each gear. The mid range recovery of the Akrapovic is not as good as the stock system, but honestly that is not a bad thing. The Honda has so much power to work with that a little less "hit" as well as "recovery" actually helps me roll my corners better and allows me to be more aggressive on the Honda. I want to be able to ride this red bike and not let it ride me after 15 minutes into a moto. The Akrapovic system relaxes the engine as well off throttle. There is not nearly as much engine braking with the Evolution system and that also helps your fork from feeling harsh on small de-cel bumps.
The pitch of the Akrapovic is ridiculously quiet when on the track and will almost give you that MXGP sound and feel. It still has that racey, crisp sound, but just not that raspy high pitch tone of the stock muffler. I was normally a map two guy with the stock muffler, but with the Akrapovic installed I am now a map one guy all day long because of the added rear wheel/friendlier connection. The only other muffler that I have tried that made a big difference on this bike was the FMF system, but this system really gives you a wider pulling power than the FMF.
The Evolution muffler is the largest possible muffler for the space available. This allows increased sound silencing, which mitigates the impact on the natural environment while also facilitating improved flow for the exhaust gases to make their way from the combustion chamber with as few restrictions as possible. The added strength created by the design aids durability and provides enhanced resilience in the most demanding conditions. The Akrapovic mufflers have been one of the toughest mufflers that I have encountered over the past couple years when I have tested them! Akrapovic muffler packing usually outlasts others and to me just feels like quality stuff.
The Akrapovic system will save you 2 pounds over stock and will set you back a whopping $1547.00! Is the cost worth it? I wouldn't go that far, but it is one of the better muffler systems that I have tried on the 21-23 Honda CRF450Rs. If I was a Honda owner I would rather invest in a Vortex ECU, have it mapped, and save a few hundred bucks, because the Vortex ECU can do more to help the power character/chassis feel than that of the Akrapovic system. However, if you do have a deep pocket book and are going to get a muffler system anyway, this Akrapovic would be a great choice along with the Vortex. The combo is an amazing feeling once out on the track! It's a beautiful system and works very well on a wide variety of terrain/track.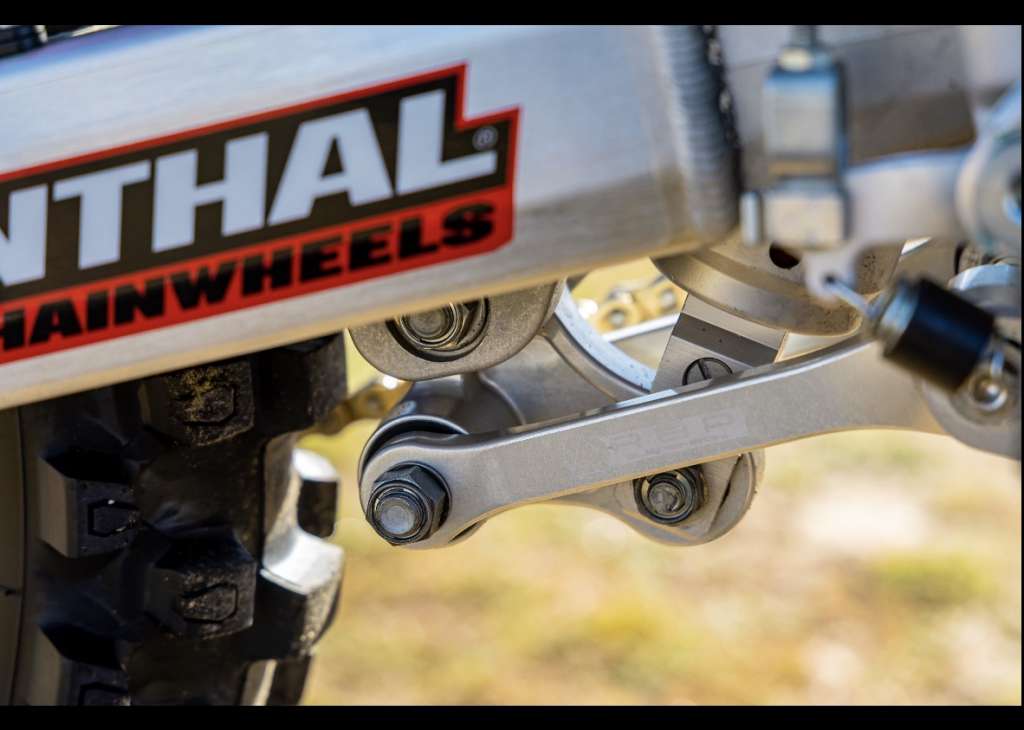 REP Suspension/Linkage:
Q: What does it help?
A: Helps with acceleration comfort from rear end, overall bump absorption and rear wheel connectivity.
The next important piece to the puzzle is the suspension right? All of us Honda lovers understand that the Showa suspension needs some help especially when the track gets baked or square edged. Mark over at REP has designed his own linkage system with a curve that is more linear initially yet is more progressive at the end of the stroke. This along with his valving allowed for more plushness on the small/square edge bumps we get out west along with a rear end that has more traction at the rear wheel. With the stock Honda CRF450RWE, the shock can get harsh when accelerating out of corners but with the REP linkage that harshness has been cut in half which is a welcome feeling to my back after a long moto. I am not going to say all of the harshness from the Honda is gone, but at least now it is manageable and I don't always have to look for the smooth line around the track with this red machine. What is special about this suspension is that this linkage and valving gives me more track toughness with the Honda CRF450R than the stock linkage/valving. This suspension spec provided felt good enough for me to race on and actually want to ride this machine on a rough track. Go to repsuspension.com to order or check out their services. You can also use the code KKREP if you want a discount on your re-valve.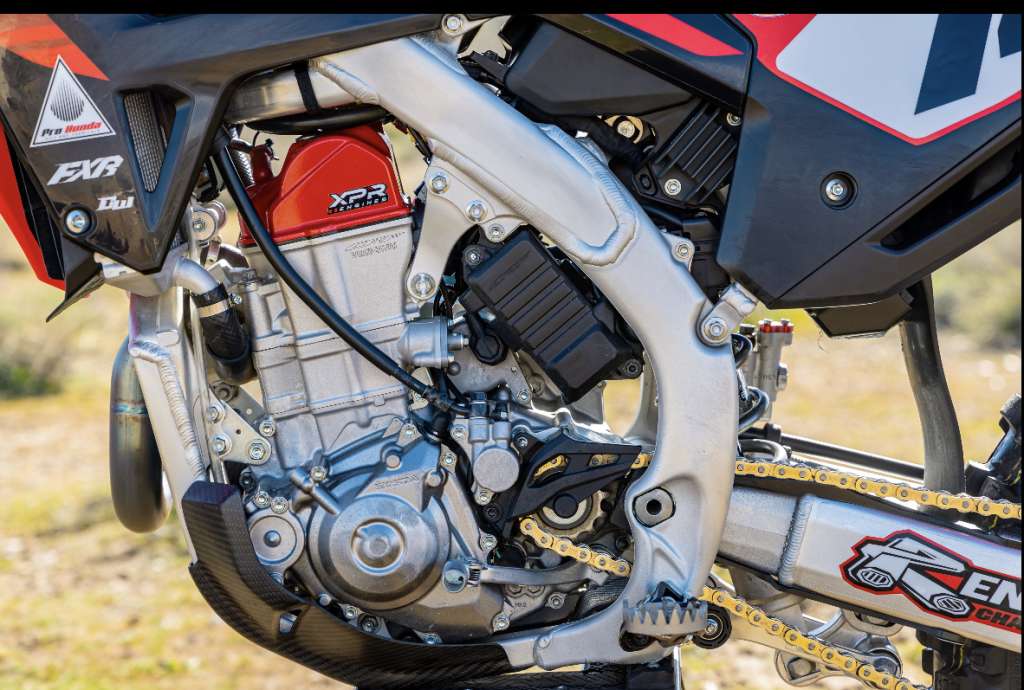 XPR/Vortex Mapped ECU:
Q: What does it help?
A: Helps with engine braking (less), bump compliancy, easier to ride engine character, better rear wheel connection.
An ECU that helps with the chassis? Yes, sir! The XPR/Vortex tuned ECU helps not only with the pulling power of this engine, but also gives the engine a freer feel to it, which helps this chassis tremendously off throttle. The Honda CRF450RWE has much less pitching/engine braking feel into corners and can be ridden more aggressively instead of the bike being more aggressive to the rider. Yes, you have more power but it is long and linear which allows for a third gear lugging Honda, which wasn't there in stock trim. Some of you may have added a tooth to be able to run third gear in corners but with the XPR mapped Vortex ECU I went back to stock gearing without an issue pulling third in corners. The connectivity to the rear wheel on hard pack track is something that has to be ridden to believe. I love me a connected rear wheel feel that I can roll the throttle on earlier through corners without having the Honda step out. This whole package does this. The downside? It is expensive at around $1000.00 but to me can be purchased before a muffler or after. It works well with both, but mated to the Akrapovic it allows for more mid range pulling power. You can check out xprmotorsportsparts.com or call 951 813 8873 to get a hold of some electronic magic for your red ride. XPR is also an Akrapovic dealer if you're looking for one of those as well.

Ride Engineering 23.5mm Offset Clamps:
Q: What does it help?
A: Helps with chassis rigidity feel, increases straight line stability as well as bump comfort.
The first thing that I noticed with the Ride Engineering 23.5mm offset clamps is that it took away some of the dreaded vibration that the 2021 CRF450R has through the bars. Once I pulled out onto the track and started to accelerate I could feel less harmonics/vibration coming through the Pro Taper bars. What I wanted from the 2021 Honda CRF450R (as well as from the Ride clamps) was a calmer entrance in/through corners, less oversteer, better straight line stability, and increase in front tire tracking.
I got all of this with the new 23.5 Ride Engineering setting! With my fork set at 2-3mm in the clamps as well as a rear shock sag measurement of 105mm I had a CRF450R that was less harsh feeling through my hands. Now the Honda didn't quite give that sting through my arms on flat landings and gave the front end an increased flex feeling. Diving into ruts that start to get hooked, didn't give me the front end knifing (oversteer) that I experienced at times with a 22mm offset. We call this cornering stability in the testing world and the new 23.5mm setting gave me increased cornering stability. Let's face it, we all love the way the Honda corners, but sometimes it can corner too good and cause some in consistencies in your cornering technique. This 23.5mm offset Ride clamp still gives you that easy to lean front steering feel of the Honda, but improves area 2-3 (mid-exit) in corners.
Straight line comfort has also been improved thanks to losing some rigidity up near the head tube area. When testing the Honda CRF450R I never could have suspected that the OEM clamp was some of the problem when it came to getting a harsh feeling. Hitting square edge and braking bumps with the 23.5 Ride clamps gave me less harshness and improved my fork feel. The fork now seemed to move more in the stroke and had a slightly softer feel to it, which was nice, but also forced me to adjust my fork setting somewhat. With the Ride 23.5 clamps, I had to stiffen up my fork setting one click and slow the fork don one click also. Doing this gave me a better front tire feel when leaning on throttle. I ended up getting better front tire tracking (when stiffening/slowing the fork) when cutting across rough sections of the track. Once I figured that I could go stiffer with my setting it actually brought up the performance/comfort feel of the Honda CRF450R. The stock torque specs of 15 ft. lbs. on the top clamp and 12 ft. lbs. on the bottom clamp is recommended, but if you end up purchasing a raw/silver clamp, you can go to a 14/11 setting. There is a discount code available if you decide that this may be something you're interested in. KT20 will save you 20% off your order over at ride-engineering.com.