Keefer, why would you put a set of WP Pro Components on a Kawasaki? Well, to be completely transparent with you, I got asked if I would try it and I said "yes", like I do most of the time someone wants me to try something out of the ordinary. A saying that I always liked was "you're only as good as what you try" so WP North America lined up TCD Racing to create a setting of WP Pro Components for our 2023 Kawasaki KX450. Ok, so I know chances are pretty damn low that you're going to purchase a Kawasaki KX450 and then put a set of WP suspension on the thing, I am not blind to that fact. However, I will say this: I have ridden with A TON of re-valved SHOWA suspension on the KX and the TCD WP stuff is some of the best I have ridden on this green machine. Is it worth the cost? That is up to you, but I have a theory on why the WP suspension works so well on the Kawasaki and we will get to that right here.
TCD Racing:
TCD got the call to help with the PRMX Kawasaki team this year with their suspension and the team decided on WP Pro Components for their riders. After talking with Cade Clason a bit about his stuff after this test he explained to me that although he didn't have a choice in what suspension he ran, he has been pleasantly surprised on how the WP suspension worked as well as how well/hard Tim Bennett works to get him comfortable. I will say that Cade has been riding the best I have seen him ride in his career and that directly has something to do with Tim and the work he has been doing with the WP Pro Components. Now by saying this, you're only as good as your tuner and I have worked with many, but as a guy who has been around a few tuners in my day, I can say Tim is opened minded and listened to what I wanted to change about the characteristic of the KX450. I mean you're spending 6K on a set of A-Kit level suspension it should be better than the stock re-valve stuff you had on right? Tim and I went through a couple settings/sets at Glen Helen the day we were testing and then he sent me home with two sets of other stuff to try which ended up being very helpful.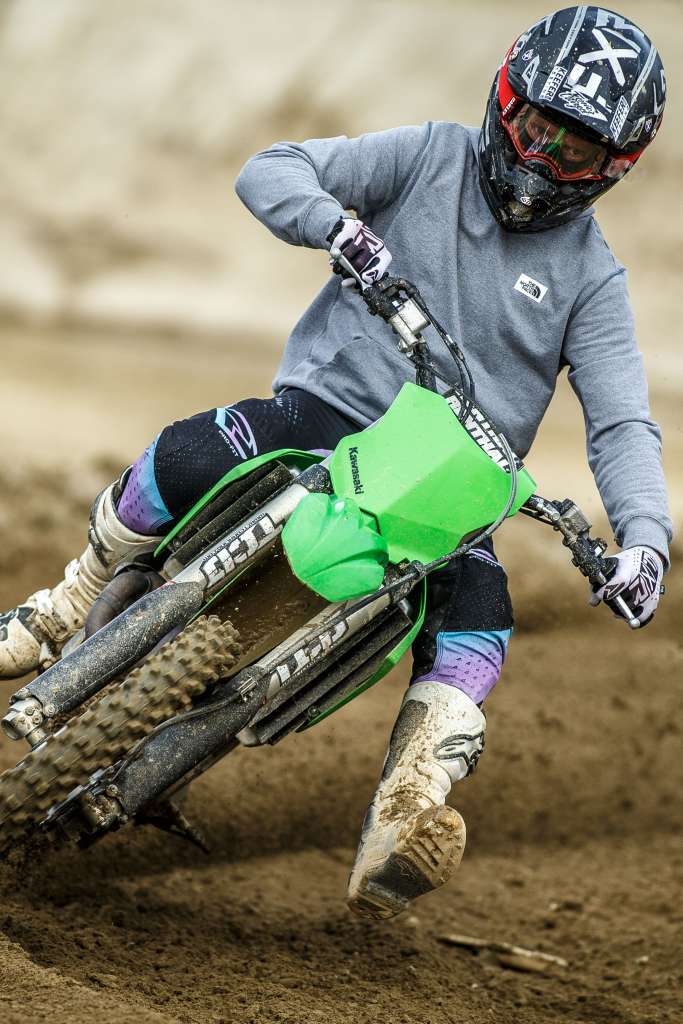 Why WP Cone Valve Fork Makes The KX450 Handle Better:
I'm not an engineer nor am I that smart, but I can feel my way around a dirt bike and know what pieces to the puzzle is needed to connect in order to get a feel that I am looking for. The KX450 has the best chassis feel out of any production machine there is. There are not too many people out there that would argue that fact. However, when I ride a KX450 it feels like I am towing a trailer around the track with me. It feels long, steers lazy, doesn't give me a ton of front end lean angle feel, but is super stable and plush feeling in bumps. I would love to keep that plush feeling chassis and get a KX450 that corners better with front end bite. Without even changing the offset of the triple clamps, I got a better front tire contact patch with the TCD WP Cone Valve fork. Why? I can't sit here and tell you exactly why but my feelings are that I got a little more stiffness out of the fork itself (hold up), but also the outer diameter of the Cone Valve fork is thicker than that of the 49mm Showa fork. The WP outer tubes are slightly more rigid yet gives me a blend of flex and comfort that can be felt when leaning the bike over. Instead of that vague area 2-3 front end feel most of you have on your KX450s, I know had a Kawasaki that bit into the ground more on those areas. The TCD/WP fork also left me with enough comfort that it didn't feel like I was riding the track on that stiff/rigid natured performance driven A-Kit feel. Most A-Kit forks give me great performance (hold up, slap down) but lack in plushness and comfort on small bump compliance. The TCD/WP CV fork had a blend of comfort and performance that went up equally without much added harshness on de-cel bumps. I also liked that the KX450 now had less pitching off throttle and in long ruts with bumps inside, the front end had better tracking. I sometimes would get a hunt & peck feel front end when riding long ruts into a corner but the TCD/WP fork allowed for better front tire feel inside ruts with imperfections. Sometimes I've noticed with WP suspension that the track toughness is sometimes tougher to get compared to a KYB or Showa set but the WP/TCD setting gave me a similar feel on the three different tracks we rode them at. The only negative to the WP CV fork setting was it did create a firmer (less plush feel) on edge of tire when accelerating. I do get slightly more deflection on heavy throttle when cutting across bumps (Glen Helen). Increasing the rebound helped this feel though as the clickers do make a noticeable difference when moved (comp or rebound). When adjusting the fork or shock moving the LSC or rebound in two click increments is the best way to feel the direction you're looking for.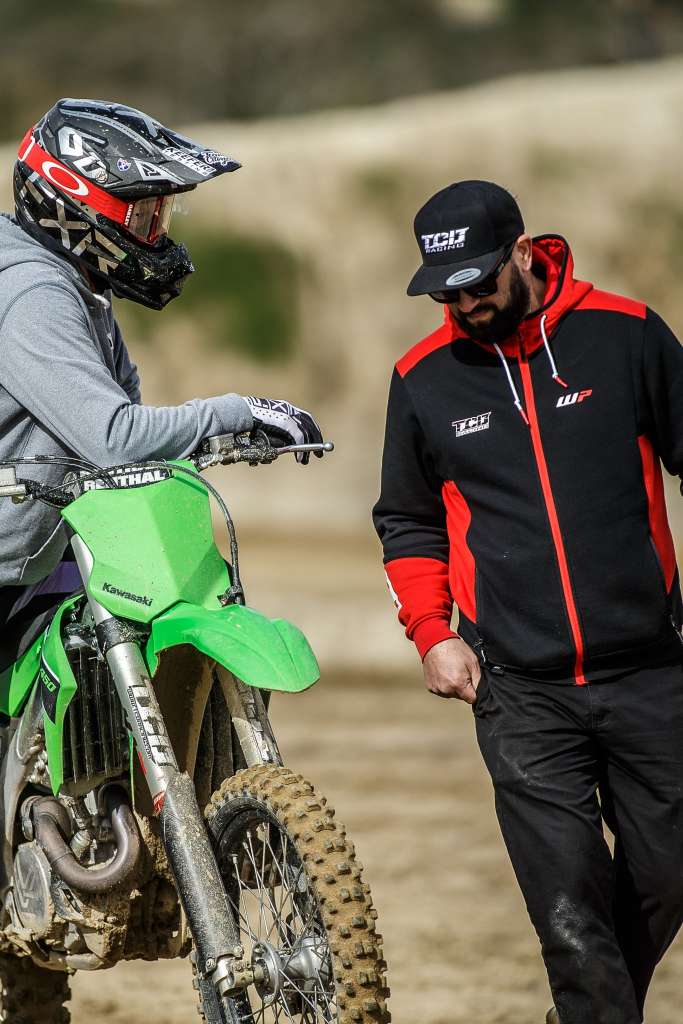 WP Trax Shock:
I don't have a ton to complain about on the stock Showa shock side but adding the Trax shock helped with braking bump comfort. Glen Helen has small chop inside shallow ruts and is sometimes hard to find rear wheel traction. The TCD/WP setting gave me more rear wheel traction and allowed me to get on the gas harder/sooner than with the SHOWA shock. I also enjoyed the adjustability that I had when I did get to a softer track. I felt my rear end was a little high and adjusting the HSC a little helped A LOT. The adjustments on the shock create a wider range of feel than the stock Showa unit so this helped me dial in my rear end from track to track. If I was to point out a negative, it would have to be that it's kind of a pain in the ass to put in the bike. Being that the WP shock body is different and has a bigger reservoir it took a little finagling to get in the chassis. The Trax shock didn't do anything worse out on the track than the SHOWA RCU (rear cushion unit) and to me is only an upgrade. However, that upgrade is A LOT of money eh?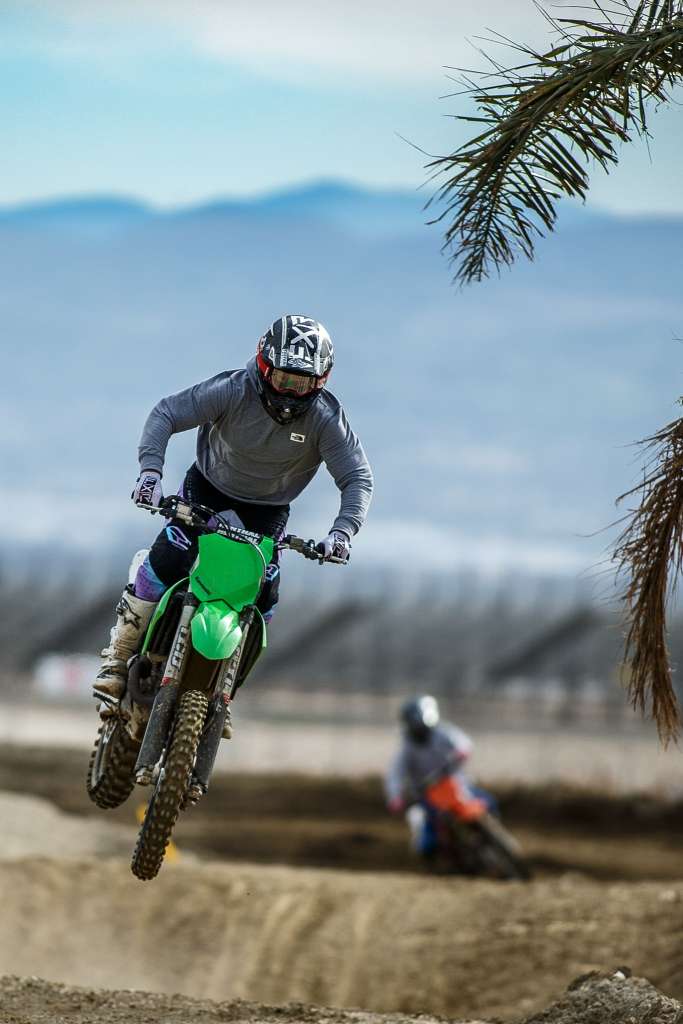 Overall Opinion:
Do you need 6K worth of suspension on your KX? That is your call, not mine, but I will say that I would rather purchase these WP Pro Components for the KX450 than purchase a set of SHOWA A-Kit suspension. I've had a harder time finding plushness with SHOWA A-kit stuff yet it didn't take me long to get comfortable or comfort out of the WP Pro Components with the TCD settings. If you're in the market for an upgrade on your KX450 I would seriously look into a set of WP Pro Components as you could you get more comfort out of the WP set than your traditional A-Kit suspension and you're not following the normal Kawasaki/SHOWA trend!
If you're looking for a set of WP Pro Components for your KX, you can reach out to Tim over at TCD Racing and tell him you want the Keefer spec set up. I am 175 pounds, but I feel like the setting I liked the most would be great for your average Vet A-B rider anywhere between 175-195 pounds.