I believe in aftermarket engine mounts when they are needed and to me (yes, this is an opinion) last year's 2022 YZ450F didn't need aftermarket engine mounts. However, when I swung my leg over the 2023 YZ450F, I thought this chassis could use some sort of engine mount to help with some stiffness that I felt with the new generation chassis. I have put over 50 hours on the stock chassis and then almost 20 or so on the FCP engine mounts to really dissect if it is in fact better with FCP's spec.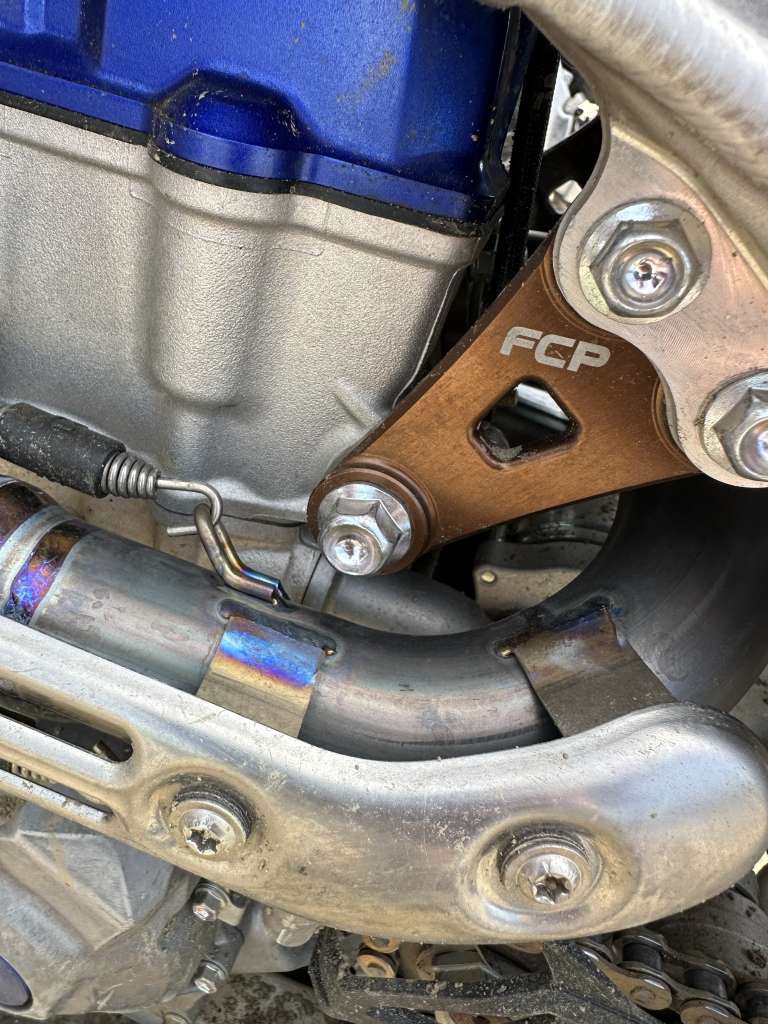 So what is FCP's spec? FCP uses a solid titanium 9mm front engine mount plate (instead of two split 4mm plates) and a top aluminum engine mount that has a cut out to gain some flex. Torque specs are:
25 ft.lbs front mount M8
40 ft.lbs. front M10
25 ft.lbs. Top M8
33 ft.lbs. Top M10
So what would I want to improve on the stock chassis/engine mounts? I need more of a 22 feel on straight line where the bike feels stuck to the ground. The 23 is better on lean into corners as well as lightweight feel, but it is less stable when it comes to edge of tire comfort and off throttle harshness. So what I was looking for was to keep as much 2023 cornering capability with a little more tire contact patch/comfort. The FCP mounts gave me less harshness into braking bumps and allowed me to feel my front tire more when leaning on throttle/cutting across the track. It did make my initial lean/tip into corners a little heavier feeling but for me, but I didn't mind that because I got so much more bump comfort, which helped me corner better. I made Chris from FCP go back and forth a couple times (stock to FCP) with me just so I could dissect every positive/negative and to me there are minimal negatives to this FCP engine mount set up. Admittedly, I am usually not a huge aftermarket engine mount type of guy because suspension spec usually comes into play and it's hard to dial in an engine mount that works with a wide variety of suspension specs. In order to see if the FCP mounts worked with other suspension specs, I stuck these FCP mounts on a couple different flavors of suspension I had between two different bikes. The overall feeling of the FCP mounts remain the same between three different suspension specs. Better bump comfort, a calmer unload feel coming down hills, better edge of tire/on throttle traction and more stability on straight line. Again, the negative would be that it does make it a little tougher to lean into corners but I am hyper sensitive to this so some of you may not feel this. Why? Well, because you'll be gaining so much more comfort on de-cel bumps that coming into the corners might be easier for the average rider. More comfort coming into a corner means getting through the corner is improved. I didn't notice more/less vibration but to me, I could do without the colored look of the mounts as I am more of a stock look kinda guy. Or maybe a slightly polished look? But as long as they work, I am ok with it. 

For $429.00 is it worth it? Take a breath for a second… It is worth it if you feel like you need some more stability! If you like the handling of your Yamaha and have no complaints then you will not need this, but if you feel like you need a little more stabile and some bump comfort then the FCP mounts will work well for the money!