Not so new to the American motocross market is the Canadian-based snowmobile gear company FXR Racing. FXR has been pushing the motocross market very heavy by sponsoring numerous privateers and now in 2022 they are all over your TV screen come Saturday nights. FXR has a ton of riders in the AMA Supercross paddock and with that we thought we would do a re-visit on their Helium line of gear. The Helium is FXR's top tier line of motocross gear and has seen its fair share of usage over the past few months so we wanted to get you some feedback on how the gear fits, performs as well as holds up. The Helium pant is constructed of a lightweight perforated four-way stretch fabric to offer high levels of flexibility, strength and ventilation, an updated  knee design with added pre-curve that is said to provide less restriction and a more positive contact area, a new updated yoke panel for improved mobility, a metal ratchet waist closure system design, a dual layer knee fabric with full grain leather, lightweight breathable mesh inserts on back of leg for added ventilation, a triple topstitching in critical areas for extra strength as well as durability, an adjustable hook and loop side waist system for personalized fit and TPR knee logos. The Helium Jersey is made up of a lightweight polyester-spandex mesh combined with high performance polyester knit, an athletic fit with ultra-lightweight construction, moisture-wicking yarns, a shaped front collar, bonded sleeves, tapered cuff, a drop-tail hem and long length tail and fade-free sublimation prints.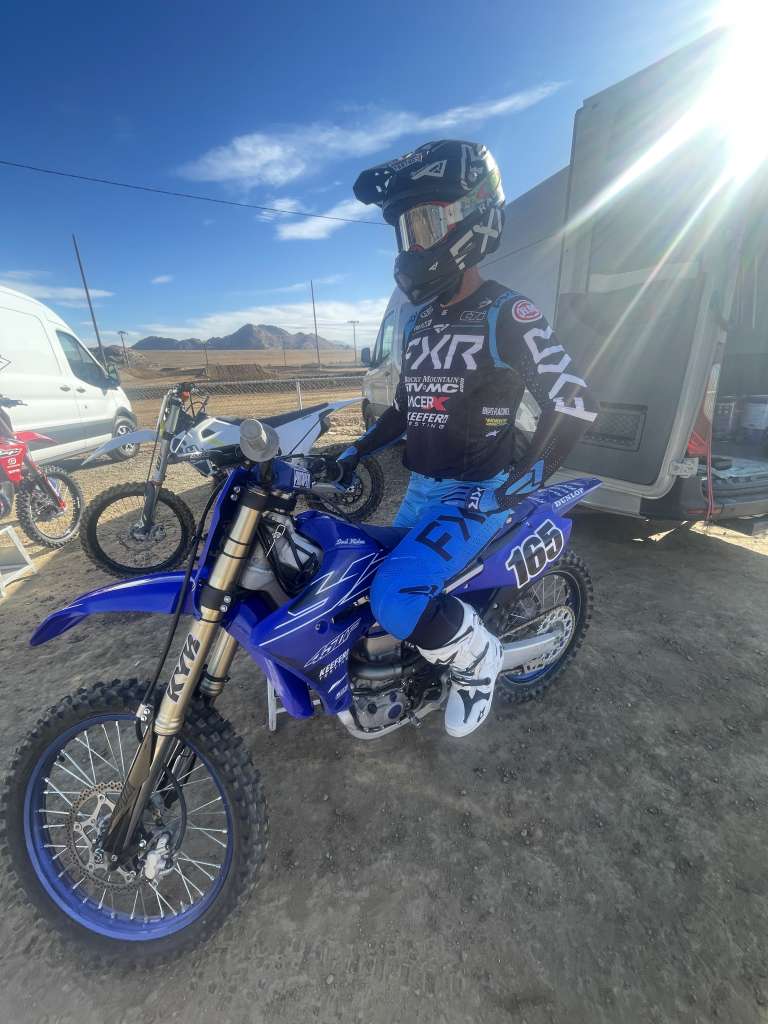 Putting on the Helium pant I immediately noticed the athletic cut thigh area that is tighter around the legs, but also stretchy enough so it doesn't feel too restrictive while riding. You'll also notice the pre-curve in the knee as it can take some finagling to get your legs through this area of the pant, but once on the bike and seated you'll appreciate that extra time it took to slide your leg into the pant. I like that I am able to move around on the bike without any snags or hangups and doesn't feel too bulky when going from sitting to standing. The crotch area of the Helium pant is not quite as Athletic and has a little more room to breathe before the pant tapers down into the more athletic cut thigh. The knee area has changed over time and now has more room to accommodate all different types of knee braces (which were Asterisk Cell, CTi, EVS RS-9 and Mobius). Sizing is true for my 32-inch waist and the ventilation of the pant, although not as good as some other pants that I have worn, is still adequate on warmer days. If you're worried about the sizing I would say if you're an "in-betweener" like a size 33, I would go to a 34. If you're coming off of a Fly EVO/Lite, Fox Flex Air and are a size 32, you'll be a 32 in the Helium pant. The leather knee area has some signs of wear from the hinges of my knee braces, but with over three months of hard riding time on the pant, no holes have shown up to greet me. The velcro side closure system stays intact and the pant stays around my waist nicely with the ratchet style waist lock even when I run an extra grippy seat cover. The colors on the pant have stayed vibrant and not a hint of fading has been seen after several washes. Oh and yes, I dry my pants in the dryer. 

The material of the Helium jersey is one of the most comfortable I have experienced. Even though it may not be the most ventilated jersey on the market, its soft material keeps me happy on warm days. It does wick away sweat fairly well once you are riding and will not feel as weighted down as the FXR Podium jersey does. The arms/sleeves of the Helium jersey are improved and have been shortened over time so that there is not a ton of bunching near my wrist area. I had a problem in the past with previous FXR jerseys sleeves being too long, but the guys over there seem to have remedied this. However, you long armed riders will still have enough sleeve to go down to your gloves. The material of the jersey is stretchy, but like I mentioned above is not as athletic cut as Fox FlexAir or Alpinestars Super Tech jerseys, but still "athletic" enough to please the skinny riders. It seems the Helium jersey's cut is a little more on the "comfort" side through the chest and torso area versus other athletic cut brands of gear. I personally like this as it gives a wider range for larger sized riders as well. The tapered cuff on the arm however is a nice touch and it also stretches somewhat, so that I can pull them up to get some added airflow through my arms during longer motos. The collar area on the Helium jersey doesn't leave me with a rash like some other rounded cut collars (which are typically much tighter). Just like the pant, the bright colors stay true and the jersey has yet to fade after many rides. 
At a cost of $220.00 for the pant and $80.00 for the jersey, the FXR Helium gear is on the steep side of the price range, yet should be considered for performance'd based moto gear should be considered if you're interested in a new set of gear. There are several colorways to choose from and another other LE colorways that drop throughout the year. You can go to www.fxrracing.com to check the gear out and purchase or email me (kris@keeferinctesting.com) for special discount code for Keefer Inc. Testing readers/listeners.  
Positives:
•Fit of pant/Secure
•Durability of the leather on the knee
•Jersey material feel 
Negatives:
•Jersey collar/neck area can stretch out over time
•When new, the leather on knee can mark up shroud area