Written By: Gardner Tarlow
Gardner Tarlow has been my general family physician for many years and I have grown to get know him over the many times dirt bikes have bitten me in the ass. He is an avid rider himself and loves to get out to ride a couple times a week. Since he hits the trails way more than I do, I thought he would be a perfect real world candidate to give you some long term feedback on the 2022 KTM 150 XC-W.  He also is an owner of a 2022 KTM 125 SX so he knows the KTM product well.
Small bore offroad bikes in general have a pretty small niche of riders who can or may want to enjoy them. This KTM 150 XCW is ideally designed for younger enduro racers transitioning from minis to full size bikes or enduro riders moving from trail bikes to more capable full-size bikes. Being an older and larger rider, I can tell you this bike is also a blast for the enduro riders who are looking for a change of pace or the single track junky who really wants to challenge themselves and work on technique.
I obtained the KTM 150 XCW fairly late in the California riding season and it is dry, dusty and warm this time of the year. I tried to ride this bike in as many conditions as I could to figure out where it shines. From the high desert to low desert, the Sierra foothills to the upper Sierras and even a little bit of track. I'm a 190 pound senior novice-intermediate rider and my own enduro bike of choice is a KTM 300 XC.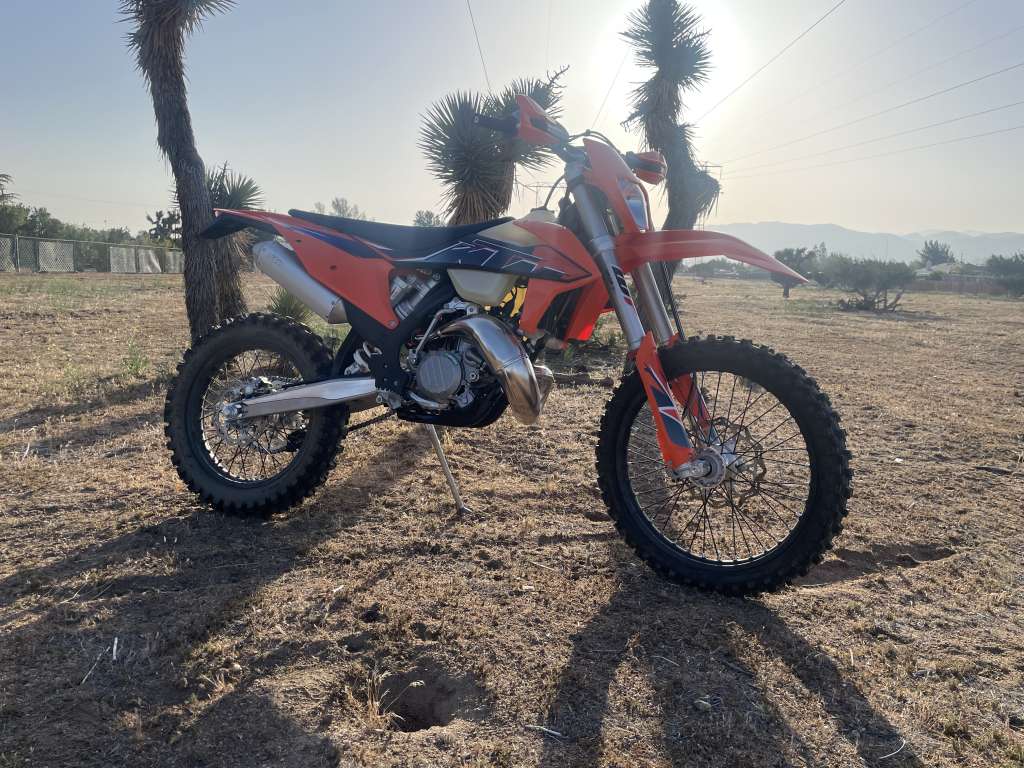 My first few rides were in the high desert of Hesperia, California. These trails were dry, sandy, and hard pack rocky trails that I knew well. The long, sandy hill climbs seemed fairly easy for the 150 and pulled really well, as long as the bike remained in the meat of the power band. If I fell out of the power band, I was still able to downshift and slip the clutch and coax the bike to clear climbs without digging a hole like a big bore might do. The agility of the 150 on the rocky single track and rock gardens was stable, didn't deflect off rocks, and glided over skid plate dragging rocks. The suspension, although under sprung, was surprisingly good and I only felt bottoming on the steepest of G outs at the bottom of hills. The bike inspired great confidence during these first few rides.
My next few rides were tossed between very tight single track in the Anza mountains and the Cahuilla Mx track. The Anza area was very dry, tight, well grooved deep single track with some larger bolder sections to play on. This 150 really excelled in this tight single track, slicing and dicing through the Anza hillsides. Much more agile than my 300 or even a 250F. This is where the bike seemed very much at home and left a huge smile on my face. These trails made me think of very tight GNCC races I have watched over the years. The Cahuilla vet MX track, although pretty tame, was a tad more than the 150 XC-W suspension could really handle under my weight. Although the motor can easily be raced around the track, the suspension is sprung for a smaller rider and definitely valved for enduro riding and not motocross.
Next was in Riverside County on secret trails that I didn't know well at all. They were very dry, silty and rocky with areas of shale rock. Many tight trails with turns and short run transitions up hill climbs that ideally would have had better success with momentum and speed. These trails were where I began to appreciate the pros and the cons of a small bore enduro bike. In the tight rocks and single track again, I had a blast but as we got to bigger hill climbs with loose rocks, I struggled to keep up with the bigger bore bikes. Riding the 150 is a blast but it definitely takes a bit more work the harder the trails become.
The last place I rode was in the northern sierras between 6000-9000 ft elevation. I was really interested to see how this TPI 150 would handle the altitude. I decided to exchange the 50-tooth rear sprocket for a 51 tooth with hopes that this would allow the bike to pull second gear better even at altitude. Luckily for me it worked perfectly as these trails were dry and dusty with tight hillside, sharp rocky single-track sections, intermediate rock gardens and way too many trail blocking pine trees that required either finding ways around or lifting the bikes over. This trail kicked my butt but the KTM performed really well.
The KTM 150 XCW is a great small-bore bike and is purpose built for enduro whether that be extreme enduro or beginner trail riding. The bike has some great features that make it a standout in this small but elite class. The electric start is a great feature on enduro bikes and absolutely a benefit to keep your momentum moving forward when, or if, you stall. Hill side e-starts are always appreciated. The bike continues to have a kick starter and I like this as a safety feature in the event it is needed.
Small bore 125 motors can occasionally leave you wishing you had a tad more power. This 150 has that extra power in the mid and top end. The 150 motor pulls really well on longer uphills, deeper sand sections and longer wide-open trails. The low-end roll-on power is lacking and requires a bit of clutch work. This is fun for training purposes and makes riding very rewarding for experienced riders but for the less experienced rider this could get frustrating and problematic. The hydraulic clutch is butter smooth, never requires adjusting and can handle a lot of abuse. I am close to 25 hours on this clutch and it's still performing well despite my abuse.

The powerband to me is not linear, the bottom end is weak and then quickly comes alive with the good mid-range to top end. This is similar to the way a typical 125 power band might be. This requires a steady soft throttle hand in first gear to prevent the rear end from breaking loose as it comes onto the mid-range and then quickly requires shifting into second gear to keep the revs up versus falling off the curve and requiring a lot of cutch slipping to get back into the power. This issue may not be as evident on east coast soil or even during our true winter on the west coast but in the dry California conditions I was riding, it was difficult to manage. As I noted earlier, I went from a stock 50-tooth rear sprocket to a 51-tooth and this allowed second gear to have more function at lower speed. With the 51-tooth sprocket, first gear becomes a bit useless with the exception of very slow rock or tree obstacles but overall, the bike performs better in my opinion with the 51-tooth sprocket.
The suspension on this bike is designed for enduro and although I could complain about it being too soft, it handled everything I threw at it without doing anything too crazy or unpredictable. In technical rocky climbs or small rock gardens, the plushness of the fork's initial stroke kept the bike from deflecting and knocking me off my line. With the exception of bottom of hill transition G outs or bigger jumps the fork performed well and I didn't feel any harsh bottoming effect. The forks have a preload damper on them and despite playing with this I didn't notice a significant benefit with adding more preload over the stock setting.
I was pleasantly surprised at how predictable this PDS no link suspension was and how well it tracked when hitting square edge bumps at higher speeds. I also appreciated how the PDS no link glides over rocky case dragging boulders and larger stumps without unsettling the bike as linkage can sometimes do. I still lean towards linkage suspension but for technical enduro riding this PDS no link performed really well. I would seriously reconsider KTMs PDS no link for enduro and enduro cross type applications. The Brembo brakes as aways are spot on and I believe easily the best on the market.
I really like the integrated computer and despite this particular unit not working, I have this on other KTMs and it is very nice addition. Although I don't typically ride at night the head light and tail light are acceptable for getting home at dusk and do provide some safety by allowing others to see you coming. If you are serious about riding at night the head light is insufficient but can easily be replaced. The skid plate is a nice addition on this bike and the hand flags although not full bark busting protection, they will protect your hands against bushes.
It would be nice if the bike came with everything required for its designed performance needs. Here are some of the things I would consider changing or adding if this bike was part of my stable of bikes. The pipe on this bike is much larger than a typical SX 150 pipe and hangs pretty low down. Carbon pipe guards are a great option for this application and although expensive can save you many pipes and headaches over the years. Bent brake rotors are not expensive to replace but can potentially ruin any trip and for this reason I would run brake rotor guards. The suspension both front and rear need to be resprung at the first service for my 190 lb. size. Although I don't like full wrap hand guards, on the open trail I prefer them for broken lever protection. Let's face it, enduro bikes live a hard life and making it back to the truck with all bikes and riders in one piece always makes for a better ride.
Overall, I really enjoyed riding this bike. If you're an enduro rider, young or old, beginner or expert, this bike is a great training tool for any level of rider and can absolutely make you a better technical rider.