The Gas Gas MC350 isn't a bike that I get to play with that long as the company requires the unit back early so I at least wanted to get a Pro Circuit muffler test in before they snatched the unit back. I have not tested many Pro Circuit pieces on a Gas Gas/KTM/Husqvarna so I thought why not try their Ti-6 full system to see how it compares to the stock muffler system.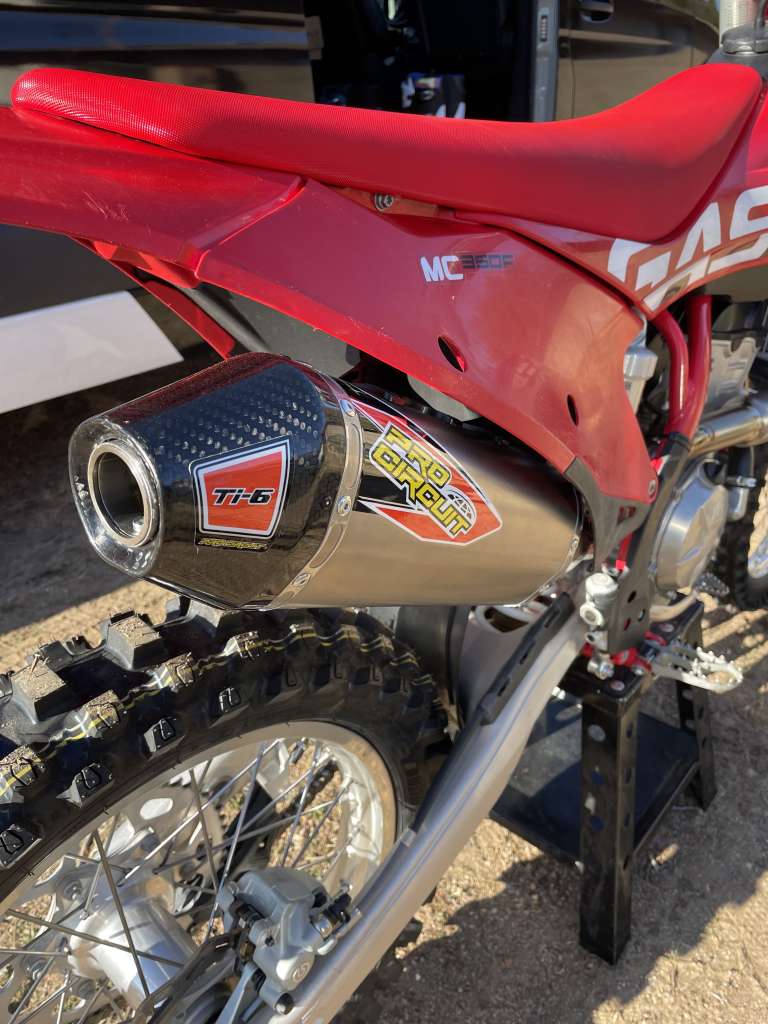 The stock engine character is lively off the bottom and seamlessly transitions to a mid range that is exciting and powerful. The top end pulls strong and this GG MC350 can be revved out fairly long in 2nd-3rd gears. The MC350 (to me) pulls smoother off the bottom than a KTM 350 SX-F yet slightly harder than a FC 350. Don't ask me why, because I have zero clue but this is what I felt when I ride them all back to back.
The Pro Circuit Ti-6 will allow you to drop 1.4 pounds of total muffler weight and bolts on painlessly. It's straight forward and takes 10 minutes! The questions I get I get a lot is if you should leave your insert in or take it out. Some bikes like no inserts while others prefer some back pressure. The Ti-6 on the MC350 prefers the back pressure so you can leave the insert in with the screen or simply cut out the screen and re-install the insert. A little blue loc-tite will do you wonders when it comes to keeping the insert's bolt intact. They will back out if they don't have a little loc-tite on them.

Now what is the Pro Circuit system like on the track? The PC Ti-6 delivers a slightly smoother roll on/low rpm hit but gives the rider more mid range pulling power when exiting corners. You can feel more "meat" or "pull" once you exited the corner and begin your shift into third. This is where the PC system is better. The Ti-6 system is not going to give you more bottom end grunt (with or without the insert in), but you will get more pulling power from each gear. This allowed me a little more freedom when to make my shifts. It especially came in handy when I got tired and didn't have enough stamina when I needed to make the decision to shift up before the next corner. I had a little more wiggle room from 2nd and 3rd gears. I do wish the system gave me some more excitement down low, but that is hard to come by from aftermarket mufflers these days. The stock systems are so good that it is tough to get more out of other mufflers that are trying to keep within sound requirements these days. Top end pulls as good as stock as well as over-rev. So what will you be getting for $1200.00? This Ti-6 system will be giving you a smoother roll on power that climbs farther through the mid range while retaining that great top end/over-rev the MC350 has.
You will have to re-pack every 10-15 hours as the muffler (with the insert in) can get hotter than with the insert out. The insert can trap heat a little more and therefore burn up the packing sooner. Pro Circuit offers replacement muffler stickers as well as packing kits to re-pack your muffler. For $1270.00 it is a costly investment but it does change the power curve enough to warrant just over a 1K cost to your wallet if you have that kind of money. If you don't, do you NEED one for this bike? No, the stock one is pretty damn good.