I have loved the 350cc size machine for quite some time but it didn't always make sense to me. From 2012-2016 I thought the 350 was a fad and wasn't going to sell as much as KTM would have hoped for. You had to ride it like a 250, it felt heavier like a 450 without the torque, so back then I would just jump on a 450 and deal with getting tired late in the moto to get that added torque. Fast forward to 2023/2024 and every time I have to test a 350, I wonder why I don't have one of my own. It is light, responsive, had more than enough excitement out of corners to make me smile and handled better than its bigger Austrian brother, the 450. I was tired of fighting my "ego" and got myself a 2024 KTM 350 SX-F to go race and have fun on at local races. I wanted to start this 350 build in stages so I could feel the difference, step by step, so this is the first stage (of probably many) of what I feel makes a fun, yet competitive vet racing machine for us older dudes. In no particular order, these are the mods that I have done (and am happy about) with my KTM 350 SX-F so far after racing it at a local race (Glen Helen) last weekend. -KK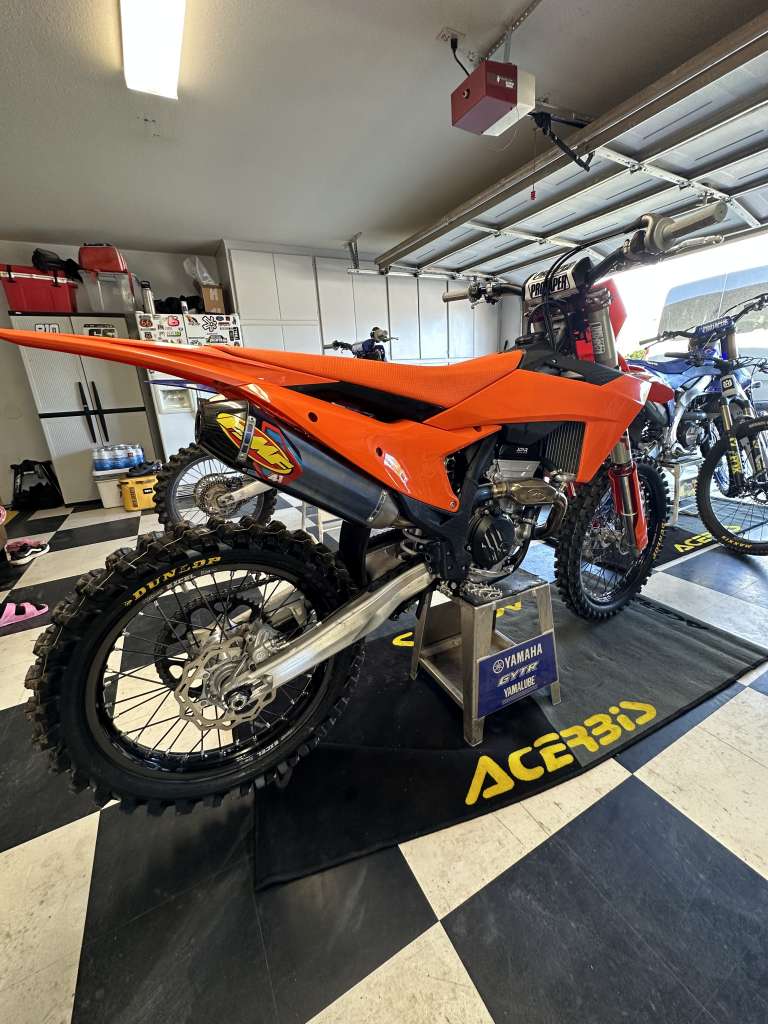 Pro Taper Handlebars: You may be sitting here thinking, does a pair of handlebars makes a huge difference? Yes, it does and getting a little less vibration and more dampening from the KTM isn't a bad move. I always feel more sore after a day of racing on a newer generation KTM than I do on a Japanese bike and I think that is because of the stiff nature feel of the KTMs as well as the vibration I get through the bars. Going to a Pro Taper Husqvarna stop EVO bend cut to 802mm helps with this considerably for me. Yes, I am still more sore riding a KTM versus a Yamaha after a day of racing, but getting some quality bars on this bike and throwing away the stiff stock bars are key to less fatigue and soreness. We are old. We need comfort!
ZRT Throttle Tube (Milled Down): Some of these mods are repeats of other mods I did to my KTM 450, but when I find something that I like, I tend to stick with it until I find something better and to me, there is nothing better than a ZRT throttle feel. I had Tom at ZRT mill down my throttle tube just a little to get a smaller feel in my hand and to me it's much more comfortable. If you're looking for a smoother roll feel from your throttle tube and want that light pull, get a ZRT, it will help your right arm pump.
FMF 4.1 Full Exhaust System: To me, FMF makes the best muffler system for the KTM 350 SX-F. There are some other companies that have other bikes dialed in more, but on the KTM, FMF has got it down. You will get more mid RPM response as well as more mid range pulling power. Top end is increased plus the over-rev is as good as stock. It is one of the few times that I was impressed because it was actually better than stock in almost all areas. The downside is that you must keep up on muffler packing (every 10-12 engine hours) because the FMF will blow out and that could damage your expensive titanium can. Did I mention that you will lose almost two pounds with the titanium 4.1 system? If you slap on spring forks on your KTM, you will be gaining almost three pounds. You can get most of that weight gain back down with a 4.1 Titanium FMF Muffler system.

REP Suspension With Full Linkage: Mark and he gang over at REP has given me a suspicion setting that has more comfort and really good performance when the track goes to shit. Unlike the stock suspension where it gets low in the stroke and can deflect under load, the REP suspension handles light bump as well as braking bumps with much better feel to my hands. Yes, I am on a Cone Valve fork and Trax shock but just those alone DO NOT make your 350 feel better. I have had many Cone Valve settings where I got a harsher feel through the bars and not much added comfort when the track got rough. REP's latest CV fork setting has given me the front end traction I need in shallow ruts so my lean angle consistency is much better throughout the day of racing. The REP Trax shock has better hold up as well as doesn't ride too low in the stroke under throttle (out of corners) due to the setting as well as the full REP linkage system. One thing I despise about the stock shock/linkage is that I feel ass end low a lot once exiting corners. This upsets the rear end on acceleration (harsh/deflection) but the linkage system gives me better feel out of corners as more consistent damping feel on de-cel bumps. Yes, even if you want to run the stock shock this linkage can help balance of your 350 as well as Gove you more rear wheel traction on acceleration. You will have to change your shock spring to compensate for the REP linkage ratio, but to me it is ALL for the better. This is by far the most comfort I have had out of a set of WP Pro Components yet. I do think I will end up going slightly stiffer on my fork setting as I think I am a little low in the front on heavy braking/de-cel bumps, but I would rather start on the softer side than have my stuff too harsh. I need comfort more over perforce at my age and REP has given me that with this setting.
Vortex ECU Mapped By XPR: Of course I needed a little more juice out of the 350 in order to keep my kid in sight when we are moto'ing so the easiest/most reliable horsepower I found was XPR's Vortex ECU mapping. WOW! What a difference! I got more low end torque feel, more response, better mid range pulling power and not to mention more over-rev out of the already exciting feel of this engine! Chad mapped my machine to my FMF 4.1 system as well as what fuel I wanted to run and in this case it was ETS MX18. This XPR tuned Vortex makes the KTM run super clean with zero popping and improved my throttle feel when I had to be smooth in certain slippery sections of the track. If you do one engine mod to your bike, this is the only mod that I would do. Getting the amount of added horsepower to this machine with keeping almost all of the reliability is something that is worth the 1000.00 or so that you're spending. If you're spending that much on a muffler then getting an ECU isn't an issue. If it was me and I only had a grand to spend, I would get an ECU over the muffler any day.

ETS MX18 Race Fuel: If you want more low end response and better mid range "meat" feel go with a good race fuel like ETS MX18. This isn't the super smelly fuel of the MX21, but slightly less pungent than VP MR Pro 6. ETS MX18 is a clean fuel that must be mapped by a ECU tuner. However, once mapped the power feeling you get is much better than a pump fuel or even a VP T4.