Crossbar or no crossbar, half waffle vs. no waffle vs. full waffle and grip compound advice…
How do you know if you're a crossbar type of rider or a non crossbar type of rider? Maybe you don't care? Sometimes it's just by what you feel is most comfortable but other times it's off of feel. I use crossbar type handlebars on some models and some crossbar-less bars on others. It depends on how much flex is in the the chassis and how the bar feels when riding through corners. I do know some riders visually can't get past not having a crossbar (when they set their bars) so a crossbar handlebar is in order for them in order to get the proper setting. Here are my breakdowns on which bike can benefit/or feel good with a crossbar handlebar or no crossbar.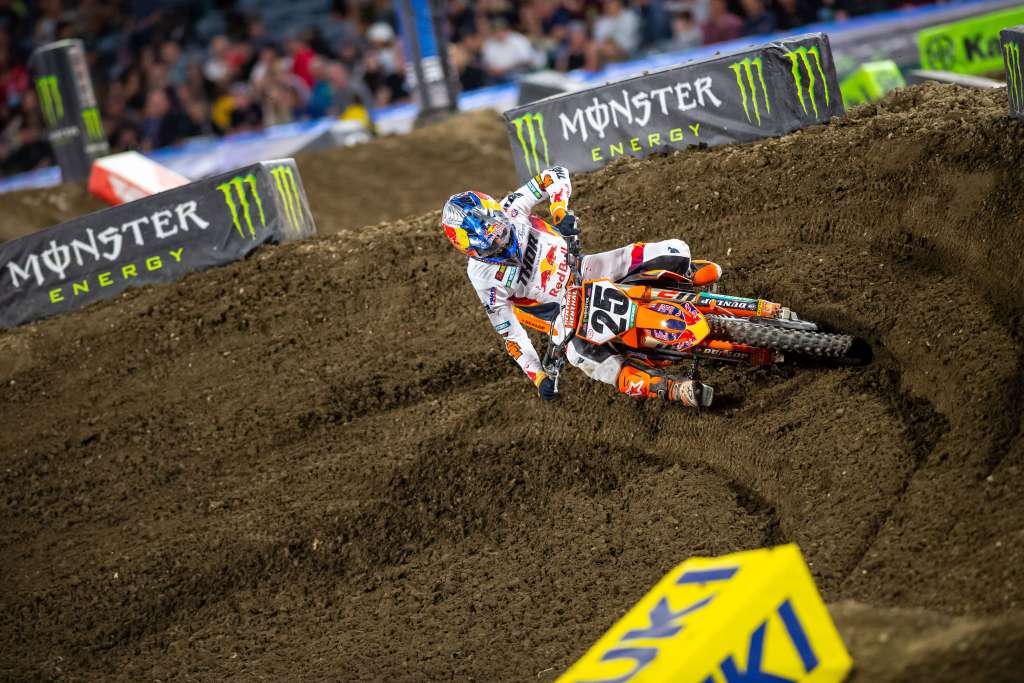 Honda: Since the new Honda chassis is a rigid feeling chassis, I would go with a crossbar-less bar with a 4mm wall thickness. It doesn't matter what bar you use, but check the wall thickness of the bar. Some are 5mm and some are 4mm. 4mm will flex more and feel more compliant on the Honda. Pro Taper EVO is a 4mm wall thickness and to me feels better. 
Suzuki: The RM-Z's are much like the Hondas where they could stand to get more flex. Using a crossbar-less bar in this case would benefit riders who are looking for more comfort. 
Yamaha: The Yamaha YZ250/450 and even the two strokes can get away with either a crossbar or crossbar-less handlebars. I have ran Pro Taper Fuzion as well as EVO bars with the same amount of flex feel through my hands surprisingly. I also have ran Renthal Twinwall bars on a YZ450 with the cross bar cut in the middle to aid in flex with great results on this bLU cRU machine. 
Kawasaki: The Kawasaki is another bike that has a forgiving chassis that is ablate cater to crossbar or crossbar-less riders. I have used a Renthal Twinwall as well as a Pro Taper Evo bar with results that didn't hamper my arms. Again, even though Renthal will not advise you to cut your crossbar in the middle, it has been done for years inside the AMA Paddock. 
KTM/Husqvarna: I go with a crossbar-less style handlebar n these machines for the simple fact of they vibrate a lot more than the Japanese bikes do. Having a crossbar will add a little vibration to your hands with the orange and white bikes so if you don't mind a little harmonics through your hands, going with a crossbar is acceptable to me with the older style chassis (18-22). The new 22.5 chassis is stiffer feeling so I tend to lean towards a 4mm wall Pro Taper bar. (You can look up bar bends here: https://www.keeferinctesting.com/2022-handlebar-bend-recommendation-specs-updated/
Gas Gas: The Gas Gas vibrates less with the clamp that comes stock so going to a crossbar or crossbar-less style bar is up to you. 
What about a crossbar handlebar that can flex more than a crossbar-less? Yes, FASST Co. makes their FLEXX bar that uses a innovative design that allows the bars to flex because of their proprietary elastomer system. If you like a crossbar and want more flex out of that style of bar, look into a FASST FLEXX bar.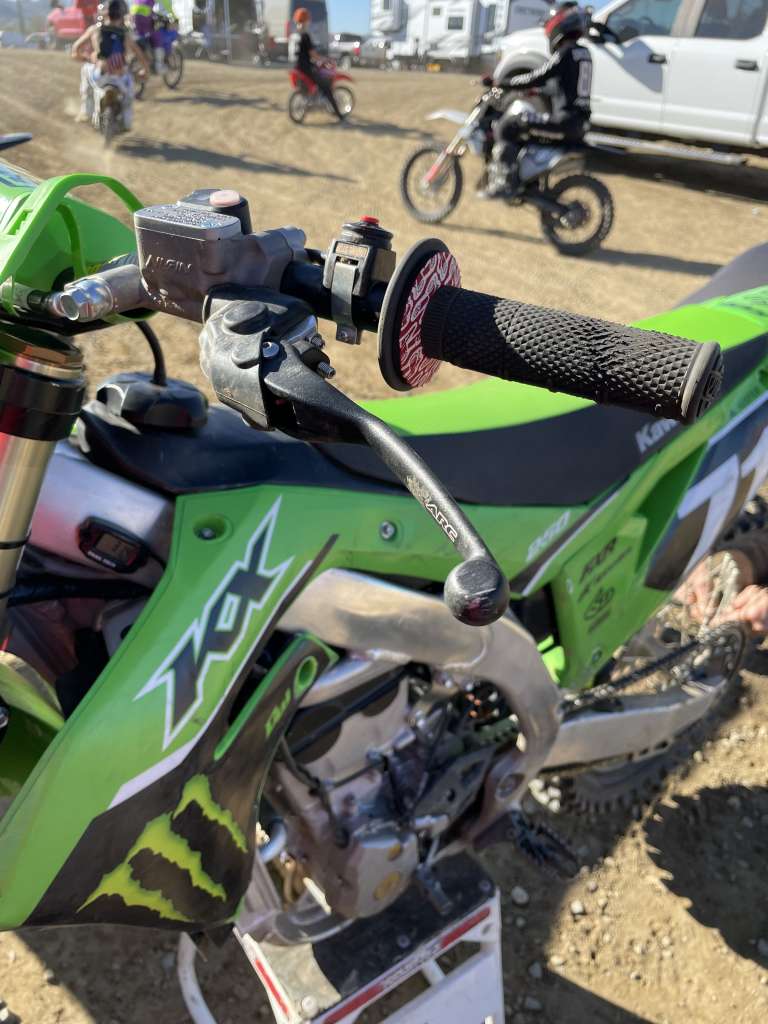 What about grips? Which type of grip should you use? Or what compound? Most of this depends on how tough and how big/small your hands are. I am a huge fan of Renthal and Pro Taper grips and although I have used others, none of the others have really agreed with my hands. This doesn't mean you should go buy Renthal and PT grips because I personally like them, but maybe look into the size of your grips next time you're complaining about arm pump. The size of the grips do matter in how your hand rests on the handlebar and to me the size of the grip makes or breaks a great day of "longer" motos. If you're a size small or medium glove look into no waffle (or full diamond) grips. If you're a medium to large size glove rider, look into half waffle grips and if you're a large to XL glove rider look into a half waffle or full waffle grip. The full waffle grip (if running soft compound) actually has some cushion to it and can be used for comfort in the palm. Some large hand riders like the comfort and long distance off-road riders can benefit from a full waffle to combat blisters! YES, FULL WAFFLE SOFT GRIPS HELP WITH BLISTERS if your hands are big. Too small of grip in a large hand can cause bunching of the palm of the gloves which can cause blisters. Too big of a grip with a small hand can cause arm pump like something fierce! Half waffle is usually a safe bet for 75% of the riders, but that other 25%, if you look, can really benefit a certain type of rider. Choose your waffle wisely! 
Compounds are determined on how tough your hands are. I can personally get away with a firmer grip because I have calluses that are formed as well as tough hands from riding a lot. If you got baby hands, get some soft grips that can help with blisters. Regardless you will still probably get some when you try to toughen up your hands but a soft compound can help slow that down some. Medium compounds are good if you like less movement in your grips. If you like a firm base under you the medium is the best of both worlds. 
I also asked five different riders what their favorite handlebar bend, grip compound and waffle size was. Here is the breakdown: 
Zach Osborne: 
Handlebars: MUST HAVE CROSSBAR
Grip Compound: Firm
Grip Waffle Size: No Waffle/Full Diamond
Alex Ray:
Handlebars: Prefers no crossbar but is currently on crossbar due to availability
Grip Compound: Medium ODI Lock Ons
Grip Waffle Size: Half waffle 
Andrew Short:
Handlebars: Crossbar-less Husqvarna Stock Pro Taper EVO trimmed to 806mm
Grip Compound: Currently firm, but when racing used soft.
Grip Waffle Size: Currently half waffle, but when racing used full waffle with top ribs cut down
Chance Hymas:
Handlebars: No crossbar Renthal 827 Fatbar
Grip Compound: Soft
Grip Waffle Size: Half waffle
Cameron Mcadoo:
Handlebars: Crossbar 997 Twinwall 
Grip Compound: Medium
Grip Waffle Size: Half Waffle