Editors Note: This is about as raw of an evaluation as we get here at Keefer Inc Testing. Preston Jordan is one of my long time friends that needed to get back into the sport. I enticed him with a 2021 Suzuki RM-Z450 and here we are. Preston is your average blue collar rider that loves to get out and be on two wheels but also can feel his way around a bike a bit. There are some testing procedures within this article that I do not condone (like not checking your sag), but I also know, from experience, that some people do in fact do it the "PJ" way! Here is unbiased, honest and raw opinion from a rider that knows no other way. -KK
Written By: Preston Jordan
Since being given the opportunity to borrow this bike to get reacquainted with riding motocross again, I've had a fair amount of time learning the different little nuances about the Suzuki RM-Z450. As soon as I got on it, I was pretty comfortable with the ergonomics, speed, and feel of the bike, but had some issues that I wanted to try to figure out. One of the main issues I had was comfort and handling in certain situations. I relatively quickly noticed that this bike had an issue that may have been the root cause of what I was feeling.
When I got a hold of this beautiful machine, I noticed that the stock shock must've had a blown seal because there was a pretty apparent oil leak coming from the shaft which led to pooling around the springs retaining ring. I immediately contacted Keefer about the issue and parked the bike in my garage so there wouldn't be any more damage to Suzuki's bike that I was trusted with. I was really bummed that I was going to need to park the bike almost as soon as I got it, but as it turns out, the blown shock turned out to be a blessing in disguise.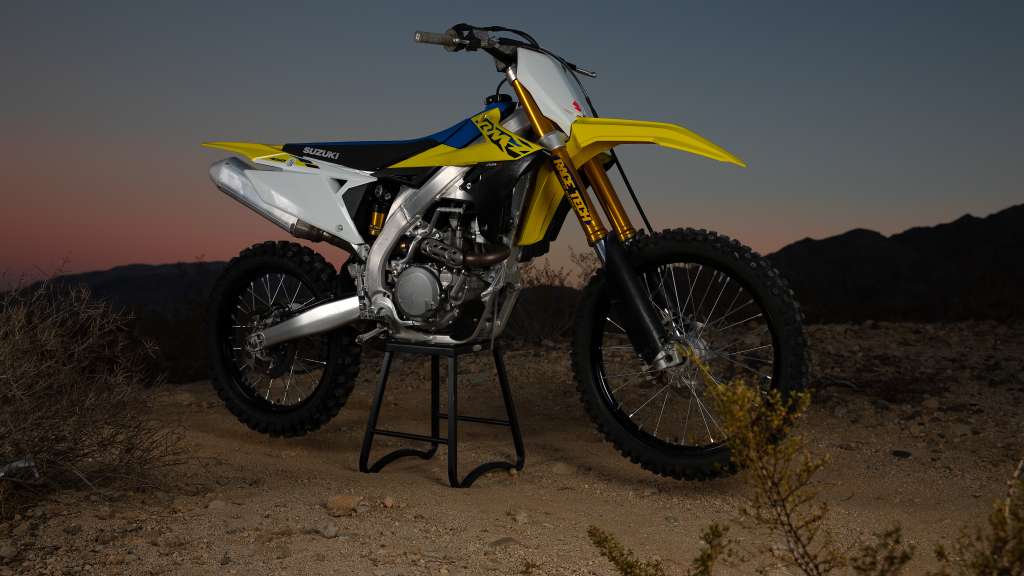 After getting a hold of his connections at Race Tech, Keefer instructed me to tear the shock off the bike so Race Tech could rebuild it. A few days later, I headed out to the garage, pulled the shock off and tossed it in my truck to take down to Race Tech's headquarters in Corona, CA. Surprisingly, after not working on a dirt bike in many years, I managed to pull the shock off in about ¼ of the time that I was expecting it to take without any real hang-ups. I hit Keefer up to let him know that I was going to drop the shock off at Race Tech the next afternoon, but much to my surprise, he told me to tear the forks off as well so the suspension could all be re-valved and resprung… I definitely wasn't going to argue with that request. 15 minutes later and everything was in my truck, ready for Race Tech to get their hands on it to work their magic.
Because I do not own this bike so it wouldn't make sense to have it valved for my specific weight and skill level, Keefer suggested that it be valved for an intermediate rider. Since we are somewhat similar in weight and height but greatly differ in riding ability, having it valved for an intermediate rider would be a perfect medium between him and I when he needs the bike back for his use. I have never been an intermediate level rider so I was a little worried that this setup would be a painful one, but freshly valved, stiffer suspension is objectively better than blown suspension. Additionally, I can learn grow into the intermediate setup, so this worked out well for all parties involved. 
After just a few short weeks, I had the freshly tuned suspension back in my hands, ready to be installed. Race Tech went through everything, cleaned it all up nice and pristinely, fixed the leaky shock, valved both ends using their patented Gold Valves, and swapped out the stock springs for stiffer ones. I got everything back home and the next day, I put the bike back together and took a few quick glamour shots for this article that I wanted to write. Now that I had gotten all of that out of the way, the RMZ was ready to be ridden. Keyword RIDDEN, not "tested." I am in no way, shape, or form a rider that is skilled enough to be providing you all with a detailed assessment of Race Tech suspension, but I can definitely tell you exactly what I personally think about the work they did on the Suzuki that I had some handling issues with. 

  If you read the article that I wrote about getting back into riding, you might remember my comments about the suspension and chassis of the Suzuki (https://www.keeferinctesting.com/how-a-man-rekindled-his-fire-for-dirt-bikes-through-a-suzuki-rm-z450/). In small, successive chop, the bike got a little nervous, which made me even more nervous every time I would end up in terrain like this. I would immediately tense up or completely shut down, in fear that a high-speed swap was right around the corner. My reaction to the bikes reaction very likely compounded my issues and I needed to get this addressed before getting myself hurt. Race Tech was able to address this issue for me in a big way with the setup they provided. 
As previously stated, I am not an intermediate rider, but I was pleasantly surprised that the intermediate settings I received really didn't even matter… The valving job that they did is more than suitable for my skill level! Without touching a single clicker or playing with anything, I literally bolted the suspension back onto the bike and went riding (don't tell anyone about this, but I didn't have the means so I didn't even check the sag. Shhhh). To be able to just get on the bike and go, and immediately feel way more comfortable than the stock stuff says a lot about the work that Race Tech does. I am not trying to sell you anything or hype Race Tech up, this stuff is GOOD! Even though I have yet to use full travel, likely because of the stiffer setup for a faster and more skilled rider, there is absolutely nothing harsh about the way the suspension is working for me, which is surprising. I liked the stock suspension, but I'm quite a bit more happy with how it feels now!
One of the most surprising and pleasant things about this setup was that it was immediately apparent that the bike wouldn't feel drastically different in the way that it rode. It didn't feel like it was some completely different bike that was going to take a long time getting use to again because it worked completely differently, it just felt a million times plusher and more trustworthy. I would say that almost all the harsh feelings that I had with the stock suspension at the end of the stroke when the trail got rough were gone. The best way that I can describe this Race Tech setup is confidence inspiring; the bike feels a ton more predictable and the harsh, jarring feeling in rougher situations is just about eliminated. Because of this newfound comfort, I found myself a lot more than willing to push past my comfort zone in rougher terrain. I can hit oddly spaced-out whoops and not worry about being spit sideways or tossed over the bars, the bike just eats it up with absolutely no harsh feedback! 
Now for the bad, which has nothing to do with the valving or spring rates. Unfortunately, although greatly improved with the fresh valving and springs, the front-end headshake is still somewhat evident in small, successive chop. I am almost positive that this can be worked out with sag and setup changes, but I have not yet got around to doing any of this. As I stated above, I bolted the suspension on and went riding so this can definitely just be something attributed to my own lack of correct bike setup and poor technique/body position. The headshake that I am experiencing could also just be a characteristic of the rigid Suzuki chassis, but the valve job that Race Tech did make it a lot more controllable than it was stock, allowing me to not feel like I was about to die almost immediately every time I got into the small choppy stuff. 

One way that I was able to combat the headshake is by sitting down and staying neutral, oddly enough. The headshake that I am getting only gets somewhat violent when I am in a standing attack position. I noticed that if I stayed seated and just held the bike tightly with my ankles and knees while keeping my upper body forward, I could hold it open and let the suspension take the impact. The headshake is still there, but it is a lot more manageable in the seated position. Obviously, this can't be done everywhere trail riding here in the desert because the terrain isn't in any way uniform so whoops drastically change in size, length, and depth, but if there aren't any huge whoops with deep gaps that I need to worry about, I opt to stay seated and try to let the bike do what it's going to do. This might just be a weight distribution thing, partially caused by the position of my upper body or just issues with sag. 
To wrap this up with a pretty little bow, the Race Tech valving is GREAT. I've had valving done in the past on my own personal bikes, but this is the most comfortable suspension that I've ever gotten to ride with. The stock stuff is really good already, but it surprised me how much more comfortable and predictable the valving made the bike feel and I look forward to spending more time on it. I am also looking forward to figuring out what is causing the headshake issue that I have been experiencing, as it could be my lack of skill/technique or maybe just the way the bike is currently set up. I think I just need more time riding to try different things so I can chase it down and figure it out.
 It looks like the next big step for me will be making it onto a track after years away from this sport… I plan to ride Cahuilla Creek MX in Anza, CA very soon! Cahuilla was always my favorite track to ride, and I am excited to get back out there now that I feel a little bit more prepared with the seat time I've gotten so far. I will definitely need to stick to vet tracks for a while, but I look forward to the experience!