Written By: Eddie Laret/Kris Keefer
The question we get all the time is where does the 350cc line of motorcycles fall into place with other 250cc or 450cc sized dirt bikes. In this article we dissect the 2023 Husqvarna FC350 and what we did to make it better.  We took our 2023 FC350 and put about 15hrs on it before we modified it or came to you with some of these results. After those hours were completed, we found a few areas that could use improvements.  First let's talk about this machine in stock trim, the first thing we noticed is the new engine package has more hit down low and loved to be revved out longer in second gear. We did feel that there was some room for improvement, but the engine exactly wasn't at the top of the list. The next area was chassis and Husqvarna's new platform with some increased rigidity. We noticed this right away as the chassis was stiffer and had less front wheel feel in slower corners. In the past the Austrian brands were known for the chassis flexing too much under load so this was one of the reasons for the increase in chassis stiffness. The next area was the AER XACT fork and WP shock. Even though WP has improved the feel of the AER fork, they still have an air fork that is not as comfortable as a spring fork. I personally didn't mind the fork on our intro day, but we put more hours on the bike and it became an issue as we went to rougher tracks. So now that you have an idea of where our heads were at, let's dive into the changes and improvements that we made.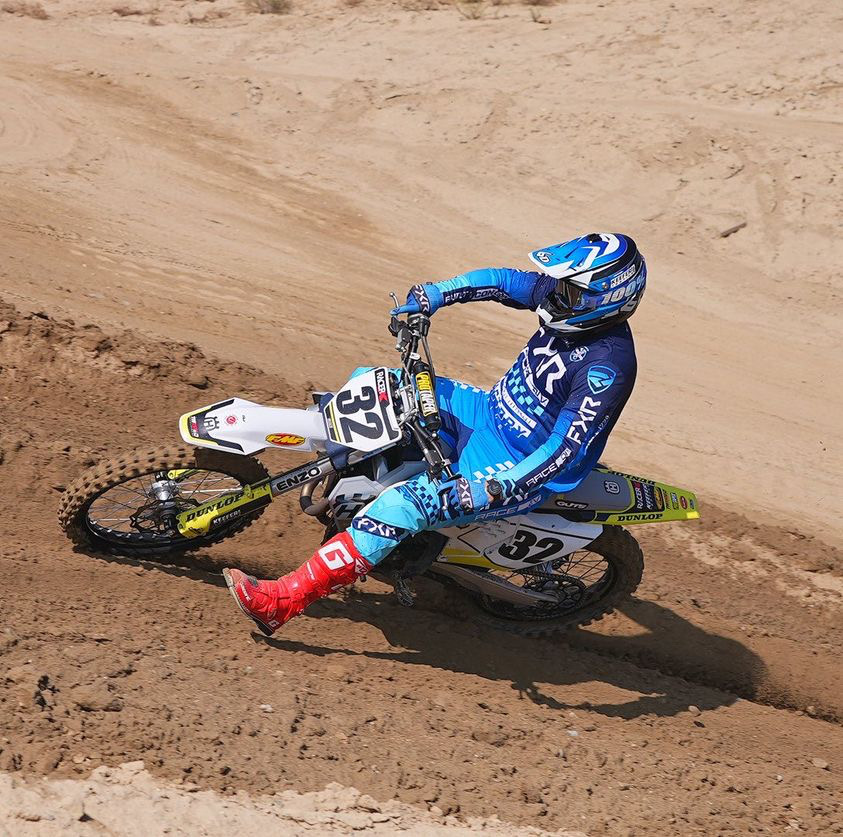 First stop was Enzo racing for some suspension upgrades.  We tried to re-valve the AER air fork and WP shock with the correct spring rate for my weight (230 lbs), but I never really could get the comfort that I wanted after a couple tries. We knew the right direction was to install the KYB spring conversion kit that Enzo offers. The re-valved air fork just didn't have that plush comfort we were looking for so we opted for springs (Yeah, I know big shocker here). Once we converted to the KYB spring kit the front-end grip on lean was enhanced and the plushness on slap down as well as bump absorption was more apparent. Personally, I felt this was the biggest improvement to the chassis all around. I've gained front end traction with lean angle on the new chassis now with the KYB spring conversion and I don't feel like it like the FC350 is washing out on me in area 2 (middle portion) of corners. With some minor adjustments, (1 click slower rebound and a stiffer fork spring) I could now charge and get some confidence in my riding. Enzo also preferred to run the suspension at full length and not the 10mm lower set up that the stock Husqvarna comes with. When we raised the Husqvarna up, you will have to use the stock 2023 KTM linkage. We were told by KTM if you use the stock husky linkage with full travel it could send the rear wheel thru the fender. The Enzo spec re-valved shock also holds up my big 230 pound frame up more as well as give me more low speed damping on acceleration. Us big guys will need stiffer springs as well as more low and high speed damping on this shock. Enzo nailed it on the first try with this shock set up. I now have a balanced Husqvarna that allowed me to practice my suffering cornering technique better and didn't have a FC350 that rode too low in the stroke.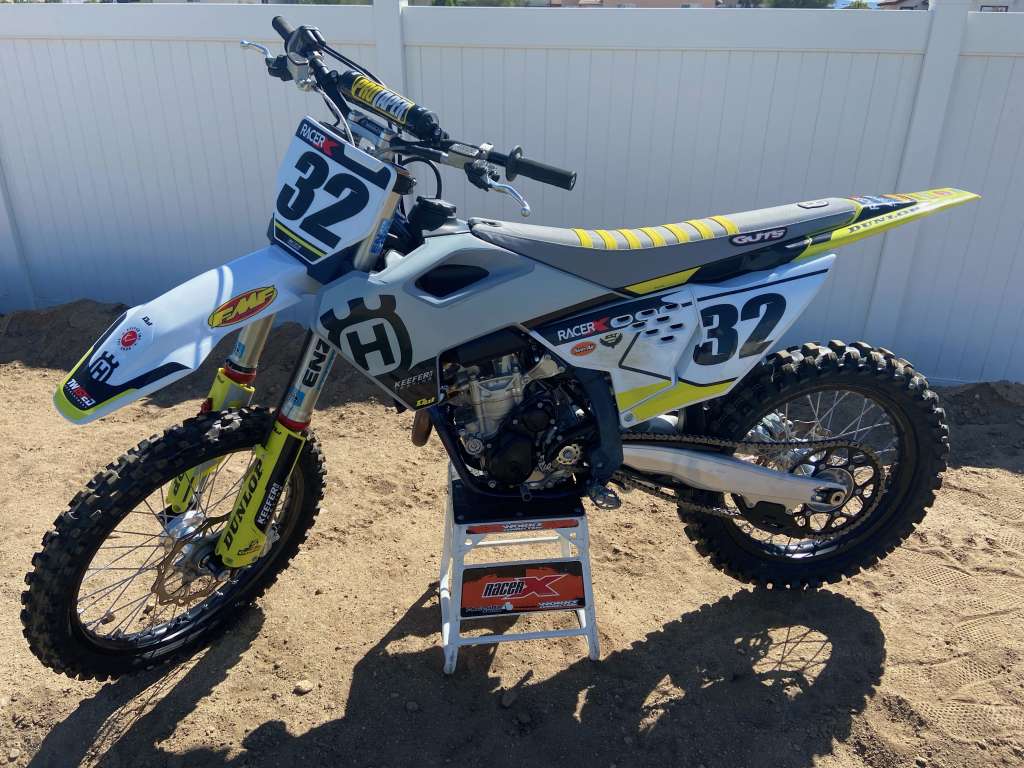 Next stop was Twisted Development as well as FMF Racing for a Vortex ECU and Slip-on muffler. These were two areas that didn't need immediate attention even though I am a bigger dude. I picked the FC350 because I could actually ride this bike for 15 minutes versus pumping up too quick on a 450cc'd bike! I want to be safe when I ride as I have a real job so having fun is most important to me. With the FMF 4.1, my first impression was that the bottom end power was stronger. It had a slightly smoother delivery but had a stronger feel/pulling power in the deep ruts and muddy areas. I didn't feel at first this bike needed much in the engine department, but once I got some added power it actually made the bike easier to ride yet still feel light and playful. When you stack the FC350 up against the 450 bikes, we can use some extra power when us bigger guys are trying to be a little more competitive when racing locally. I was able to ride with local 450cc riders and not feel like I was under powered going up hills or having to override the bike to keep up. The next add on was the Vortex ECU mapped by Jamie at Twisted Development. This was an actual shocker to me; I felt the stock mapping was a little lean at parts of the throttle (de-cel popping) so I was hoping the Vortex could help this. With TD's map I felt like the bike had even more power across the board yet had more traction or connection to the rear wheel. It was a smother feel when rolling the throttle on yet had more pulling power and got me on top of the soft dirt better than I have felt from a dirt bike in a long time. There has always been a battle between engine work vs ECU's/mapping. This opened my eyes big time to good mapping and playing with the fuel/air mixture within each map. Jamie has done an incredible job with the current maps he has and made me a believer in programmable ECU's (Keefer will love to hear this). To wrap up the power plant, my current ECU settings with the FMF factory 4.1 slip on has the FC350 feeling smoother and now pulls for each gear for days. These long steep hills at Glen Helen Raceway in Southern California wasn't a problem for my big ass now!

The final little tweak we did to our FC 350 was a ZRT throttle tube, the tube uses two bearings to help with less drag and a smoother feel. This really did help to have more of a connection with the power delivery. The handlebar of choice was Pro Taper Fuzion Race Team bend (996 Replica) with the cross bar was unlocked for more flex. I bounce back and forth between crossbar and no crossbar. I landed on these and like the feel of the bar and having a crossbar for visual purposes. Plus, visually I think they look the best. Yes, I care about looks, I am a vet rider after all!
Works Connection has a lot of awesome accessories but for this bike we did the Elite axle blocks and Pro Launch device. The axle blocks convert the stock fixed left side axle block to a free-floating axle block. You must remove the stock left side axle block and install a spacer and a free-floating WC axle block. This is supposed to help with rear wheel traction, I can honestly say that I didn't feel any huge difference but it makes chain adjustment and cleaning a lot easier, so to me this is a win. Since this is my bike of choice for the upcoming World Vet race, I needed a holeshot device and the Pro Launch device is easy to install and is reliable. I run my Pro Launch device at 130mm, which is low, but I like to make sure my front end stays down. With my leverage I can really make a bike squat off the gate so keeping that front end down is important!
So that's a wrap on our 2023 Husqvarna FC350, we made some major improvement with very few adjustments. The bike is very enjoyable to ride, has plenty of power for the heavier riders and to me is a safer sized bike for us average blue collar riders. I am looking forward to improving my riding with this machine.