Even though the Honda has a few significant changes from 2022, Showa as well as Honda worked on creating more comfort from the suspension as well as chassis. This lead us to create another baseline setting for you 2023 owners. The ECU has also been updated, but there is still some lean pop on de-cel so we are currently working through some optional re-flashes, but as you know it is tough to find a dealership or a Honda tool to do this.  However, compared to the 2022, the ECU is much cleaner upon throttle delivery and has more connection to the rear wheel. We also took it a step further like we did last year and matched up some traction control settings to map settings for you to try at your local track. There are two combinations below that we think can help you lower your lap times and make big red easier to ride. As always if you have questions about your new Honda, we will always try to help, so email us at kris@keeferinctesting.com if you have some thoughts/questions. 
Optional Suspension Setting:
The stock suspension for 2023 has some added comfort and to us that is a step in the right direction. However it still might be too soft for if you're anywhere north of 210 pounds. Honda has a 5.0 N/m fork spring that is adequate for most, but even with the having more low speed compression damping for 2023, once broken in it might be a tad soft for riders heavier than 210. Out back the 56 N/m shock spring is a little soft, but the 2023 valving is much better on high speed compression so going to a stiffer spring was not warranted for my 175 pound frame. If you're over 220 pounds then I would recommend going to a 58 N/mm spring with the correlating clicker adjustments. This will help the Honda from riding too low in the stroke under acceleration when you're pushing 220 pounds. However, with the 56 N/mm spring and the 2023 valving the CRF450R has more rear wheel traction and added comfort on small chop so trying the clicker adjustments set to the 56 N/mm spring is worth a shot first. Remember, if you're just over 200 pounds and not into spending more money on a re-valve at this time, simply get some heavier springs and try this setting:
Fork: (170-200 pounds)
Spring Rate: 51 N/mm
Height: Flush-2mm 
Comp: 9 out
Rebound: 11-12 out
Shock: (170-200 pounds)
Spring Rate: 56 N/mm
L/S Comp: 9 clicks out
H/S Comp: 2 1/4clicks out
Rebound: 11 clicks out
Sag: 105mm
Shock: (200-225 pounds)
Spring Rate: 58 N/mm
L/S Comp: 13 clicks out
H/S Comp: 2 3/4 clicks out
Rebound: 11 clicks out
Sag: 105mm
Torque Specs:
I still prefer going to these torque specs on the 2023 Honda CRF450R (similar to the 22 model). I spent a couple days experimenting with torque settings on the 2023 and have came up with the spec chart below. What these updated torque specs do for you is slightly improve the bump compliancy and front/rear wheel traction of the 2023 CRF450R. This isn't a cure all, but you will feel a little extra comfort in your red ride. If you don't see a torque spec on a portion of the bike that is not below, don't freak out, just go with the stock recommended torque spec. I experimented with a lot of different parts of the chassis with torque specs and the bolts/nuts below make the mosts difference on the red machine. It may not seem like much, but it's the little things on this bike that can make the Honda chassis FUN for the average guy. Out of all of the machines that I have experimented with on torque settings, this bike reacts the most to it, so pay attention to your nuts/bolts on your Honda! Follow the torque spec sheet below and make sure to blue Loc-Tite the bolts/nuts on each to ensure you have no issues down the road.
Rear Axle Nut (Qty. 1):
Stock: 128 Nm
Updated Spec: 120 Nm
Fork Top Clamp Pinch Bolts (Qty. 4):
Stock: 22 Nm
Updated Spec: 19 Nm
Fork Bottom Clamp Pinch Bolts (Qty. 4):
Stock: 20 Nm
Updated Spec: 16-17 Nm
Swingarm Pivot Nut (Qty. 1):
Stock: 88 Nm
Updated Spec: 81 Nm
Front Engine Hanger Plate Bolts (Qty. 4):
Stock: 26 Nm
Updated Spec: 24 Nm
Front Engine Hanger Plate Nut (Qty. 1):
Stock: 54 Nm
Updated Spec: 51 Nm
Cylinder Head Hanger Bolt (Qty.2):
Stock 54 Nm
Updated Spec: 51 Nm
Cylinder head Hanger Plate Bolts (Qty 4):
Stock: 32 Nm
Updated Spec: 29 Nm
Shock Absorber Upper Mounting Bolt (Qty. 1):
Stock: 44 Nm
Updated Spec: 42 Nm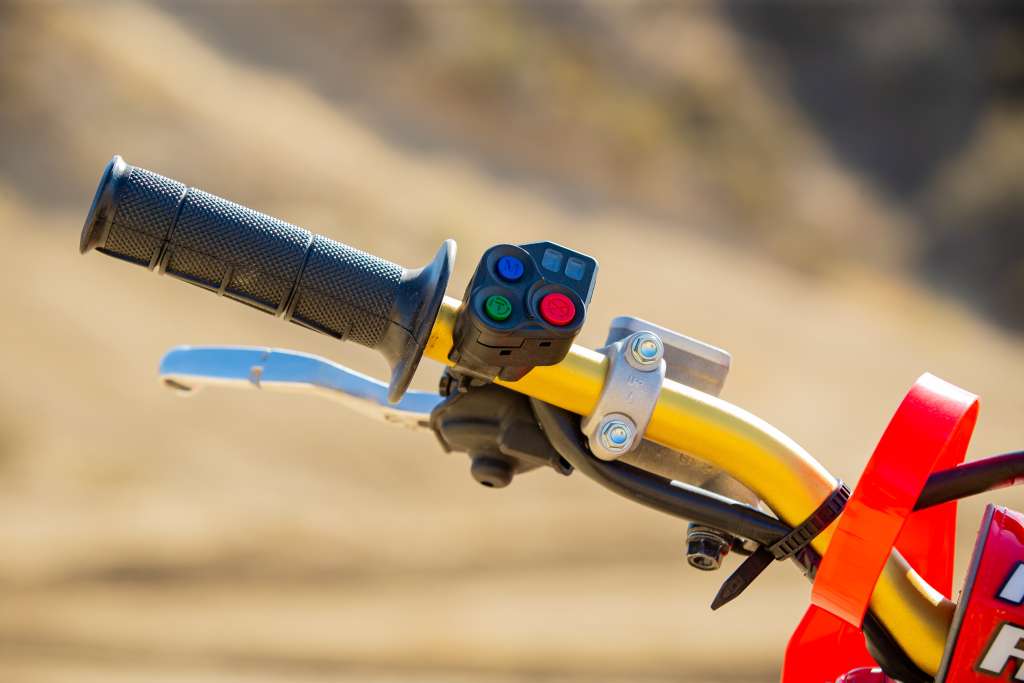 Traction Control/Map Switch:
This is something I did not play with much the last couple years on the Honda CRF450R. Sometimes I get caught up with the chassis of this motorcycle so much that I forget to play with the other options Honda has to offer the rider. Below are a couple combinations of map/TC settings for you to try on certain types of tracks.
Track Type/Condition: Afternoon when track still has some traction available, but also has loose dirt on top with acceleration chop in ruts.
Map 1/TC1
With the map switch set to 1 and TC on 1 this gave me more control of the machine under throttle when track was going away slightly. Most of the time these conditions happened around lunch time (if track was open at 9AM) when lines were formed and ruts were established. With the TC on 1 through choppy ruts it allowed for more rear wheel traction and a less harsh feeling from the rear of the machine. I honestly wouldn't rule this setting out in the morning when lines weren't established and you need to find some traction on freshly tilled/watered dirt. If you're looking to keep the low end excitement but gain just a hair less of throttle response try the map 1/TC 1 combo.
Track Type/Condition: Late afternoon when track is beat up with blown out lines with all the good traction pushed off, or the dirt has dug down far enough to where it's hard pack.
Map 1/TC3
With the map switch still on map 1 and TC now on 3 this gives the rider a much more heavier low end chugging feel (almost like a long rod feeling) with less excitement on 2nd-3rd gear roll on. Some of you may ask why not just put it on map 2 with TC on 1-2, but to me that combo gas me less connection from my throttle hand to rear wheel. It almost made the bike feel much heavier than I like. With map 1/TC3 the Honda CRF450R gave me a good throttle to rear wheel feel without it feeling heavy in corners. I felt like I had more tire contact patch on lean, under loose/hard dirt and that gave me confidence to roll throttle on earlier exiting corners.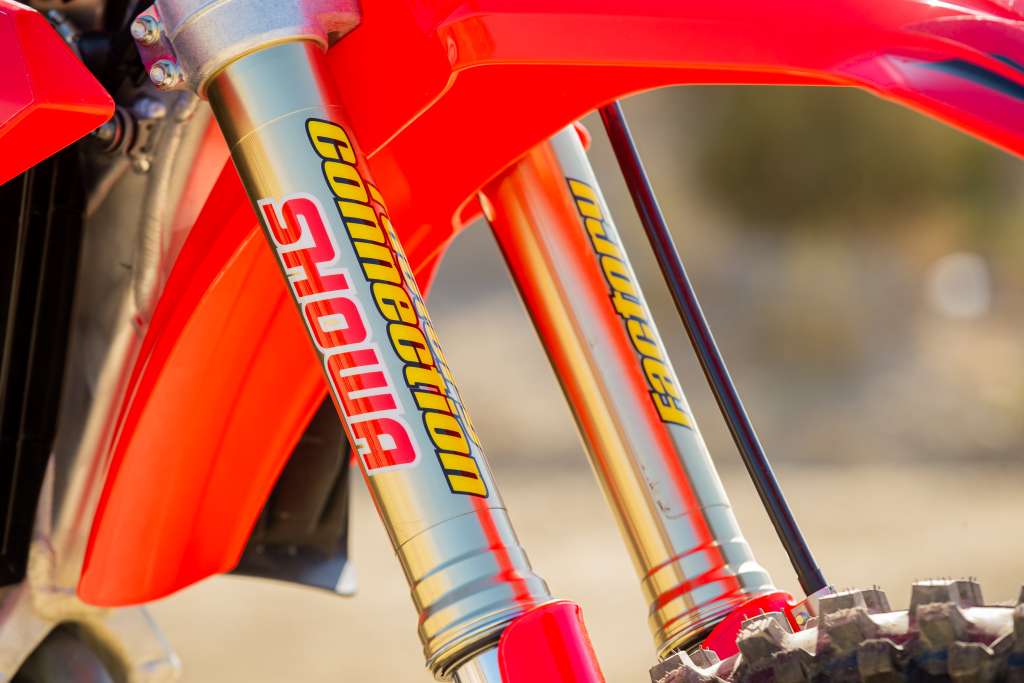 Factory Connection Valved Suspension:
I initially tested the Factory Connection linkage one year ago with a couple of the employees from the New Hampshire office at Glen Helen Raceway. We went through several different configurations and came up with one that improved the Honda's finicky handling. On the stock 2021-2022 Honda CRF450R the rear of the bike can feel somewhat stinkbug when coming into corners (off throttle). When you try to combat that with a lower sag reading or a stiffer fork setting it creates an edgier/harsher feeling chassis. Although Factory Connection will not indulge in what the specific changes (rising rate, rod length, etc.) are to their linkage (and frankly, I don't care) I do know it changes the way the Honda feels coming in and out of corners.
After my initial run through of all the linkages, I waited around for quite sometime until Factory Connection could get me a production version. When that time came for the linkage to be installed I had to ship them my shock in order for their linkage to be fully mated. Factory Connection MUST modify the shock to accommodate this linkage set. This modification allows for the linkage and shock length to work together thus making sure that the rear wheel is in the same location.  The end result of the chassis layout is that there is zero changes to the height of the rear of the bike. Since I had my shock at Factory Connection, I might as well give them my forks as well and give you some feedback on that too. This is kind of where they suck you into the whole package right? Maybe not the best if you don't have the money to get the full suspension treatment. This isn't a type of linkage where you can just bolt on and feel the difference on stock suspension so just know that you will be spending a little more than just the cost of the linkage. Do you have to re-valve your forks for the Factory Connection shock/linkage? No, but if you want your suspension to work its best, it's recommended to match your fork with the shock/linkage.
So, let's get to just the linkage/shock feel with the stock fork. I tested the shock/linkage combo with a newer set of stock 2022 Honda CRF450R forks and the difference is noticeable. The Honda CRF450R now has less of a harsh feeling on acceleration chop and the rear wheel stays on the ground with less feedback transfers to your back. On braking bumps the Honda is flatter and has less pitching feel when chopping the throttle to set up for corners. We ran the sag between 105-106mm and that is where the Honda CRF450R likes to live with the Factory Connection shock/linkage mod at the three different tracks we tested at. To me, this doesn't solve ALL the harshness problems of the Honda CRF450R but it does help with a lot of the edgy-ness when your own the edge of your tires.
With the Factory Connection fork re-valve the Honda felt more balanced on two specific parts of the track. One is when I am braking hard into deep/taller/softer bumps. The CRF450R now has better hold up and better control feel when pushing past your braking points a little when hitting de-cel bumps harder. The second point that stood out to me was how the fork felt like it rode higher in the stroke (front end taller feeling) yet had more plushness on small bump absorption. I could feel my front tire much better with the re-valved set up than the stock setting.
At the end of the day the Factory Connection shock/linkage combo improved Honda's stiff natured chassis feel. Does it have Kawasaki comfort now? No, of course not, but at least I can manage to go to some late afternoon practice sessions in at Glen Helen without feeling like I need to ice up when I get home. If you're a Honda owner the shock/linkage modification is a step in the "comfort" direction!