Gardner Tarlow has been my general practitioner for quite sometime and he has helped guys like Tim Ferry, Ricky Carmichael, Travis Preston and many others over the years. I stumbled upon Gardner from a friend that said he knew a doc who loves to ride so it might be beneficial for you to drive a couple hours to see him when you need. My family and I have been seeing Dr. Tarlow for many years now and formed a friendship. That friendship turned into a "hey you want to try some bikes for me" and here we are. Dr. Tarlow loves to hit Glen Helen once or twice a week as well as hit the local high dez trails. He is the perfect candidate for a weekend warrior opinion. Here are his thoughts!  -KK
Written By: Gardner Tarlow
Has KTM found the new jack of all trades machine? The 2023 KTM 350 XC-F is an all-new bike this year and much improved from its predecessor.  There may not be one bike that can do it all but the new 350 XC-F just may bridge that gap.  When I think of extremes of dirt bikes, I think of Supercross and Motocross, desert racing and extreme enduro. Yes, there are many other categories of dirt biking but this is where my brain goes to when thinking of dirt bikes. I don't believe there is any one bike that can bridge the extreme gaps perfectly but if you soften the edges of the extremes in this category just a bit, this is where the 2023 KTM 350XCF just may shine.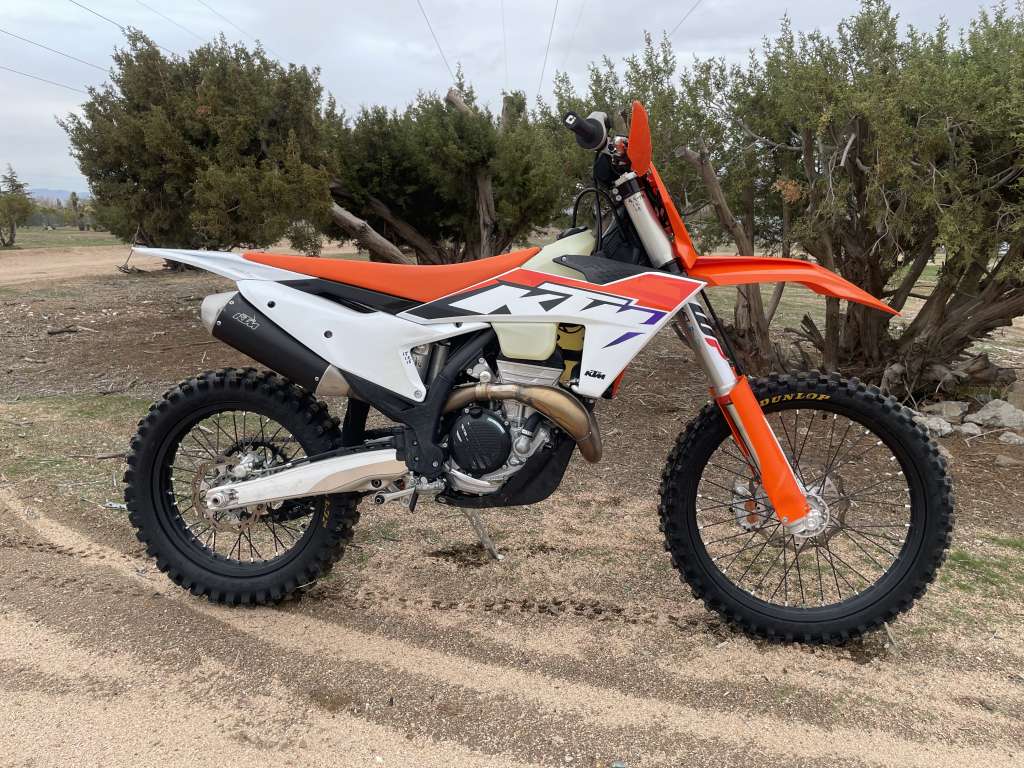 What hits you in the face when you check out this new KTM 350 XC-F is how aggressive it looks. The bodywork, graphics, chassis and motor are all new for this bike and mimic the SX race line performance and appearance. With the exception of the hand guards, skid plate, kick stand, and larger gas tank, they visually appear the same. The functional differences are the 18" rear tire, slightly softer suspension valving, different ECU mapping, and slightly different spacing in gears as well as an additional 6th gear.
The improvements made to the 2023 version start with improving the rider triangle by providing a narrower feel between the knees. This is accentuated by the flare of the rear side panels, which provide an even greater sense of improved gripping. There is a new flatter seat profile, which allows you to move forward easier, making cornering even sharper. There is also a new hand grip under the seat designed to assist for easier lifting of the bike. This hand grip area provides the new opening for the air box itself and was designed to redirect and increase airflow. The air box redesign itself also creates more room for changing the air filter. The graphics themselves are a new design and a bit of a throwback homage to the 1990s purple theme. The fuel tank is 2.24 gallons and has a new integrated fuel pump, providing greater protection in crashes compared to the previous model.
The frame is all new with increased longitudinal rigidity, which improves handling, as well as repositioning the rotating mass closer to the center of gravity, which improves handling and cornering. The suspension fork and shock are similar to the SX suspension but with softer valving and settings. A new shock mounting also provides for improved anti-squat behavior with better traction out of corners. The new 2-piece subframe is lighter with improved feedback to the rider. The foot pegs are ½" wider and provide a great platform when standing. Peg brackets have been moved inwards making for narrower width at the brackets as well as allowing pegs to fold up and out of the way more so than the previous model. The chain guide has been redesigned and is integrated into the swing arm and appears much stouter than previous designs. The rubber chain guard would also appear to provide even more protection for the aluminum brackets themselves when impacting rocks compared to the previously designed chain guide posts.

The 2023 engine has been completely reworked with many concepts used from the Factory racing machines. Motor specifics are beyond my wheel house but I can confidently say the 2023 bike has more bottom end and mid-range power and overall feels faster than the 2022 version. For absolute specifics on motor and all changes please visit the KTM website. One of the exciting aspects of this years 2023 KTM 350 XC-F are the electronics and how functional they are. The new electronics provide significant benefits and differences for all types of riders to appreciate. There are two general maps as well as traction control which can be used in either mode if chosen. There is a quick shift button on the bar mount however this device unfortunately appears to either be disabled or not active on this XCF model.
Map 1 is a very linear profile without any alarming 450 type hit. The map allows the bike to rev up very quickly and is controllable with no abrupt or significant hard hit. This map 1 was good for all track conditions, shined on slippery dry tracks and performed well in mild to moderate single-track riding conditions. This map was very easy to ride and arm pump was never an issue.
Map 2 has a bit more bottom end hit and feels more aggressive. Map 2 feels more like a softer hitting 450 without any harsh on off power feel. This map needs to be shifted a bit more than map 1 but rewards with more excitement when ridden aggressively. I liked this map in deeper loam tracks and hilly tracks like Glenn Helen. I could see riding GH on map 2 in the morning and changing to map 1 in the afternoon when traction becomes an issue.
Traction control can be used in either map and would be appropriate for wet or dry slippery conditions. To me, traction control with map 1 created a very tamed down 350 and would work well in technically slow or slippery enduro conditions. Map 1 with TC could even be used in standard riding conditions for a transitioning rider from a smaller bore bike wanting to bypass a 250F. I did not appreciate traction control in map 2 as much as I did in map 1.
The 350XCF forks and shock share the same components as the 350SX but with softer valving designed for cross country racing and riding. Suspension set up was started with stock settings and not changed for desert or moto riding. The bike had low hours when I rode enduro and I softened the forks a few clicks and slowed rebound for single track due to a sense of deflecting in rocky sections. Air forks tend to feel a bit harsh before 6-8 hours of break in time.

Base setting:   Fork Height 5mm, Pressure 9.9 Bar/143PSI, Comp-12, Rebound-18.
Shock Sag 105, Low speed comp-15, High speed comp-1.5, Rebound-15.
I'm a senior class rider, I weigh 190 lbs, I'm fast novice to mid pack intermediate in my age group. I ride moto, single track and desert on a regular basis. I was a moto snob for decades until about 10-15 years ago when I finally got into offroad. I like 2 strokes over 4 strokes, although I've ridden plenty of each. When it's dry, I ride moto and when it rains, I ride in the hills or desert. Hopefully when you're done reading, you'll have a bit more insight into where this 2023 350XCF really shines.
KTM places the XC class of bikes in the cross-county category. What does that mean in SoCal? For me the XC bikes, be it 4 strokes or 2 strokes, means one thing – Desert racing, and all that it may imply. This is where the 2023 KTM 350XCF needs no softening of edges of the extremes when considering its proficiency. To assess this desert category of riding I went with a group of buddies to Ocotillo Wells. OW is in the low desert of California and has a bit of everything the desert has to offer. Wide open desert and sand washes, single track razor back ridges and hill climbs, rocky trails with rocky hill climbs, jumps and everything in between. I've ridden everything over the years from 125s to 610s. The 250XCF or 450XCF are my desert bikes of choice in the most recent years. I like the 250F for tight technical ridge backs, rocky technical terrain and more technical hill climbs but feel limited when facing longer hill climbs or transitioning from place to place across the desert by the lack of power. I'm not limited on the 250F but the bike definitely gets a good amount of abuse when I ride it. On the other hand, I love a 450F in the wide-open desert and sand washes but struggle to feel comfortable at times on the more technical rocky slow terrain and ridge backs, as well as anytime I have to manhandle the bike. This is where I thought the KTM 350XCF was significantly better than the 250F in the open desert and deep washes, and easier to handle in the technical rocky terrain and sketchy ridgebacks compared to the 450F. I think if you want to race balls to the wall, the 450F is beneficial when wide open but for many riders this will create a negative impact on your racing speed when the trail or desert gets nasty and technical. This is where I think the KTM 350XCF can perform well in all conditions and might actually be the better machine for the desert racer or rider.
For motocross, I went to Glenn Helen and Cahuilla Creek. These tracks are fairly similar in flow and feel.  Cahuilla doesn't tend to get ripped as deep as GH and doesn't rut up quite as deep as GH can. Both tracks have a main national style track and vet tracks with slightly more hard pack. Recently I've been riding a few 2022-23 250F's and 150SX at both tracks. I had a 10-year window of riding and racing 450s at the track but a few too many big get offs and I've realized I'm not smart enough to be able to ride a 450 without hitting the ground when I ride moto. With that being said, I was really surprised when I rode the 350XCF at the track and how well it handled and how manageable the power was. Initially the first thing that struck me was how smooth and linear map 1 was. There is plenty of front side bottom end but without the overpowering 450 personality. The linear power winds up and revs unlike most 450s. The motor doesn't sign off and can be overrevved without feeling like you're hitting a rev limiter. You can either scream it around the track like a 250 or lug it in 3rd gear and simple fan the clutch and the motor wakes right up. This provided a bike that I was able to ride extended moto's without arm fatigue.  Switching to map 2, I was concerned that the motor would feel more like a 450. This wasn't the case at all. The motor has a bit more bottom end punch but doesn't pull your arms and cause that 450 fatigue. The motor likes to be shifted a tad more than map 1 but to my surprise I actually preferred map 2 on both main tracks. Having spent the last year riding moto on 250Fs or my personal 150SX I was skeptical on how well this 350XCF would fair for moto purposes. I was really surprised with how well this new chassis handled and cornered. The bike felt very settled entering into corners and seemed to lay over easily and stay committed to the rut. The bike did not want to stand up mid corner or push wide. I don't know if this is a result of the new shock mounting anti squat effect but I was able to rail inside ruts pretty well. The bike felt neutral on flat corners but I wasn't totally confident on off camber turns without something small to bank off of.
Let's face it, if you're an up and comer racer, you're racing a moto specific bike with higher expectations. If you're a run of the mill vet plus racer who needs a multipurpose bike, you could easily ride and race this 350XCF in your age bracket moto and GPs without being significantly disadvantaged. The 350XCF motor and chassis is more than capable of performing motocross duties. I feel like I could ride longer and charge harder on the 350XCF and be more competitive in my class than on a 450F.
For enduro, I once again relied on the high desert of Hesperia to test for enduro. This is as close to the sierras as we can get without leaving SoCal. The day we went was one day after it rained heavily and it was epic. The terrain is traditionally soft dirt on top of hard pack with rocky terrain mixed in, lots of technical hill climbs, tight technical moderate single track and some junior style rock gardens. In the single track enduro, I liked map 1 which is very linear with no sudden unexpected hits of power. The rear wheel felt very connected to throttle response in map 1. This map was good for technical hill climbs and even with poor technique the power was manageable when struggling with more difficult end of hill climbs. Unfortunately, this was one of my first rides on the bike and I didn't experiment with the traction control. Although map 1 was great, in hind sight, I imagine map 1 with TC would have worked well in the rock gardens, rocky single track and even technical climbs. The suspension in general worked well, the forks I do not believe had broken in yet at 3-4 hours and I did appreciate the deflection. Two clicks out on the fork compression and slower rebound helped somewhat. In general, the 350 handled well but when it came to manhandling the bike in a few precarious situations it was a bit more of a handful than a 250F or even a 300 2-stroke. I think the 350XCF is good for enduro, trail and even mild single-track option compared to a 250F or 450F but as you move into the more moderate technical single track, although the 350F is still better than a 450F I believe you are moving into the areas where maybe this bike doesn't shine as bright. Personally, when the trail gets nasty, I like the 250F or better yet a two stroke would be my bike of choice for tight single track.
It's easier to say who this 2023 KTM 350XCF isn't for versus who should have this bike on their short list of bikes to own. If you're a full-blown motocross guy or a true extreme enduro guy this bike may not be at the top of your bike wish list. However, if you are someone needing or wanting one bike that can do it all, this 2023 KTM 350 XC-F may be the closest bike you're going to find to meet your needs. Be it full-blown desert, GNCC, GPs, occasional motocross, trail, enduro and even moderate single-track, this bike should be at the top of your short list of do it all bikes. The only real question left to ask is, two stroke or four?