The 2023 KTM SX-F lineup has a different feel to it when comparing it to the older 2022 version. Most of the different feeling comes from the stiffer chassis and how that correlates to the track when it gets rough. Yes, the 2023 KTM 250/350/450 SX-Fs do corner slightly slower initially, feel stiffer from the swingarm pivot bolt back and the off idle rpm response is actually a little jerky when rolling corners at lower rpms. With all this being said is the 2023 KTM a better machine than the 2022? In some areas yes, in some areas no. In this article we are going to be breaking down the 2023 KTM 450 SX-F and what you can do to get the most comfort out of your new orange machine. Follow these simple steps to get the most out of your 350 SX-F in stock form as well as some suggestions/mods that can help you get more comfort and easier to use power. Some of these mods are the same as the KTM 350 SX-F, but some are proprietary to the 450 SX-F.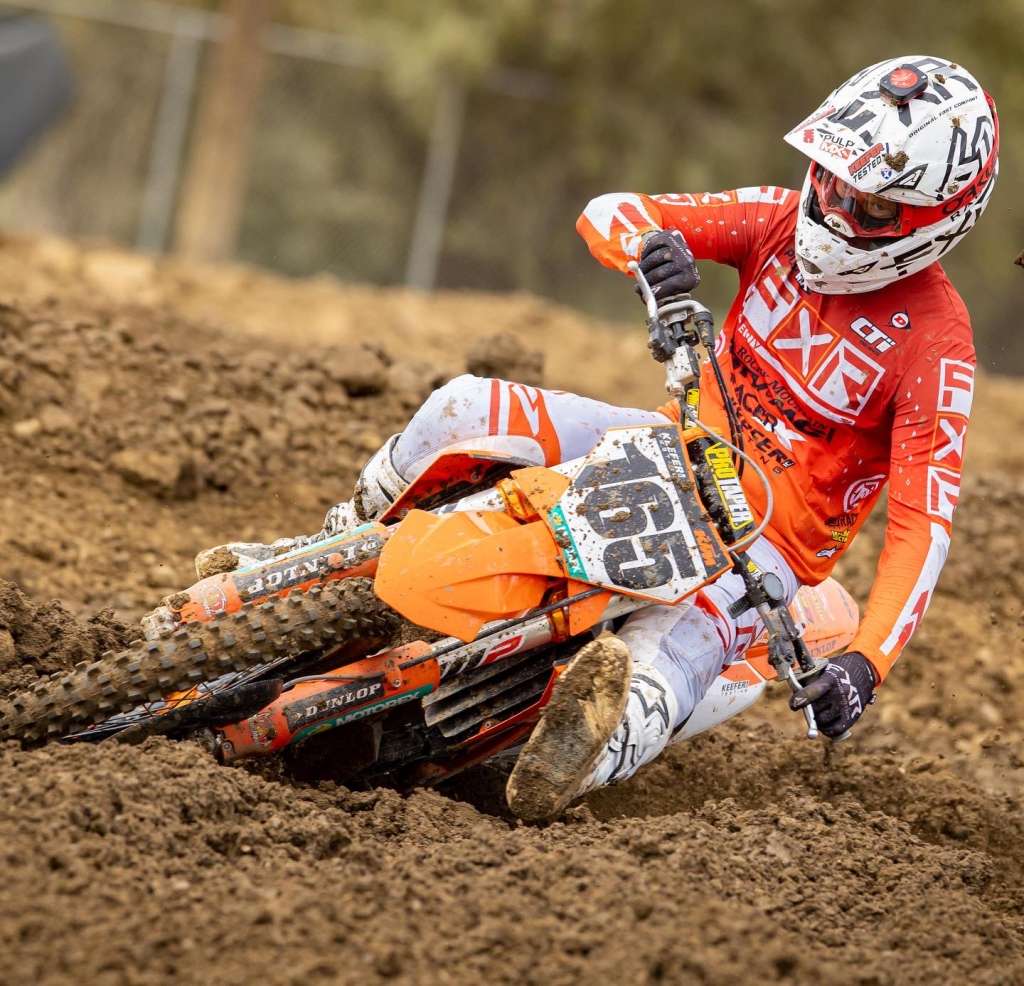 Suspension: Try these settings if you're anywhere near the 175-200 pound mark. This setting, along with the other chassis mods here (after at least an 8 hour break in period) should help the KTM feel less harsh and settle more. 
Fork:
Height: 5mm
Air Pressure: 10.9 bar
C: 15 out
R: 16 out
Shock:
Sag: 106mm
LSC: 12 out
HSC: 1.25 out
R: 16 out
Torque Specs: Even though some engineers say that torque spec doesn't really matter in the grand scheme of "feel" on the bike, my body says different. The KTM chassis feels rigid from the swingarm pivot bolt back as I get a lot of deflection (side to side) movement on braking bumps as well as acceleration bumps. Lowering the torque spec to 95 Nm helps settle the rear end slightly as well as helps the rear of the bike keep straight during off throttle situations. This will not give you added comfort, but will help settle the chassis with side to side movement (mostly on-throttle type situations).

Aftermarket Muffler System: I have NOT tried all of the mufflers available for the KTM 450 SX-F but if you can get your hands on a FMF system for the 2023 KTM 450 SX-F, you will be getting more mid range and top end pull without sacrificing too much low end. In fact, you will be getting slightly less rpm response but a better torque feel out of corners. I leave the insert inside the muffler on the 450 unlike the 350 where I take it out.
Handlebars/bends/grips: Going to a Pro Taper Husqvarna Stock EVO bend will help with vibration as well as give the rider more comfort through his hands. Another option for riders is going with the FASST Co. FLEXX 12* Moto handlebar that offers the most flex for the rider, but this bar does take sometime to get used to visually.
Gearing: I am still running a 13/51 set up and so far this is working out. I might try a 14/53 just to see if it helps chassis feel. 
Chain Slack Measurement: 68mm-70mm may look like a lot of chain slack when your bike is on the stand but KTM assures me/and you that this is the proper amount of slack. This spec allows your suspension to move freely and not bind when under load. This also will help keep from your chain snapping because of a too tight tension spec.
Triple Clamps: Because the 2023 KTM chassis is a less stable on straight line (hard pack choppy conditions) than the 2022 a set of 23.5mm offset clamps really helps calm the orange bike chassis as well as gives the rider more front end feel/positivity. Going into this 23.5mm offset test I thought I may feel an even slower cornering KTM, but this actually helps the KTM turn into ruts better with more front end feel/traction. Ride Engineering is making 23.5mm split clamps for this model and to me this is a noticeable improvement with this 2023 chassis. This offset calms the bike off throttle (de-cel bumps) and allows the rider to set up better for the corners without having the chassis deflect off of braking bumps. To me, it made the new chassis feel less firm on braking bumps. Now you don't have to go to a Ride Eng. clamp to get the benefit mentioned above, if you prefer another split clamp design that is fine, but I have not tried any others as of yet so I don't know other brands flex characteristics.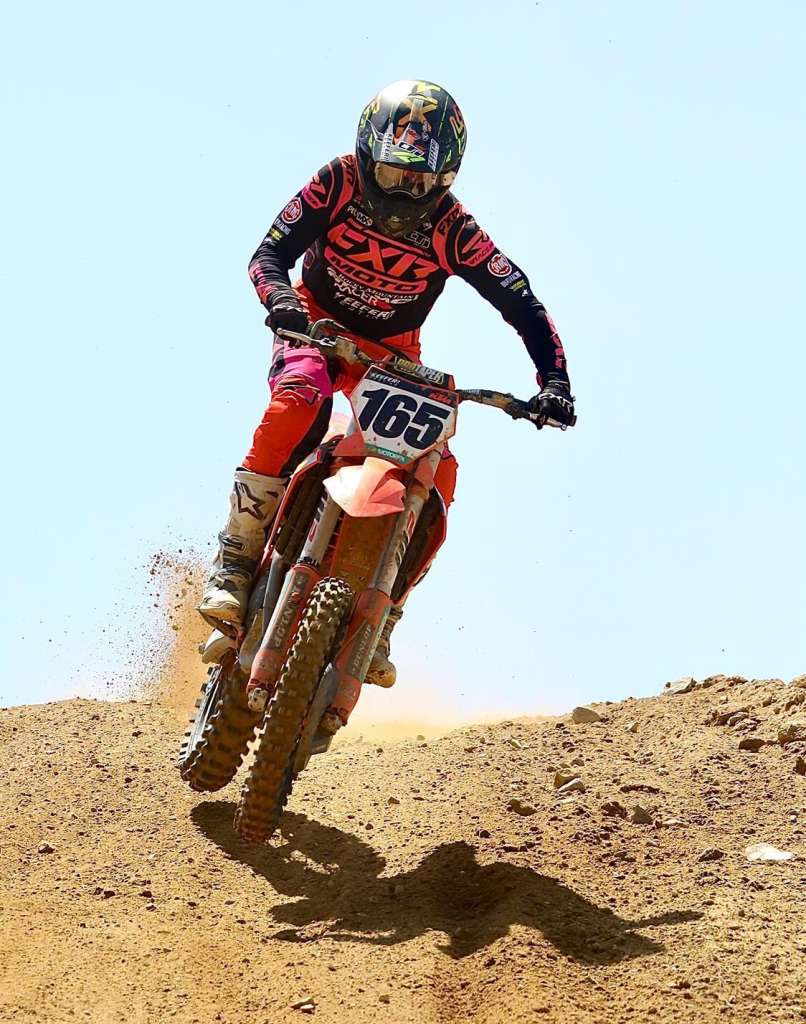 ECU: Since the newer KTMs have locked stock ECUs, remapping them is NOT an option. I have been going back and forth between the AIM Taipan and Vortex ECUs and although both are much better than the stock mapping, the AIM purple box has been getting the most play out of me. I have been working with some different maps with the AIM engineers and have grown to love the AIM's ability to be individually mapped per gear as that has given me more freedom on how long I wanted second/third gear to pull. With KTMs new transmission ratio, I have found second gear to be not as long as I wanted, so instead of changing my gearing (leaving the stock 13/51 ratio), I went for a longer pulling second gear map with the AIM system. With the AIM ECU installed (along with my mapping) the KTM now pulls second gear so much further as well as gets rid of that slightly jerky feeling low rpm sensation I get when rolling corners. The stock ECU almost feels slightly disconnected at lower rpms, but with the AIM ECU I get a more linear low end feel with much more mid-top end pulling power. Accelerating out of corners is an eye opener as the KTM gets from point A to point B in a hurry with more rear wheel traction/connection. The Vortex ECU also helps with rear wheel traction but I have yet to find the length of pulling power with the mapping I have been testing on the Vortex. However, with either of these boxes, you're only as good as the maps that are developed so the further I develop the Vortex with Chad at XPR the better it can be. I will say that both of these aftermarket ECUs are a step in the "better" direction and gives the rider a broader power that helps this chassis. Either one of these boxes (with mapping) can allow the rider to ride a gear higher and alleviate binding of the chassis upon acceleration (as well as less engine braking). Unlike the 2022 KTM 450 SX-F, the 2023 has a harder hit/touch to the throttle and this can upset chassis balance in deep ruts. Either one of these aftermarket ECUs help in this situation.
WP 6500 Spring Conversion: I have been riding with the stock AER fork and stock shock as well as the WP 6500 inserts and Pro Component shock. The new WP XACT Pro 6500 Cartridge kit is a straightforward closed-cartridge (CC) coil-spring conversion system. It drops right into your current WP XACT 48mm AER air fork with no additional modification or machining. This is not the same as the WP's XACT Pro 7548 complete fork assembly, or most notably knows as, the Cone Valve fork. You can purchase the 6500 kit with preset springs/valving for around $1400.00 which is considerably less than the CV fork system. I have been using REP/AEO settings in the 6500 fork with great success. I have however put some test time in with Mark (owner of REP) at the track to get some settings that create more comfort with the 23 chassis. The stock 6500 drop ins that come straight from WP will give you more front end feel than the AER fork as well as more lean angle traction on initial lean (area 1 of corners). The downside of the stock setting that the 6500's come with from WP is damping feeling near end stroke. You can ask for a "comfort" setting or a "performance" setting when ordering the 6500 kit from WP, but when equipped with the comfort setting, the fork rides lower in the stroke and can cause some mid stroke harshness. When running the "performance" setting, the fork can be a little harsh on edge of tire so I wanted something in the middle or in rider's terms "the best of both worlds"! This is where Mark at REP/AEO came in. We tested with the 6500 kit and their valving/spring set up and by the end of the test day, I became a fan of the KTM's front end at GH around 4:00 PM. This is not easy to do! I hated the KTM at Glen Helen on dry/edgy day, but now with REP's valving/spring set up the KTM doesn't pitch off throttle and stays up high enough in the stroke to remained balance leading into corners. Usually when I get height from a fork (off throttle) it gets harsh, but with the valving spec REP came up with, I now have more comfort near the top of the stroke on small chop as well as superb damping feeling at the end stroke (aka, track toughness). Coupled with a Pro Component shock that is set up for my weight, I now have a KTM that feels less harsh and allows me to have more lean angle traction, which gives me that "old" 2022 chassis feeling in the corners.